Disclosure: *This post may include affiliate links. As an affiliate, I earn from qualifying purchases.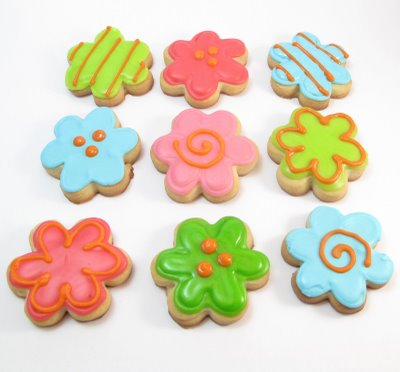 flower cookie bites
I know I've been bombarding you with flowers lately, but these flower cookie bites are perfect for Spring and Mother's Day!
This is the last one, though (maybe). I thought I'd share what I sent my own mom for the big day. Sorry for the lack o' photos… I focused too much on the decorating and packaging!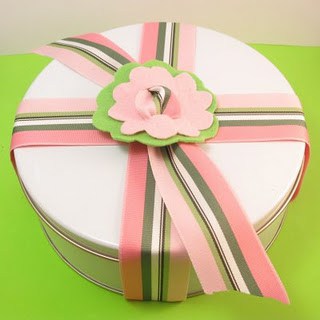 how to make the mini flower cookies
you will need:
cut-out cookie dough
royal icing
mini flower cookie cutter
food coloring (I used Americolor soft gel pastes, Electric Pink, Electric Green, Sky Blue, Orange)
1 frosting bag, coupler, size "4" decorating tip and rubber band for each color
1 size "3" decorating tip
For tips on finding cookie decorating supplies, click HERE.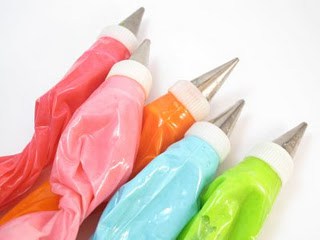 step one: bake your cookies
Cut out mini flowers with cutter and bake cookies according to recipe. Let cool completely.
step two: flood your backgrounds
Mix frosting color(s) of your choice. Prepare a bag of frosting with a size "4" tip and fill with half of one of the colors of frosting. Outline flower and let set well, about 15 minutes. With the other half of the same color, thin with water until the consistency of glue. With a small spoon or squeeze bottle, pour thinned frosting in center of piped flower and let run to edges. You may help the frosting along with a small butter knife or spatula. . Let set well, at least an hour.
step three: pipe your designs
With a bag of frosting fitted with a "3" tip, pipe your designs on top of the set flooded cookie: swirls, stripes, dots, etc.

to package:
you will need:
cello favor bags
small ribbon
tissue paper
white tin
thick, grosgrain ribbon
double sided tape
2 colors of felt
scissors
large flower cookie cutter (optional)
piece of paper
safety pin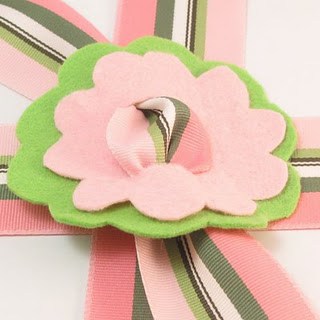 step one: package cookies in tin
Place cookies in cello favor bags (I did 3 per bag) and tie closed with thin ribbon. This is important, as the cello prevents grease from the cookies ruining the tissue paper. Package in tin with tissue paper.
step two: wrap with grosgrain ribbon
Cut a piece of thick grosgrain long enough to wrap around tin. Wrap around tin so ends are beneath tin and secure with double sided tape. Repeat with another piece of ribbon perpendicular to the first piece, but don't secure with tape yet.
step three: make your flower
With the piece of paper, make a flower pattern. I used a large flower cookie cutter that I traced. Cut flower from paper and use as template to cut flower from felt. Repeat using the same shape flower, but smaller (I just traced a bit inside the cutter). Stack both pieces and cut two slits in both at center, about 1/4 inch long and about 1 inch apart. Take a piece of the thick grosgrain and thread through the slits (start at the back of the flower, come through one set of slits of both pieces of felt and go down through the other.)
step four: attach flower to tin
Center piece of grosgrain you reserved in step two on tin. With safety pin, attach flower from underside to center of grosgrain. Secure grosgrain to tin with double sided tape.