Disclosure: *This post may include affiliate links. As an affiliate, I earn from qualifying purchases.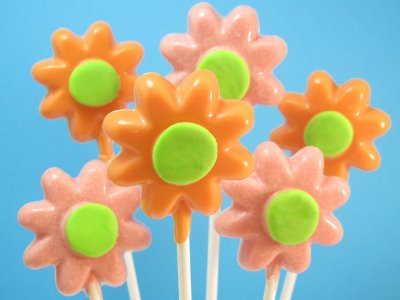 Daisy candy pops
These daisy candy pops are SO easy to make you can drink wine while making them. (That's what I did.) I gave these to my niece on her 1st birthday, but I'm pretty sure her older sister ate them.
how to make lazy daisy candy pops
you will need:
(shown in picture below)
candy melts (1)–I used Wilton pink and orange
lollipop sticks (2)
Wilton daisy flower lollipop mold (3)
small circle fondant cutter (5/8 inch) (4)
white rolled fondant (5)
food coloring (6)–I used Americolor electric green soft gel paste
(not shown)
wax paper
rolling pin
light corn syrup
cello bags, ribbon or your own clever ideas for wrapping (optional)
wine (optional, but recommended)
I found all of the above at Michaels except for the Americolor soft gel paste.
TIP: If you can't find a circle fondant cutter exactly that size, you can also use the wide end of a metal decorating tip.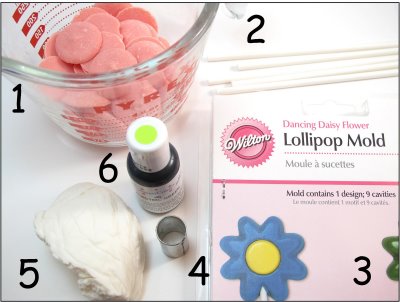 step one: make your candy pops
Place lollipop mold on a wax paper-lined baking tray.
Melt candy melts according to package directions. I placed in Pyrex measuring cup and microwaved at 50% power for 1 minute, stirring, then at 50% for 30 second intervals until fully melted, stirring well.
Pour into mold cavities, tap mold gently to spread and even the candy. Put lollipop stick into place, rolling stick to completely cover with melted candy (so no white is showing).
Place tray in refrigerator and chill until hardened, about an hour or more.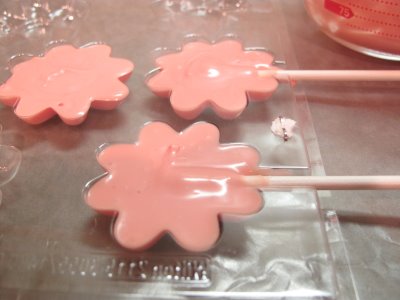 step two: make your daisy centers
While pops are chilling, add a few drops of coloring to a palmful of rolled fondant.
Knead very well until blended. Roll fondant thinly between two pieces of wax paper. If fondant is too sticky from handling, let sit for 15 minutes.
Cut out circles with fondant cutter (or the wide end of a decorating tip) and let sit on wax paper at room temperature until stiffened.

step three: assemble your daisies
Pop daisies from molds. Dip your finger in light corn syrup and dab on back of fondant circle. Press center onto daisy. Let dry, overnight preferred.


IDEAS:
Wrap individually in cello bags and tie with ribbon for favors.
Or make a bouquet. Cover each with a small cello bag, gather in a bouquet, tie with rubber band (to secure), then tie with a pretty ribbon to cover the rubber band.
Make a flower arrangement. Choose a container and purchase a styrofoam block that fits (if it doesn't fit perfectly, choose one that's smaller). Insert styrofoam into container, pad with tissue paper to secure, and arrange pops in styrofoam. Put tissue paper on top to cover styrofoam. Place in large cello bag and tie with ribbon.