Disclosure: *This post may include affiliate links. As an affiliate, I earn from qualifying purchases.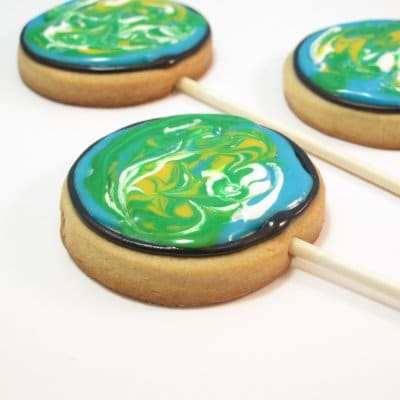 How to decorate Earth day cookies on a stick.
In honor of Earth Day, I made a consumable version… no waste! (Except for the stick, but there are plenty of ways to reuse lollipop sticks, and I'm sure you clever crafty people will find them.)
And for the record, I reuse "disposable" frosting bags til they fall apart in my hands.
So if you need something sweet to celebrate, try making these easy-to-decorate Earth Day cookies.
Be sure to check out the mini version of these, Earth Day cookie bites.
how to make earth day cookies

you will need:
cut-out cookie dough
royal icing
circle cookie cutter (I used 2 1/2″)
lollipop sticks (optional, no need to bake on sticks)
1 disposable frosting bag
1 coupler
1 size "3" decorating tip
rubberbands
4 disposable frosting bags or ziploc bags
scissors
food colorings (blue, green, yellow, white and black)
toothpick
*Follow the link to find my dough and frosting recipes. Many of the above can be found at any major craft store. For tips on finding cookie decorating supplies, click here. For food coloring tips, click here.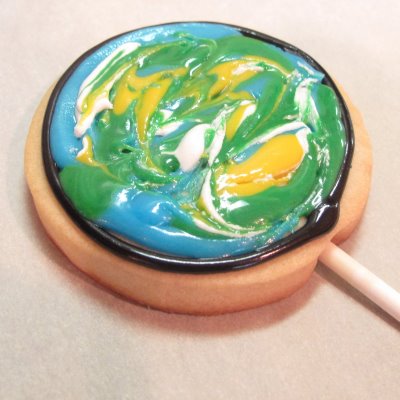 step one: bake your cookies on a stick
Follow the instructions in step one HERE for baking circle cookies on a stick. Let cool.
step two: outline your earth
Make frosting. (TIP: the frosting consistency shouldn't be very runny, like flooding, but also shouldn't be so stiff that you can't swirl it in step three. In between is perfect.)
Mix about 1/2 cup of frosting with black food coloring.
Prepare a frosting bag with the coupler and size "3" tip. Fill with black frosting and tie closed with a rubber band. Outline the circle with black. Let set well, about 20 minutes.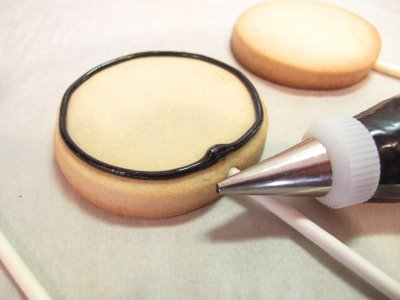 step three: fill your earth
Mix four colors of frosting (about 1/2 cup-3/4 cup each): blue, green, white and yellow. If you're short on time, skip the yellow. Fill each in a frosting bag tied closed with a rubber band or a Ziploc bag.
Snip the corner of the bag or Ziploc about 1/8 inch (not toooooo much, just enough to pipe frosting easily).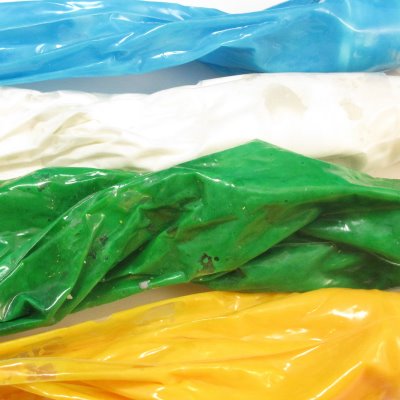 Working with one cookie at a time, so that the frosting doesn't dry too quickly, pipe all four colors swirled around the cookie.
You should cover much of the cookie, but don't worry about precision. With a toothpick, swirl colors together. Let dry overnight.
TIPS: When piping your colors, go heavier on blue and green, just do a couple dabs of the yellow and white. While precision isn't important, you should try and at least get the edges of the circle when piping.