Disclosure: *This post may include affiliate links. As an affiliate, I earn from qualifying purchases.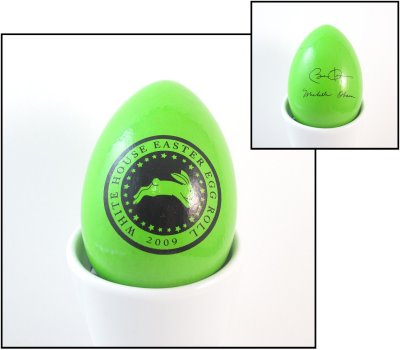 White House Easter Egg Roll.
One of the perks of living in Washington, DC is doing Washington, DCish kinds of things. Like the annual White House Easter Egg Roll.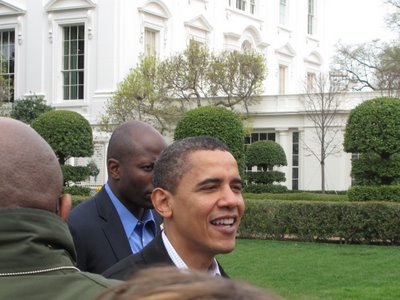 Tickets were earned online for the first time this year. My friend clicked "Refresh" for eight hours until securing some, including one for my daughter and me. I was completely useless in the process, so quite appreciative of the opportunity to go. After a 45 minute early morning metro ride and over an hour and a half in lines and security, we got inside the White House lawn.
In pictures of years past, I've seen lovely shots of lovely children in their lovely Easter finest rolling an egg along the verdant, sprawling lawn. It's not exaaaactly as the photos that make the newspapers seem. They divvied up tickets into two hour time slots throughout the day to control the masses. But masses there were. At the time, I had estimated the crowds were twice as big as should've been allowed in, and I learned later there were, indeed, twice as many allowed in as prior years. The actual egg rolling took place in a roped off square of lawn about 20 feet wide. My 19 month old rolled an egg, and by "roll" I mean I threw the egg in front of her so she could chase it and scoop it in a spoon. But mission accomplished. And White House or not, as my daughter's a butt-scoocher, not a walker yet, she did not wear her Easter finest. She wore jeans. When the Obamas invite us to dinner, I'll dress her more appropriately, of course.
Sure, there were other activities (kids yoga, jump roping, soccer, apparently Fergie performed, even egg crafts I'm sure I would've enjoyed), but aside from the egg rolling, we skipped them all in favor of a grander pursuit: an Obama sighting. We were in the unbelievaby lucky "B" group ticket holders, the 10am-12pm slot that the Obamas happened to attend. We heard Obama and Michelle speak, my friends saw the whole family read a story (sadly, I was in the restroom), and I was able to snap the photograph above from about 3 feet away as Obama exited. I've been in DC nearly 20 years and have been to my share of political events, embassy cocktail parties, insiders tours and such, but I still got goosebumps and welled up just a bit in seeing the President (THIS President) so close.
So an hour-plus later, after getting our complimentary wooden, signed egg and standing in another line as the thousands of people filtered through a tiny, one-person-wide gate opening to exit, we stood on the sidewalk eating a salty, street vendor pretzel.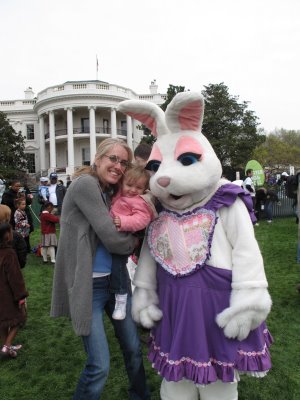 Good DC day!
See the official site HERE (with a link to buy the eggs) and a history of the day HERE.