Disclosure: *This post may include affiliate links. As an affiliate, I earn from qualifying purchases.


bluebird brownie pops
I've been wanting to make brownie pops ever since I learned of the brownie pop mold.
Since my bluebird egg decoration seemed to be popular, and since I bought these blue candy melts and had to use them, I made bluebirds.
I'm an even bigger fan of brownies than the cake and frosting mixture of cake pops, so I'm glad to have this option.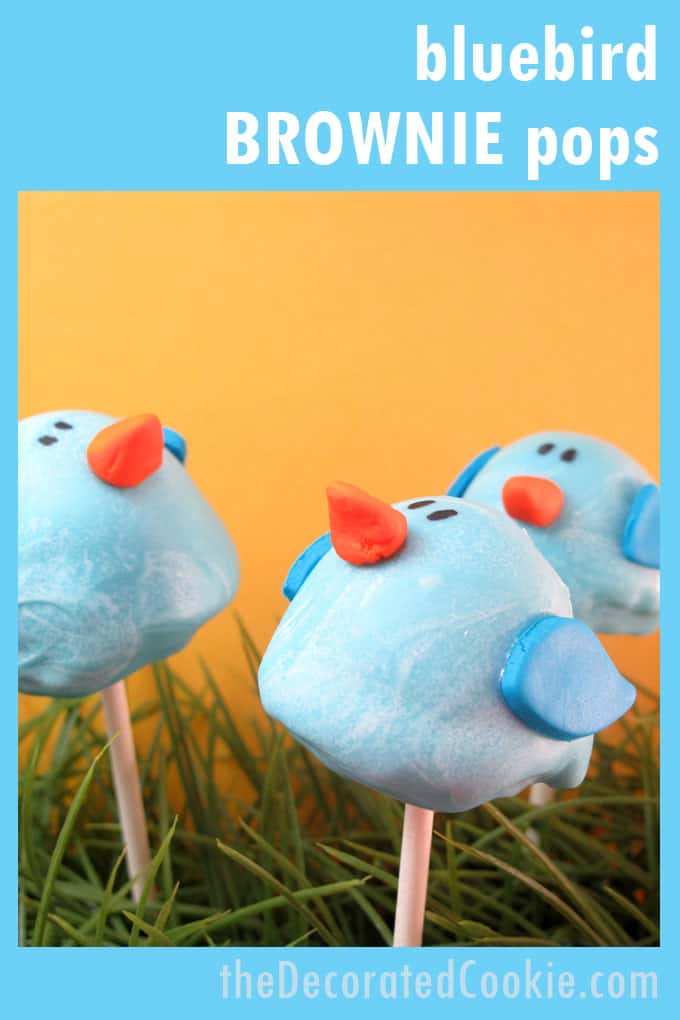 how to make bluebird brownie pops
you will need
brownie recipe
Wilton brownie pop mold
lollipop sticks
blue Wilton candy melts
styrofoam block (to let pops dry)
rolled fondant
Orange or Yellow food coloring
Sky Blue food coloring
leaf fondant cutters
wax paper
rolling pin
light corn syrup
Black Americolor gourmet writer
cello bags and ribbon (optional, to wrap as favors)
*The brownie mold is from Michaels, though most craft stores should carry them.
The rest of the supplies can also be found at craft stores. The gourmet writer by Americolor can be found online, though the craft store may have other brands.
In lieu of the fondant and food coloring, you can find beak-like candy. The tip of a candy corn would likely work, too.
Click the links in the list to go to the supplies.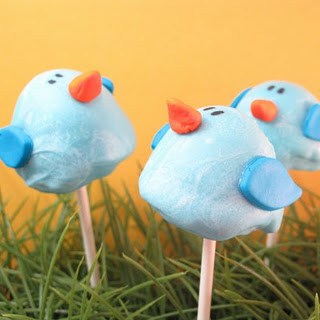 step one: bake your brownies
Mix your brownie recipe. Spray the mold with nonstick spray and spoon brownies into cavities.
I only filled less than half way up the cavity.
Place mold on baking tray and bake according to recipe. Let cool completely before removing brownies. (I didn't let my first tray cool completely and they fell apart.) Insert lollipop stick into flat end of brownies.


step two: dip your brownies
Melt candy melts according to package directions. I used a Pyrex measuring cup and microwaved at half power for 30 second intervals.
Carefully dip brownies in melts, tap off excess and prop up to dry. I propped mine in styrofoam.


step three: make your beaks
and wings
Knead a few drops of Orange or Yellow coloring very well into a small piece of rolled fondant.
Break off a pea size piece and roll into ball. Using your thumb and forefinger, shape into a cone. Rest flat end on wax paper until dry, a couple hours.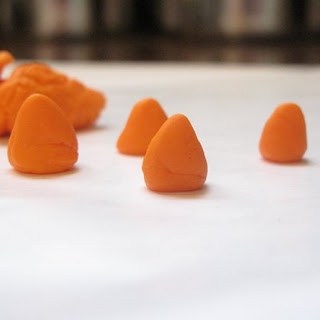 Knead a few drops of Blue coloring well into fondant. Roll thinly between two pieces of wax paper. Cut out wing shapes with a sharp knife or with a small leaf fondant cutter. Let dry a couple hours.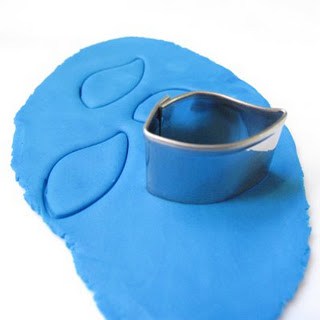 step four: assemble your bluebirds
Dip your finger in light cornsyrup and dab on the flat end of the beak. Press onto brownie pop. Do the same with the wings on each side. You may have to hold for a bit. With black gourmet writer, draw eyes.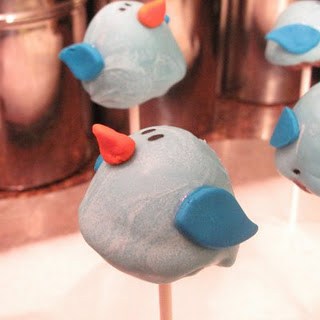 step five (optional): wrap your bluebird favor
If preferred, place a cello bag carefully over bird. Tie with ribbon underneath.