Disclosure: *This post may include affiliate links. As an affiliate, I earn from qualifying purchases.


How to decorate tiny jelly bean cookies for Easter, with a free printable jelly bean favor box.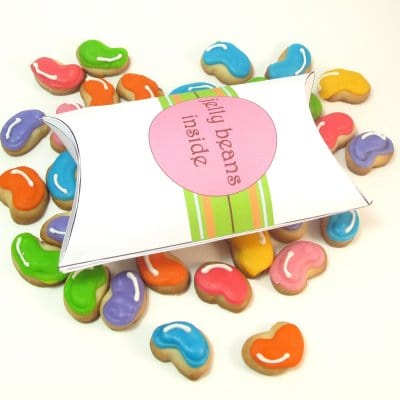 These cute little jelly bean cookies are even better than the real thing.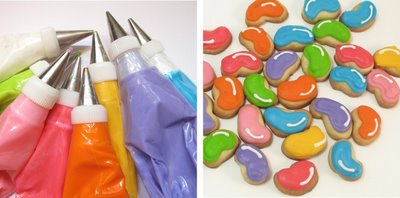 how to make tiny jelly bean cookies and ma
t
ch
ing favor box
for the cookies you will need:
cut-out cookie dough
royal icing
1-inch oval (or easter egg) cookie cutter*
1 disposable frosting bag, coupler and rubber band for each color (plus one for white)
size "4" tips for each color
size "2" tip for the white
any frosting colors, including white (I use Americolor soft gel pastes)
*For a cutter this small, you may need to buy a fondant cutter. My cutter is the smallest in an an Easter egg set. For tips on finding cookie decorating supplies, click here.
for the favor box you will need:
color printer
8 1/2 x 11″ thick, white cardstock or photo paper
small cellophane favor bags
scissors
craft knife or Xacto knife
craft glue

step one: bake your cookies
On a floured surface, roll out your chilled dough about 3/8″ thick and use the cutter to cut out ovals. Indent one side to make a bean shape. I pressed my thumb along the side and pulled the cookie ends around my thumb using my other hand. This works best with well-chilled dough! Place on a parchment paper-lined tray and bake about 7 minutes according to recipe directions. Let cool.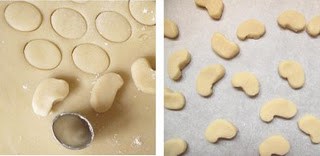 step two: decorate your cookies
Using the frosting bags, couplers and size "4" tips, make and fill frosting bags with desired colors. Tie closed with a rubber band. Outline cookie with bean shape, fill with the same color by piping back and forth (these cookies are so small, you might only need to squeeze the frosting in one line across!), and let set about 15 minutes. Prepare a frosting bag with size "2" tip and fill with white frosting. On top of the decorated jelly bean, pipe a small highlight with white. Let dry overnight.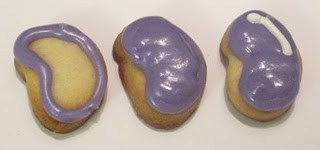 step three: package your cookies
Put jelly beans in a small favor bag, fold over the edge (you can use a sticker to close if preferred), and put in a favor box (or just tie the cello bag with ribbon). If using a box, the favor bag is important because the oils from the cookie will stain paper containers.
To make the box, Find the printable jellybean box template here. . (also at the end of this post). Cut out box along the outer lines.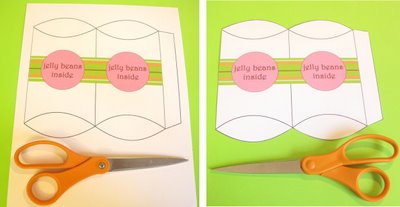 Lightly and precisely score the black lines on the inside of the shape with a craft knife. This is to make folding easier. Fold the tab line along the right side of the box and fold the line down the middle. Glue the box together along the tab line. Hold closed until dry.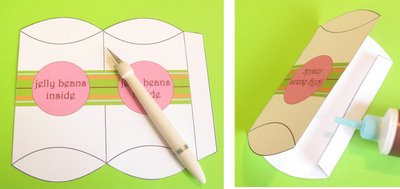 Pouf open. Insert the jelly bean favor bag and fold in the curved ends of the box.