Disclosure: *This post may include affiliate links. As an affiliate, I earn from qualifying purchases.


chocolate sandwich cookies
To make these delicious, colorful chocolate sandwich cookies, I used the chocolate cut-out sugar cookie recipe and the sugar cookie icing recipe from my book, which also worked really well. I made these chocolate sandwich cookies for my Dad's birthday, and he also got these square treats.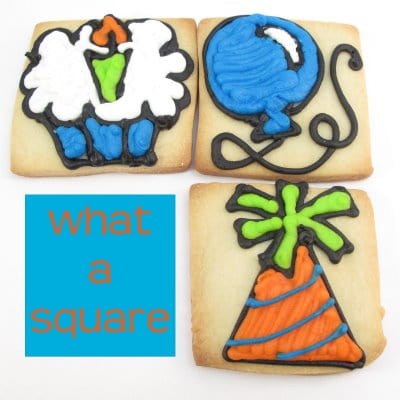 how to make colorful chocolate sandwich cookies
you will need
chocolate cookie dough (recipe at the end of this post)
circle cookie cutter (I used a 1 1/2 inch cutter)
frosting (you can use store-bought, too)
food coloring (I used Americolor soft gel pastes, Sky Blue, Orange, Bright White and Electric Green)
1 disposable decorating bag for each color
1 coupler for each color
1 size "12" tip for each color
rubber bands
step one: bake your cookies
Roll out chilled chocolate cookie dough and cut out 1 1/2 inch circles. Bake on a parchment paper-lined baking tray according to recipe and let cool completely. TIP: Each time I had to roll out some dough, I cut out an even number of circles. That way, I could just pair up top and bottoms that were exactly the same thickness.
step two: prepare your frosting
When making frosting, make sure the consistency isn't so thick you can't work with it, but it should be stiff enough to keep its shape. Tint about 1/2 to 3/4 cup of frosting with each color you'd like (yes, I did actually tint the white, too). Prepare a frosting bag with size "12" tip, fill with frosting and tie closed tightly with a rubber band.
step three: assemble your chocolate sandwiche cookies
Pair up all of your cookies on the tray so each pair is of similar thickness and diameter (in case of any oven spreading). Turn one cookie from each pair over and pipe frosting to cover the entire backside of the cookie. I started with piping a circle around the outer edge and continued to pipe in a spiral to the center. Top with the other cookie, making sure the back of the cookie sits on the frosting. Hence, the bottoms of the cookies are on the inside. Let dry overnight if packaging.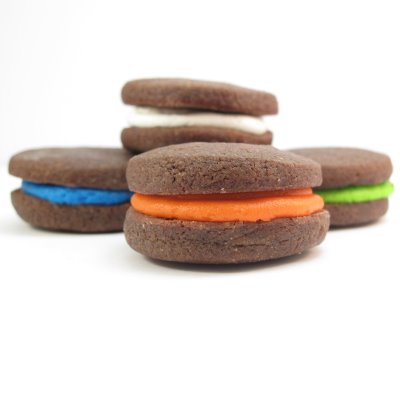 RECIPE: cut-out chocolate sugar cookies
1 cup (2 sticks) slightly softened, unsalted butter
1 cup granulated sugar
1 egg
1 tsp. vanilla extract
2 cups flour
1/2 cup unsweetened cocoa powder
1/2 tsp. baking soda
1/2 tsp. salt
Cream butter and sugar. Add the egg and vanilla and blend. Mix together the dry ingredients and gradually add to the wet. Cover and refrigerate 1 to 2 hours. When chilled, roll out on a floured surface, cut out shapes, and bake on a parchment paper-lined baking tray in a preheated 375 degree oven. Bake 8 to 10 minutes for small cookies, 10 to 12 minutes for larger cookies, or until edges are crisp. TIP: In lieu of flour, which may show up on the surface, you can roll cookies between two pieces of wax paper.