Disclosure: *This post may include affiliate links. As an affiliate, I earn from qualifying purchases.


Homemade pizza bagel bites offer an after school snack from freezer to plate in minutes, without the box. Personalize this snack (or lunch! or dinner!) any way you like. So many kinds of yum!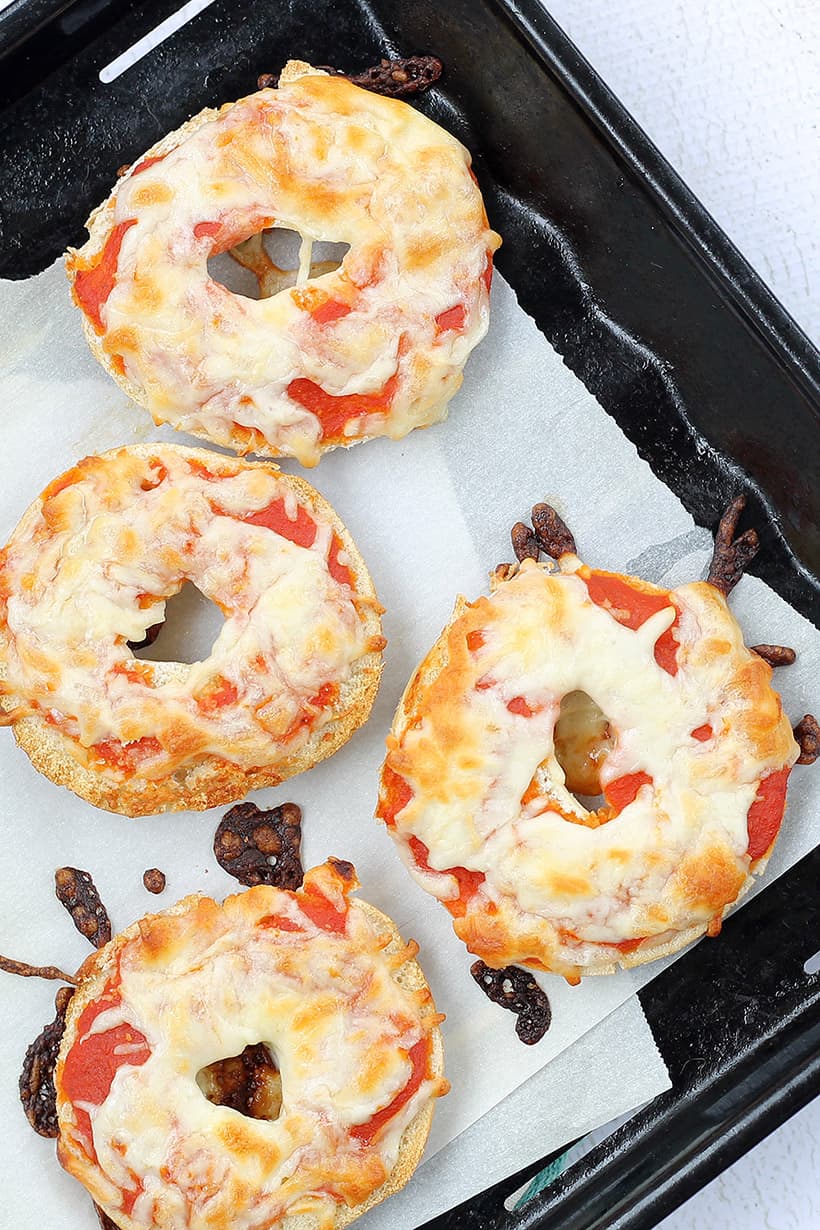 These are so freaking awesome, and yet so easy. Not brain science (rocket surgery?) at all. Instead of buying the box of Bagel Bites, just make your own.
how to make homemade pizza bagel bites
Anyone remember this jingle? "Pizza in the morning, Pizza in the evenin', Pizza at suppertime! When pizza's on a bagel, You can eat pizza anytime." Flash back to the '90s, huh?
When some genius (actually, two guys from Florida, apparently, according to wikipedia) decided to turn mini bagels into pizza and freeze them, thus revolutionizing after-school snacking.
Maybe "revolutionizing" is too strong a word, but it's close. So I know these are just bagels with sauce and cheese but… Oh my word, they are so good, I ate four in one sitting.
The whole frozen snack corporations are on to something.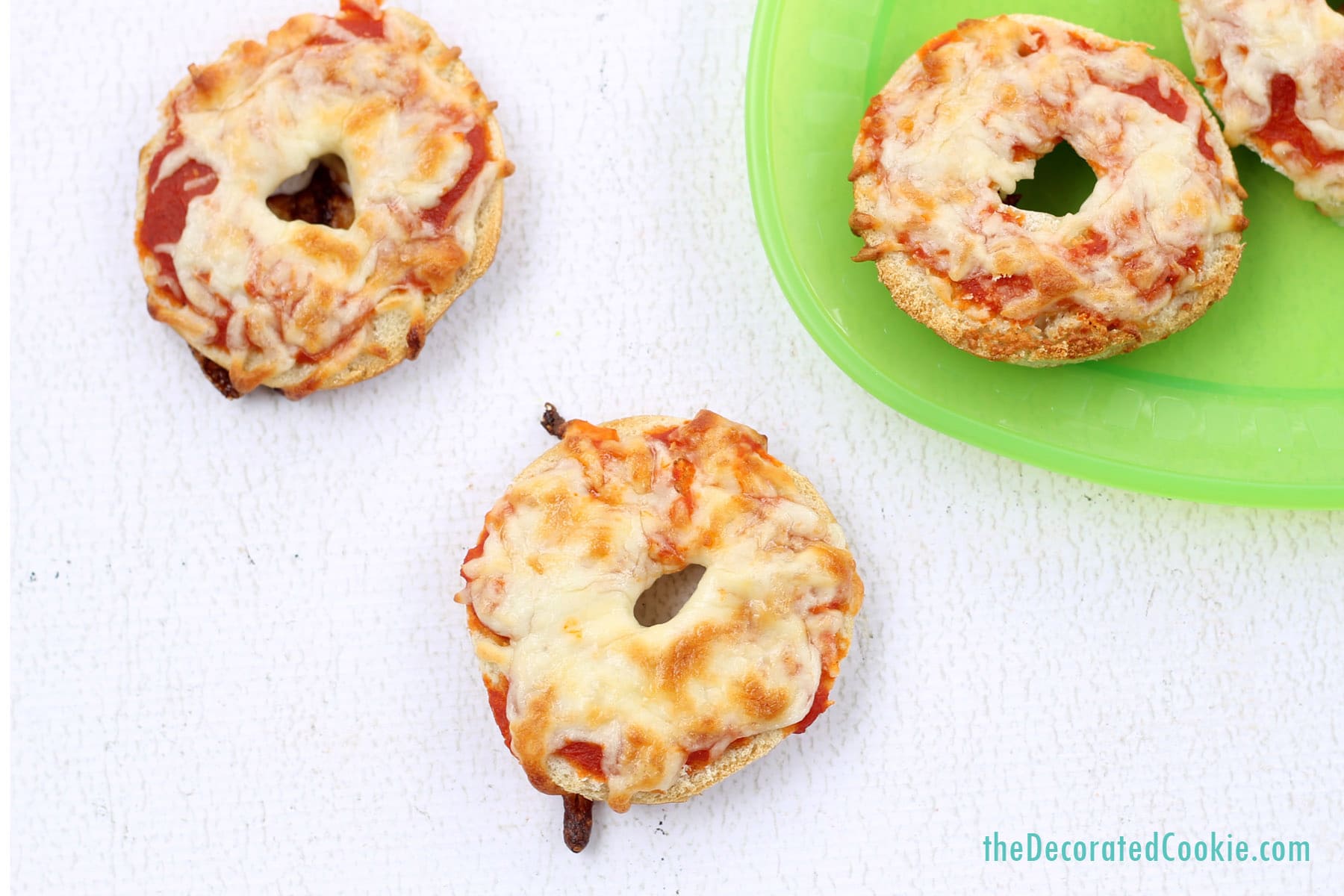 prepare for the freezer
I think the freezer does something magical to homemade bagel bites when they are in there. Crispy edges, but soft in the middle, the perfect ratio of sauce to cheese. From freezer to toaster oven to plate in minutes. Now I want four more.
Here's the good news: You can make your own and they are even better than store-bought. And by "make" your own, I pretty much mean "assemble" your own bagels, sauce and cheese, but that counts as homemade in my eyes. Or at least semi-homemade, which means you can then personalize them to your own tastes.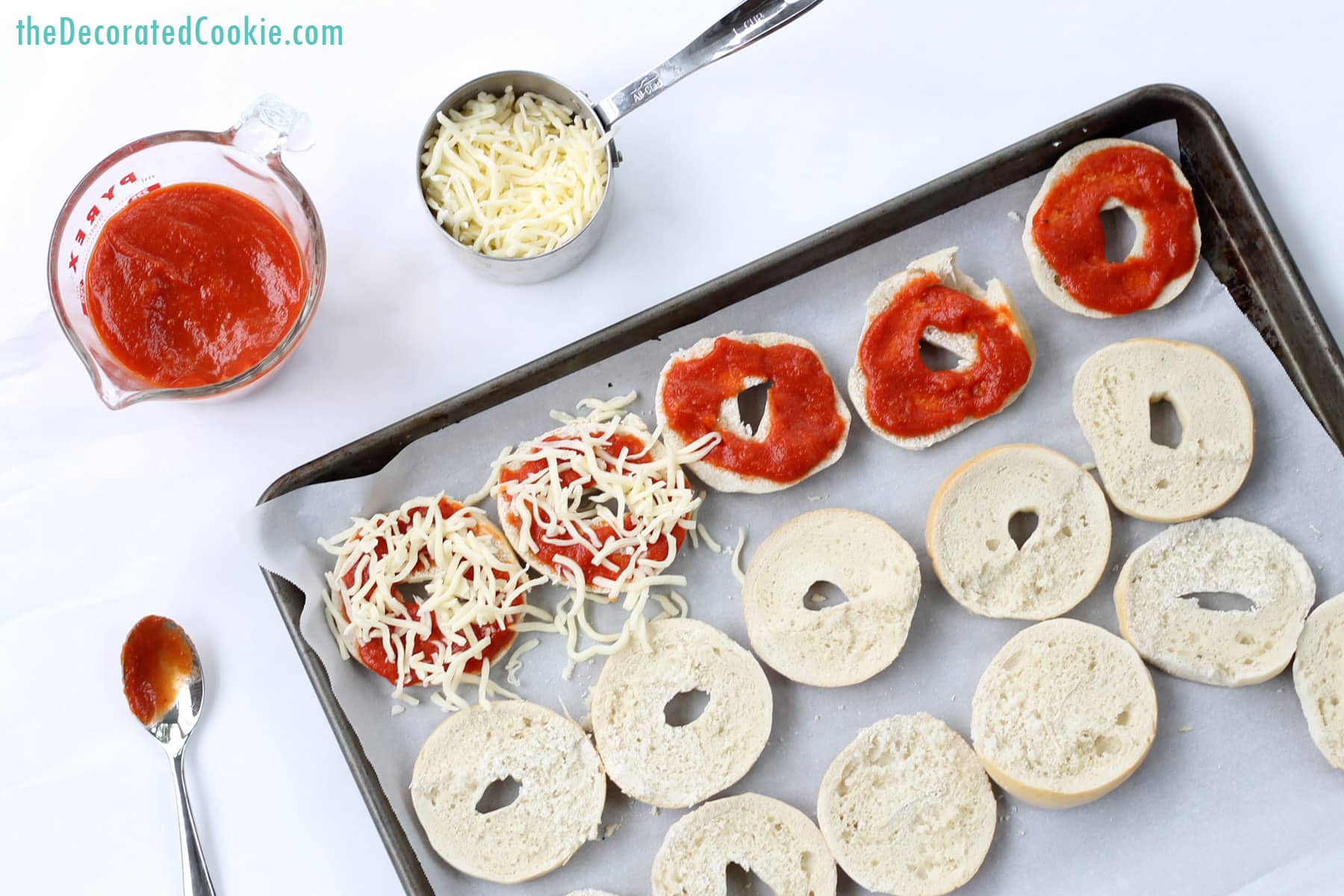 more pizza and bagel bites
These aren't just meant for after-school (or after-work) snacking either, but keep some on hand for lunch or dinner or even to serve at parties. Bake up a whole tray for quick and easy party food that you can make in advance.
Next up to try, adding lollipop sticks to these to make pizza on a stick. I'm thinking the bagel would hold a stick nicely.
If you are a bagel fan, try these cream cheese stuffed bagel bites.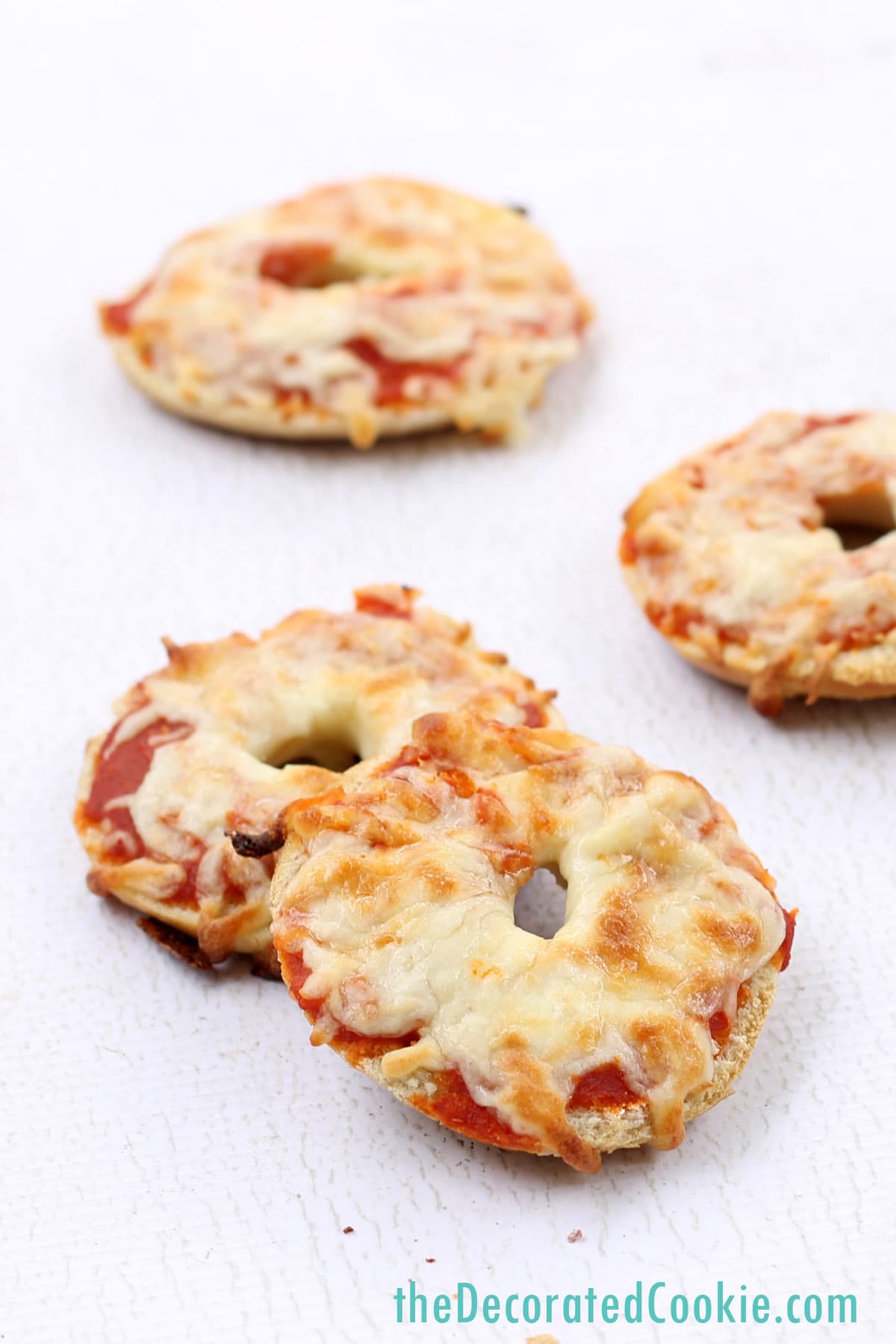 pizza bagel bites instructions
This recipe for homemade bagel bites also appears on Food Fanatic.
Yield: 8 servings
homemade pizza bagel bites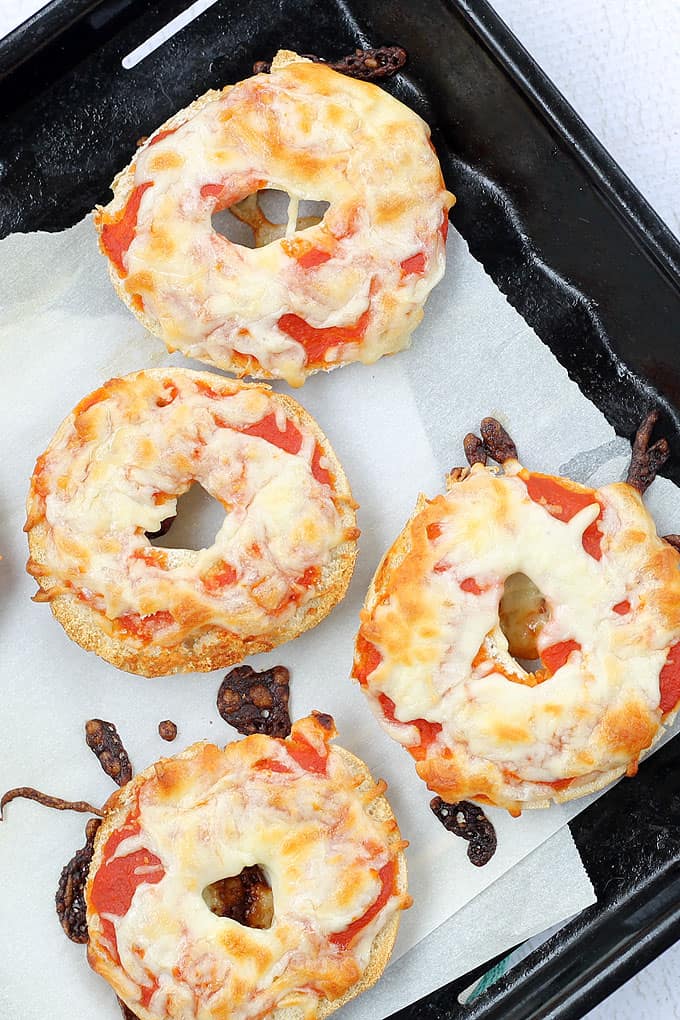 Homemade PIZZA BAGEL BITES offer an after school snack from freezer to plate in minutes, without the box. So many kinds of yum! VIDEO.
Ingredients
8 Mini Bagels
3/4 cup Pizza Sauce, Or spaghetti sauce
2 cups Shredded Mozzarella Cheese
1/2 cup Toppings of Choice, Optional
Instructions
On a baking tray lined with parchment paper, split open the bagels and arrange cut-side up.
Spread two teaspoons of sauce on each bagel half.
Sprinkle the cheese evenly over each bagel half.
If using, sprinkle toppings of choice on each bagel, such as pepperoni or cooked sausage or vegetables, and press into the cheese.
Place the tray in the freezer until bagel halves are frozen, about four hours.
Remove the bagels from the freezer and arrange in a freezer-safe container or zip-top bag with pieces of parchment paper between each layer. Freeze until ready to use.
To cook, preheat toaster oven or conventional oven to 425 degrees F. Arrange desired number of pizza bagels on a tray lined with parchment paper. Bake until the cheese begins to brown, 12 to 15 minutes.
Nutrition Information:
Yield:
8
Serving Size:
1
Amount Per Serving:
Calories:

205
Total Fat:

5g
Saturated Fat:

3g
Trans Fat:

0g
Unsaturated Fat:

2g
Cholesterol:

14mg
Sodium:

491mg
Carbohydrates:

29g
Fiber:

1g
Sugar:

6g
Protein:

11g