Disclosure: *This post may include affiliate links. As an affiliate, I earn from qualifying purchases.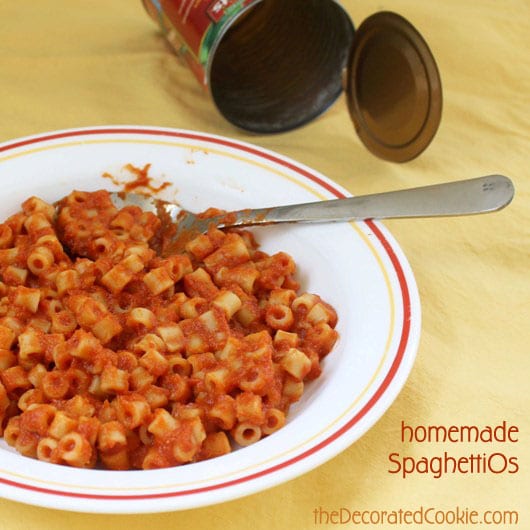 homemade SpaghettiOs
How did these homemade SpaghettiOs come to be on a cookie blog? When Amanda of i am baker had the great idea to do an appreciation post for her husband to introduce him to her readers, and then had the second great idea that other bloggers do the same with their significant others on the same day, I had to jump on the great idea bandwagon. (For links to all the bloggers' appreciation posts, scroll to the end.) I've mentioned my husband on occasion here, most notably with this camo cookie homage to service men and women, as my husband's an Army Reservist.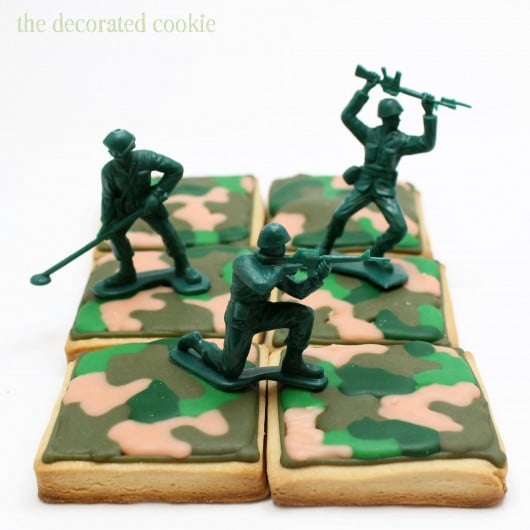 But mostly he lingers in the background, usually walking through the room when I'm knee-deep in blogging, wherein I'll give him a dirty look for disturbing my concentration. (Um, lucky man?) So, who is the man behind the awesome woman? (Note, "awesome woman" here is me.)
That's Greg right there.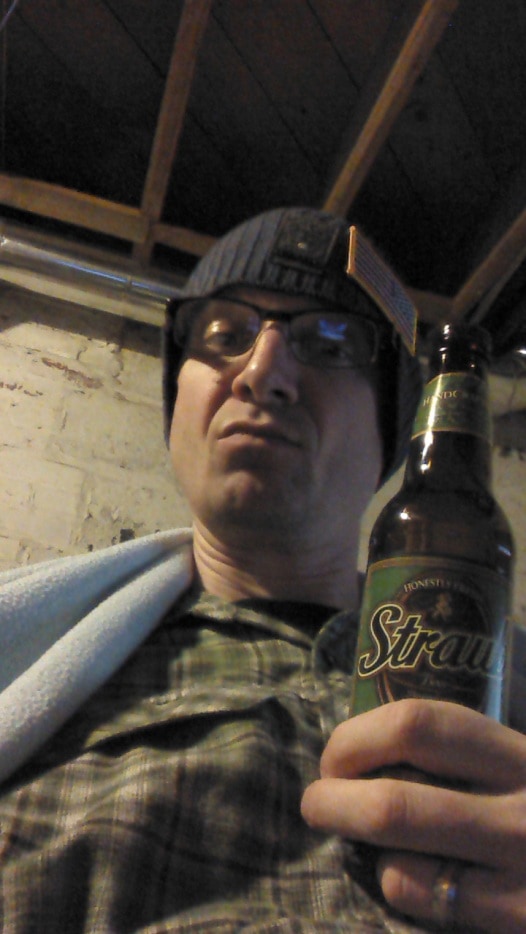 Yes. I told him I needed a photograph for this post and that's what he chose. Him having a beer in our unfinished basement (aka his cave). Now picture this same man braiding a six-year-old's hair. Or standing in front of 300 JAGs-in-training giving a lecture on Army law stuff.
Let's see how well he did on his interview questions, shall we?
What is your significant other's favorite blog called?
The decorated cookie. It's probably #3 on my list of most-visited blogs.
(My note: I only just realized he was supposed to name "my" favorite blog, I think I asked him what my blog was called. So there were errors all around on this one.)
What is their favorite prop?
I don't even know what this means exactly.
(My note: This is akin to our wedding when I asked him over email what color boutonniere he wanted and responded, "What's a 'boutonniere?' It doesn't sound like something I'd like.)
What is the weirdest thing you have seen your spouse do for a blog post?
I'd have to say the marshmallow movie, which technically was for a contest and not a blog post, but close enough. Note: it was "weird" but AWESOME, btw.
(My note: He means this marshmallow stop motion video.)
If you could have your own blog what would you call it?
"Why the hell are you reading blogs? Buy a newspaper for crying out loud." (Note: this was not what my blog was actually called for the 3 months or so of its existence, but if I were starting a blog today, that is what I would go with.)
(My note: That "Note" was his note, not my note.)
What are your favorite blogs?
These days, I probably read Lawfare (https://www.lawfareblog.com/) and WoW Insider (https://wow.joystiq.com/) a lot. Not sure if I can say one more than the other.
(My note: This wasn't actually one of the interview questions. He misread the first question about what is the name of my blog. Now he's probably reading this all "d'oh!".)
What do you do for a living and what are your hobbies?
lawyer/guitar, gardening, reading news, computer games
Who does the dishes?
equal share
(My note: that's about right. Though we do them very differently.)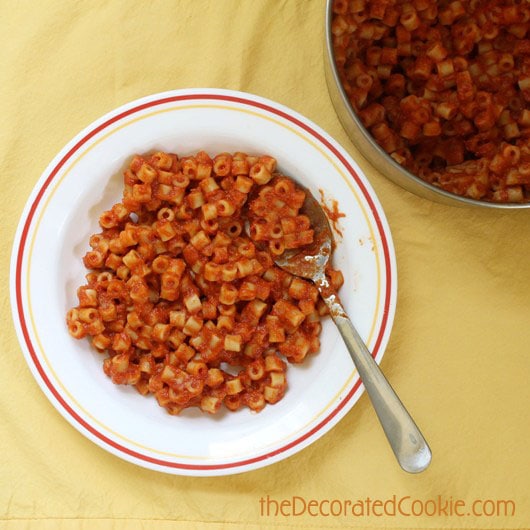 For his appreciation recipe, I chose to make homemade SpaghettiOs®. Although, I'm pretty sure this dish wouldn't fool him into thinking it came from a can, having almost 40 years of experience eating SpaghettiOs. Oh, yes, he loves his SpaghettiOs. He scrapes every single "O" out of the can, even those tiny ones that look like dots. He even has a SpaghettiOs bowl (see below). And there's a spoon somewhere, too. When he was in Iraq, I sent him so many cans of SpaghettiOs even he couldn't keep up with the consumption.
I added some carrot puree in there, well, um, carrot baby food to be precise–yeah, I went there–, to get some vegetables in him. I expect he will add hot sauce, as he does to most everything. In a perfect world, I'd have ordered this O-shaped pasta. In a perfect world. In this world, we are going to pretend these mini cylinders are O-shaped pasta. This recipe below started from two sources: This post at Seeded at the Table and this post at Too Much Time on My Hands. And then I kept adding stuff. I must admit, it's been awhile since I've eaten SpaghettiOs, so the taste comparison wasn't very accurate.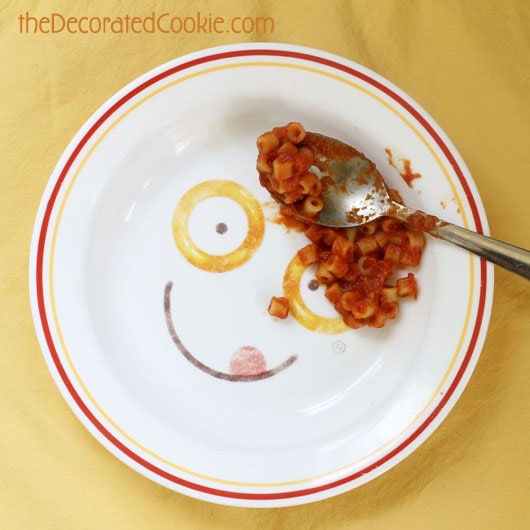 homemade SpaghettiOs recipe
1 cup canned tomato sauce (if you like your pasta sauce-y, add the whole can)
3 tablespoons tomato paste
1/2 cup carrot baby food
1/8 teaspoon paprika
1/4 teaspoon garlic powder
2 teaspoons sugar
salt and pepper to taste
1/2 cup shredded cheddar cheese
8 ounces little pasta, whatever shape you think works best
Cook the pasta according to the package directions until al dente. Meanwhile, in a medium saucepan over medium low heat, mix the tomato sauce and paste, baby food, spices and sugar with a large whisk and cook until heated through, stirring occasionally. Add the cheese and stir until melted. Drain the pasta and add to the tomato mixture. Stir and simmer over low heat for five minutes.
Let's see what everyone else made for their significant others:
Lauren from Keep It Sweet Desserts made M&M Kit Kat Cake
Rachel from Rachel Cooks made Whole Wheat Chocolate Chip Cookies
Shanna from Pineapple & Coconut made Best Ever Chicken Enchiladas
Meaghan from The Decorated Cookie made Homemade SpaghettiOs
Amy from Very Culinary shared a Fabulous Video!
Liz from The Lemon Bowl made Lebanese Meat Pies (Sfeehas)
Cassie from Bake Your Day made Something Fabulous
Erin from The Law Students Wife made Chicken Stir Fry with Thai Peanut Sauce
Heather from Sugar Dish Me made Bourbon Apple Shortcakes
Dorothy from Crazy For Crust made Pretzel Toffee Peanut Butter Cookies
Lauren from Climbing Grier Mountain shared At the Table with Mr. B
Tanya from Lemons for Lulu made Something Fabulous
Erin from Texanerin Baking made Healthier New York Times Chocolate Chip Cookies
Jen from Jens Favorite Cookies made Chocolate Pudding
Jamie from Thrifty Veggie Mama made Something Fabulous
Diane from Created By Diane made Rocky Road Cookie
Nikki from Seeded at the Table made Oatmeal Cream Pie Ice Cream Sandwiches
Meagan fron A Zesty Bite made Something Fabulous
Taylor from Greens & Chocolate made Something Fabulous
Amanda from i am baker made Classic Cheesecake with Double Crust
Kristy from Sweet Treats & More made Something Fabulous
Lauren from Healthy. Delicious. made Something Fabulous
Erin from Dinners, Dishes, and Desserts shared a Round up of Hubbies Favorites
Rachel from Set the Table made Mexican Chocolate Shake
Julie from Julie's Eats and Treats made Something Fabulous
Stefani from Cupcake Project made Graham Cracker Waffle Cones
Katerina from Diethood made Something Fabulous
Betsy from Java Cupcake made Something Fabulous
Kimberly from The Daring Gourmet made French Almond Cake