Disclosure: *This post may include affiliate links. As an affiliate, I earn from qualifying purchases.


All the awesomeness of a Take 5 Candy Bar… on a stick! These homemade Take 5 candy bar pops are easy to make and crazy delicious.
homemade Take 5 pops
You know what's awesome about homemade Take 5 pops? Everything.
The chocolate, the peanut butter, the peanuts, the pretzels, the caramel.
Some genius at the factory decided to put all of these things together in one package. The perfect salty and sweet combination. I'm pretty sure every food group is represented, too.
And yet, the candy bars aren't always easy to find. Not to worry. You can go ahead and put these five things together yourself, in this handy, dandy, convenient lollipop form.

If there's one thing I've learned over the years, it's that everything is better on a stick.
Or at minimum, everything is cuter on a stick.
And chocolate and caramel can be sticky, so the lollipop stick takes care of any messy fingers before they happen. Easy to make. Easy to eat. Easy to serve, too.
Prepare these treats for a party and prop them in a Stryofoam block.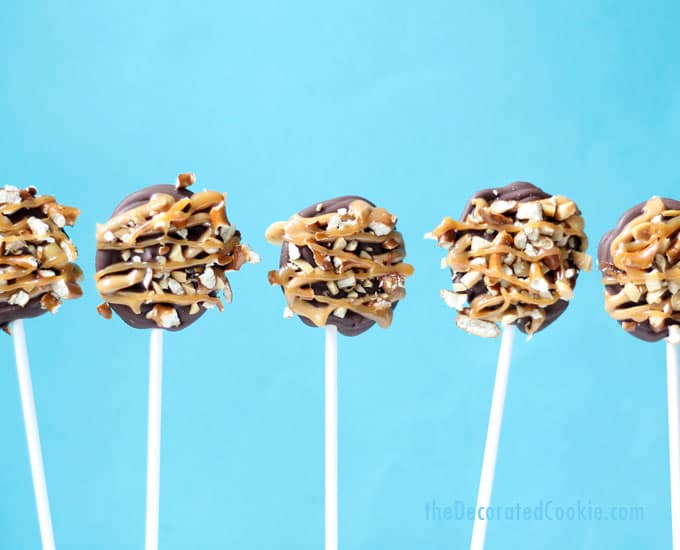 tips on supplies
You can find the lollipop sticks (6-inch sticks are used here) and 12-inch, disposable decorating bags in the baking section of any craft store.
Disposable decorating bags are one of my favorite tools to use in the kitchen.
They make creating cute foods so much easier. I use them for piping not just icing and frosting, but, in this case, chocolate and peanut butter, too.
Be sure to choose smooth peanut butter so you don't have trouble piping it from the decorating bag. If your peanut butter is on the thicker size, just snip a bit more from the tip of the bag.
These lollipop sticks can handle a lot.
First the chocolate, then the peanut butter, then the nuts and the pretzels… and even more weight from caramel! Oh my, but these sticks can take it. If you want to save some time, these pops also taste fabulous without the last step, the melted caramel. I guess they'd be called "Take 4" pops then.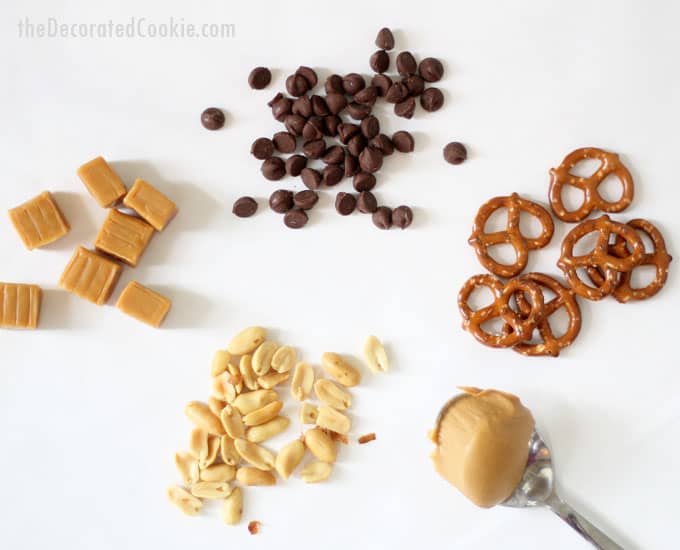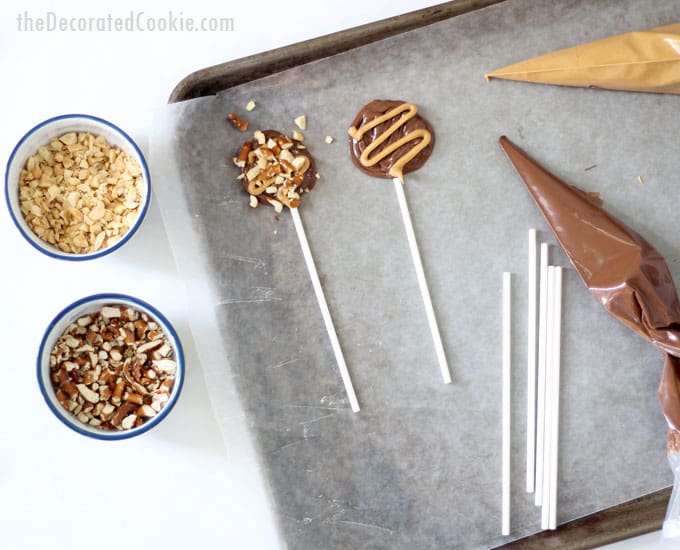 Like these? Try homemade Nestle Crunch bars, too. Ah yes, and a GIANT Kit Kat bar!
Yield: 10 pops
homemade Take Five pops
homemade Take Five pops -- copycat candy bars on a stick -- peanut butter, chocolate, peanuts, pretzels, and caramel on lollipop sticks
Total Time
2 hours
12 minutes
Ingredients
2 tablespoons Finely Crushed Pretzels
2 tablespoons Chopped Peanuts, preferably salted
1/3 cup Creamy Peanut Butter
1 cup Milk Chocolate Chips, semi-sweet or dark chocolate may be used
10 Caramel Squares
Instructions
Have the chopped pretzels and peanuts ready. Scoop the peanut butter in a disposable bag and snip 3/8-inch from the tip. Line a baking tray with wax paper.
Pour the chocolate chips in a microwave-safe bowl. Heat at 70 percent power for 90 seconds. Stir and continue to microwave, if needed, at 15 second intervals until the chips are almost melted. Stir to use the residual heat to completely melt the chips. Scoop the chocolate into a disposable decorating bag. Snip 1/4-inch from the tip.
Pipe a dot of chocolate on the prepared tray. Place a lollipop stick on the chocolate. Pipe a circle of chocolate on top about 1 1/2-inches in diameter.
Pipe a swirl of peanut butter on top of the chocolate. (You may not use all of the peanut butter.) Immediately sprinkle some chopped pretzels and peanuts on top. Fill the tray with your pops.
Place the caramel candies in a microwave-safe bowl with 2 teaspoons water. Microwave at 70 percent power for 30 seconds. Stir, and continue to microwave at 15-second intervals until the caramel is melted. Be sure to not overhead the caramels! Drizzle caramel on the pops with a small soon. You may also use a decorating bag to pipe the caramel, but use caution, as the caramels will be very hot.
Let the pops set fully in the refrigerator.
Notes
Semisweet or dark chocolate chips may be used in place of the milk chocolate.
You'll also need lollipop sticks (6 inches) and disposable decorating bags. I used 12-inch bags.
Nutrition Information:
Yield:
10
Serving Size:
1
Amount Per Serving:
Calories:

369
Total Fat:

24g
Saturated Fat:

12g
Trans Fat:

0g
Unsaturated Fat:

9g
Cholesterol:

31mg
Sodium:

155mg
Carbohydrates:

37g
Fiber:

2g
Sugar:

27g
Protein:

6g

This post for homemade Take Five Pops also appears on Food Fanatic.