Disclosure: *This post may include affiliate links. As an affiliate, I earn from qualifying purchases.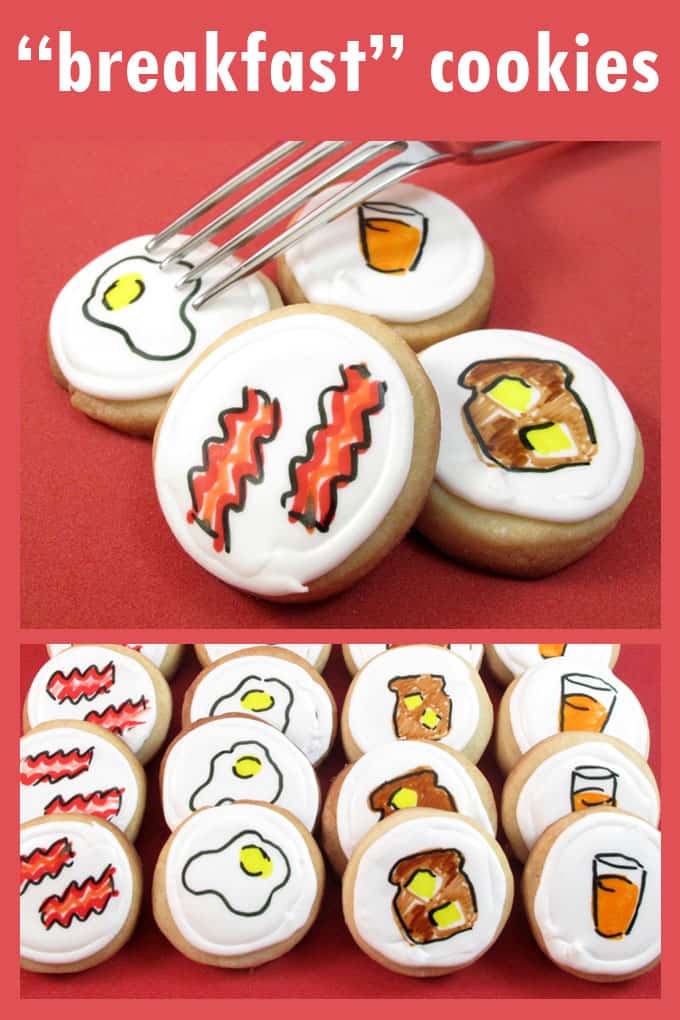 breakfast cookies
I made these breakfast cookies, little bite-size deliciousness, for a friend and kid-filled brunch (as in, the guests were friends and little kids, not a brunch in which friends and kids are the main course). Bite-size cookies are perfect for tiny hands, and the decor? It was a brunch after all. Now, these breakfast cookies should not be confused with actual breakfast cookies, or cookies you can eat for breakfast because they are healthy. These are not in that category. If you're looking for those, try these delicious, healthy breakfast cookie bars. Or, try this slightly less healthy, but not totally unhealthy, homemade Cookie Crisp cereal.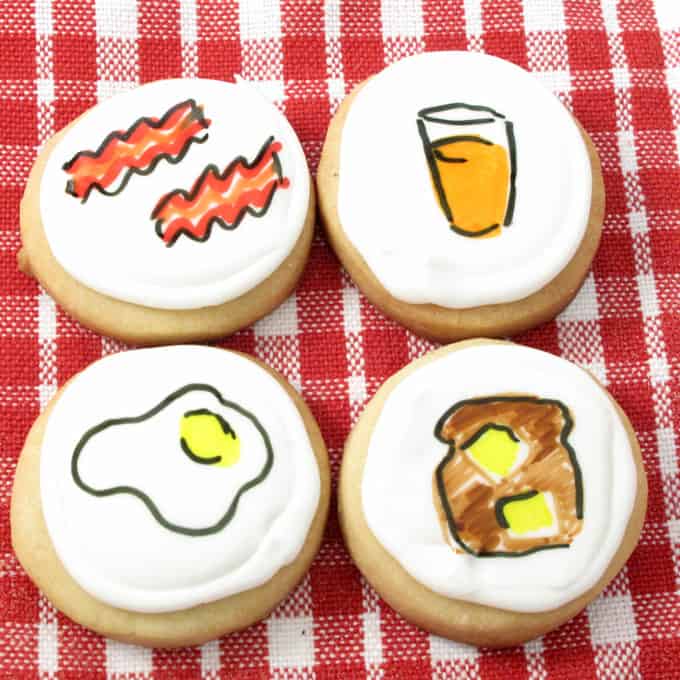 food coloring pens
Food coloring pens work well on royal icing that has been flooded and left to dry very well, at least 24 hours. I drew my designs on cookies topped with royal icing, but remember you can draw these on the surface of your choice: marshmallows, fondant, gum paste… For everything you need to know about food coloring pens, click here.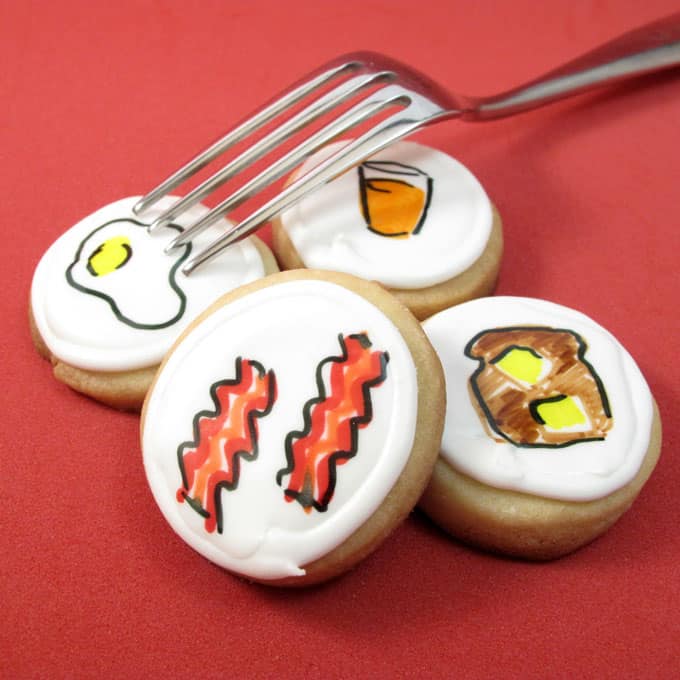 how to make breakfast cookies
you will need:*
cut out cookie dough AND royal icing
cookie cutter (I used a 1 1/2-inch round fondant cutter)
white food coloring
1 disposable frosting bag
1 coupler
1 size 4 decorating tip
rubberband
squeeze bottle or small spoon
small knife or spatula
edible writers
*Find the cutter, frosting bag, coupler, tip and squeeze bottle in the baking aisle of your craft store. and Americolor Gourmet Writers (you'll need black, red, pink, yellow, orange, and brown for these). For food coloring, I suggest Americolor Soft Gel Pastes. For tips on finding cookie decorating supplies, click here.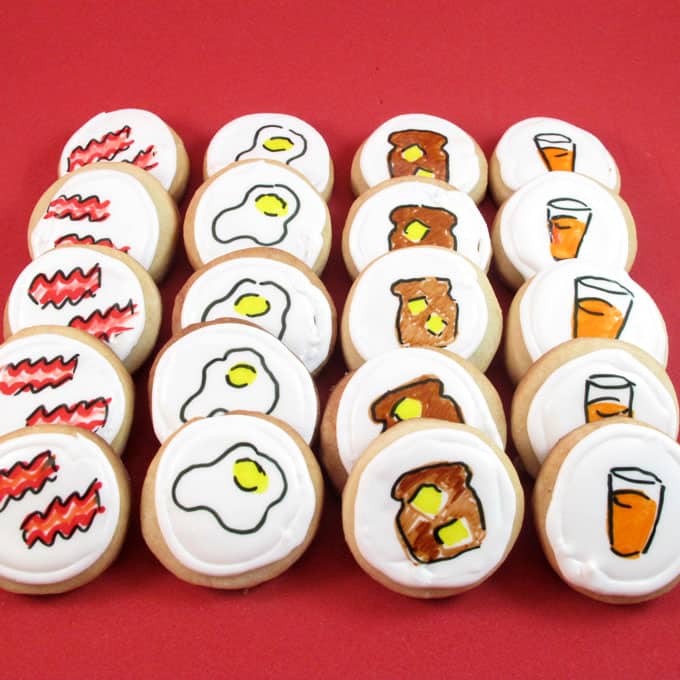 step one: prepare your cookies
Bake cookies according to recipe and let cool. Prepare frosting and mix about 1 cup white. Prepare frosting bag with coupler and tip and fill half full with about 1/2 cup of the white and tie closed tightly with a rubber band. Cover reserved frosting. Pipe an outline on the cookies and let set about 15 minutes. Thin remaining frosting with water, a few drops at a time, until the consistency of thick glue (don't make it toooooo runny, err on the side of too thick). With a squeeze bottle or small spoon, pour a little frosting in the center of the cookie and let it flood to the edges, encouraging it with a small knife or spatula. Let set well, at least a few hours, overnight preferred.
step two: draw your designs
Follow the steps to draw OJ, bacon, eggs and toast. TIP: Click on the drawings to enlarge them.
how to draw an egg:
1. draw and fill a yellow circle
2. outline blob shape around the circle in black and add highlights around the yolk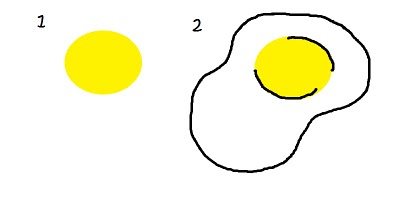 how to draw bacon:
1. draw thick, wavy lines with red
2. draw thick, wavy lines inside the red with pink
3. outline with black
how to draw OJ:
1. draw and fill a trapezoid with a rounded top and bottom with orange
2. outline with black, making an oval at the top and highlighting the top of the juice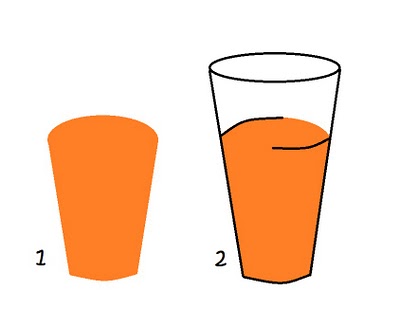 how to draw toast:
1. draw and fill two squares with yellow
2. draw toast shape around the squares with brown
3. fill with brown, making sure to fill around the yellow squares
4. outline with black