Disclosure: *This post may include affiliate links. As an affiliate, I earn from qualifying purchases.


2-ingredient macaroon monsters simplify Halloween desserts
2-ingredient macaroons
I suppose technically, with the eyeballs, these two-ingredient macaroon monsters are three-ingredient macaroon monsters. But still. That makes these gosh darn easy to whip up for Halloween. (Or, without the eyeballs, any other time of the year.) Yum. The sweet coconut goodness melts in your mouth.
I used the 2-ingredient macaroon recipe to make Almond Joy cookies too.
And they're pretty scary, right? …. Right? Scary. Not cute. Not a little odd. Scary.
easy Halloween treats
Need more easy Halloween ideas?
macaroon monsters
you will need:
14-ounce can sweetened condensed milk
14-ounce bag of sweetened coconut
candy eyes (found in the craft store)
Preheat oven to 350º F. Line a baking tray with parchment paper and set aside. Mix the can of milk and bag of coconut. Scoop moundfuls of the mixture onto the baking tray.
I used an ice cream scoop, then pressed gently together with my hands. To prevent sticking, wet your hands first. The mounds shown are just under 2-inches across.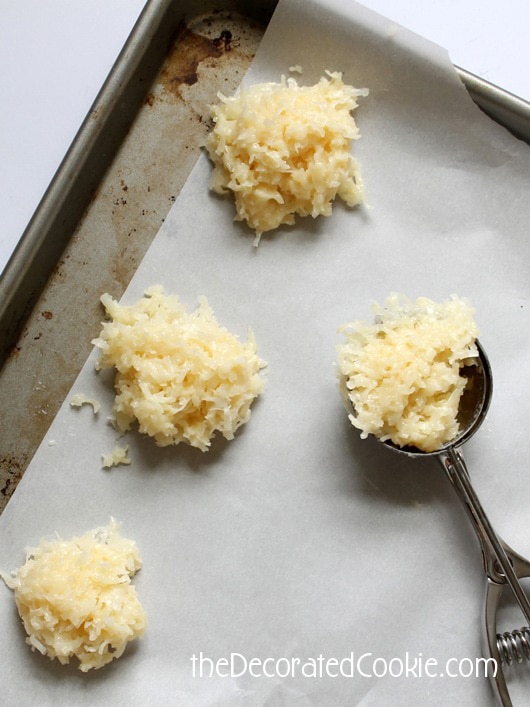 Gently press two candy eyes on each mound. Bake for 14 to 16 minutes, or until the macaroons are nicely browned. Let cool. Makes 12 to 14.