Disclosure: *This post may include affiliate links. As an affiliate, I earn from qualifying purchases.


This easy chocolate fondue with coconut takes minutes to make. Take it to go in mason jars! It never hardens and no fondue pot needed.
easy chocolate fondue
Chocolate fondue is easier than you'd think to make. Remember a bit back when I made these magic shell marshmallow pops? Well I had some of the chocolate-coconut mixture leftover.
So it sat in the mason jar, covered with plastic wrap, on the kitchen counter for a few days. And I kept grabbing stuff to dip in it–pretzels, strawberries, bread–because the consistency was perfect for dipping and it stayed perfect for dipping for days and it tasted delicious.
And then I was supposed to bring a wheat-free dessert to a party and I immediately thought of my perfect chocolate for dipping. And so that's what I made and that's what I brought. And it was a hit: EASY chocolate fondue with coconut, to go (in minutes!).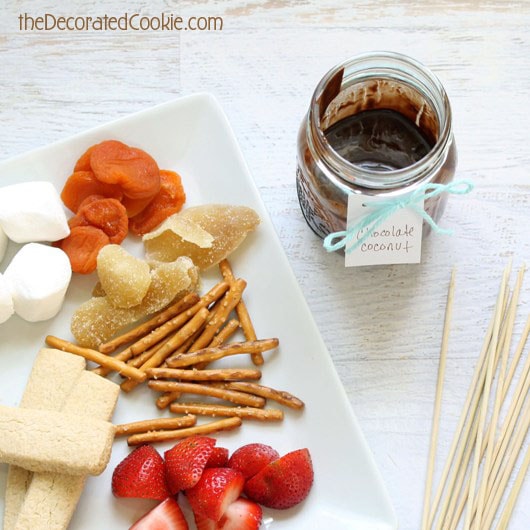 It's not exactly traditional "fondue," as there is no cream in it. But it's super-easy to make and super-easy to eat and since you can melt and carry it right in a mason jar, super-easy to bring along to a party, picnic, hiking, wherever. I won't judge where you bring chocolate.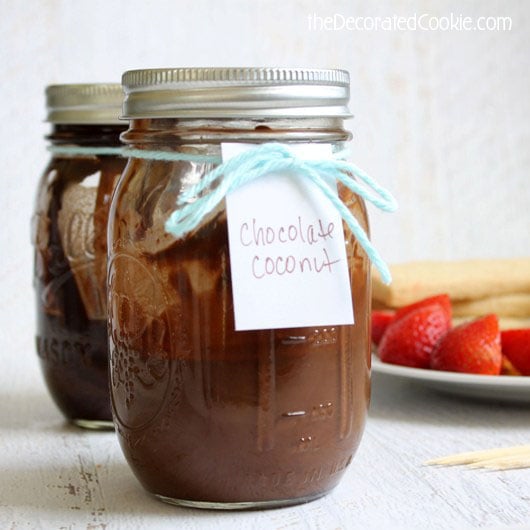 how to make easy chocolate fondue
you will need:
mason jar(s)
chocolate chips (I made one with semi-sweet and one with dark chocolate)
coconut oil
chocolate liqueur (optional*)
dippers (see below)
skewers
*If the addition of liqueur makes the chocolate too thick (this is counter-intuitive, I know), add another tablespoon of coconut oil and melt in the microwave for another 15 to 20 seconds. Stir well. It will still be thicker than without the liqueur.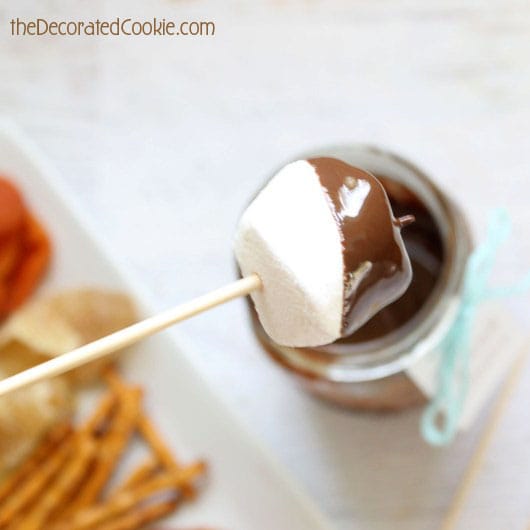 Place 1 cup of chocolate chips in the mason jar with 2 tablespoons of coconut oil.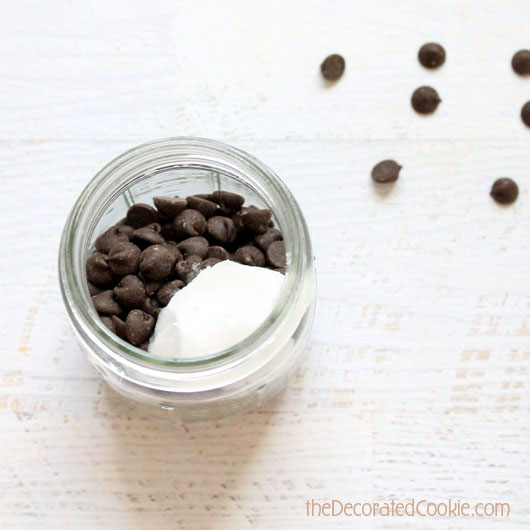 Microwave for 45 seconds at 70 percent power. Stir and continue to microwave in 15 second intervals, if necessary, until melted. Stir very well. (I used a knife to stir.) If using liqueur, stir in 1 to 2 tablespoons. Let cool at room temperature and cover until ready to serve.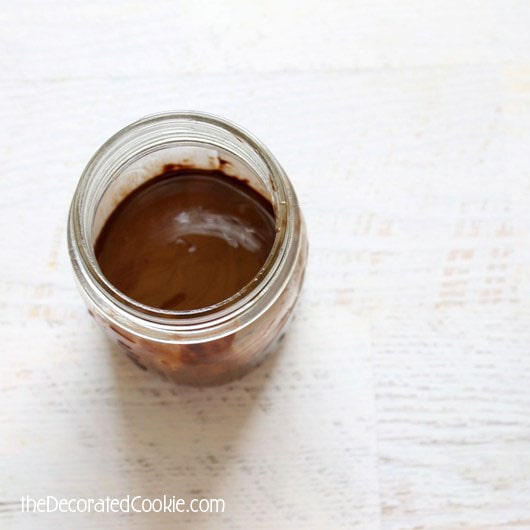 TIPS: For easier dipping, you can pour the chocolate into a shallow bowl when serving. I just kept it in the jar.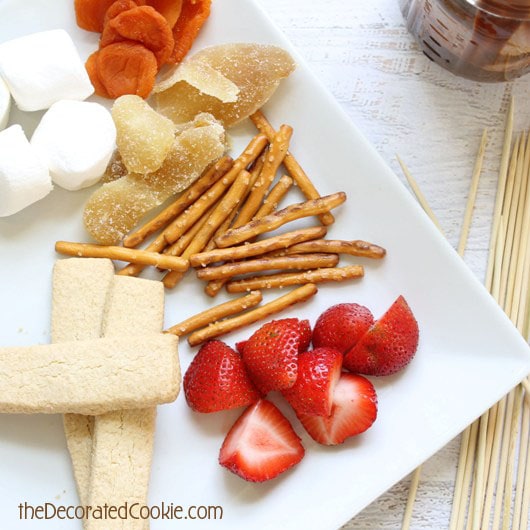 Dipper ideas. For my wheat-free friend, I served:
strawberries
crystallized ginger
dried apricots
gluten-free pretzel sticks
marshmallows
cookie sticks I made with Pamela's roll and cut sugar cookie mix