Disclosure: *This post may include affiliate links. As an affiliate, I earn from qualifying purchases.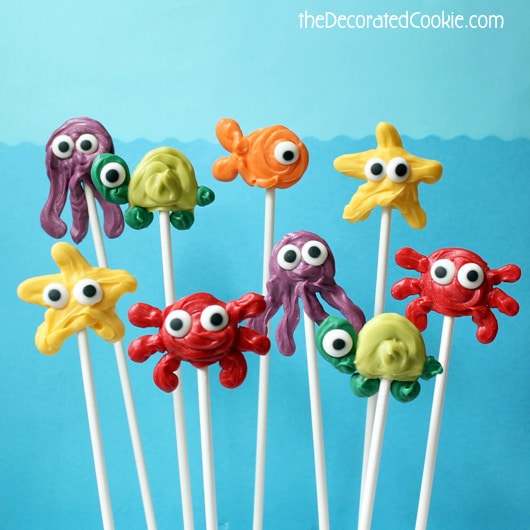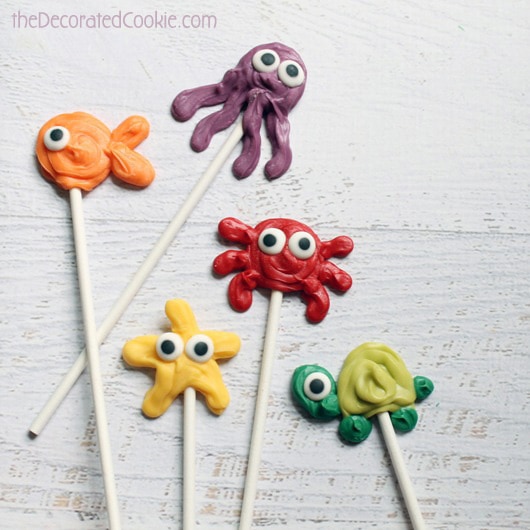 sea animal candy pops
How to make sea animal candy pops with candy melts, candy eyes, and lollipop sticks, a fun food idea for summer. UPDATE: To see the video how-to for these sea animal candy pops, click HERE.
I'm a sucker for the sea, but then, I grew up with sand between my toes thanks to that whole great-grandfather being a lighthouse keeper thing. While I would never own a fish tank because that kind of freaks me out (it just feels weird to me), I do so love sea creatures. I remember a time when starfish (and sea glass, remember sea glass?) could be found on the beach. And when crabs bit my toes in the ocean. So these sea animal candy pops are just right for me.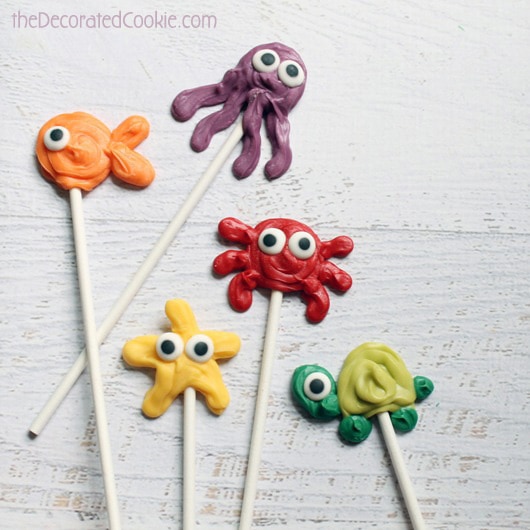 It's summer. The kids are in my hair. I'm allowed to check out and only do easy things. Oh, who am I kidding. I always check out and do easy things. And candy pops from candy melts are the easiest thing ever to make. See? I have a history.
Chicks, bunnies, monsters, more monsters, ghosts, shamrocks, Christmas trees, and hearts.
And every time I say the same things. These are easy, take minutes to make, and are kid-friendly. All you need are disposable decorating bags, candy melts, lollipop sticks and candy eyes, all available from the craft store.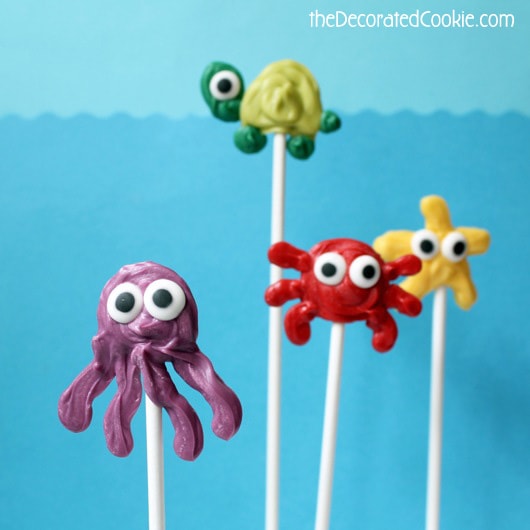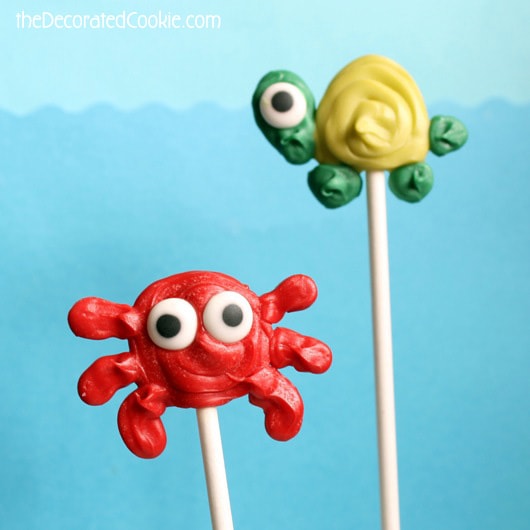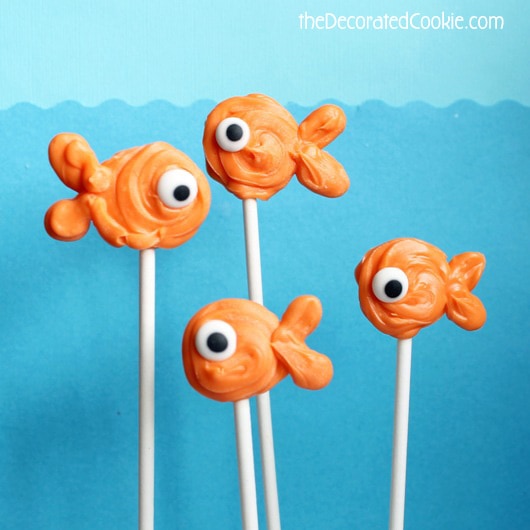 how to make sea creature candy pops
you will need:*
candy melts
disposable decorating bags
baking tray(s)
parchment or wax paper
scissors
lollipop sticks
candy eyes
*Find the candy melts, disposable decorating bags, lollipop sticks and candy eyes in the craft store, or see below for resources.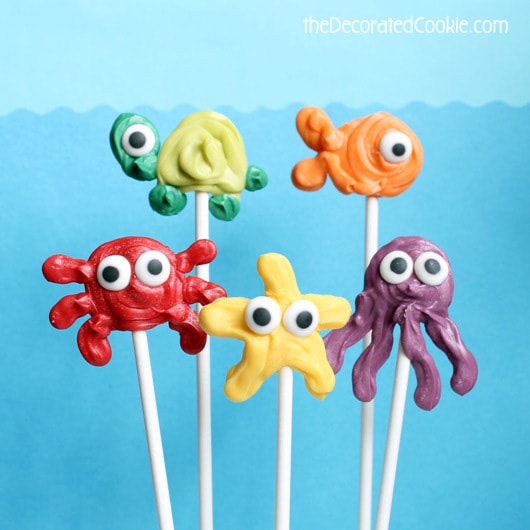 Line a baking tray or trays with parchment or wax paper and set aside. Fill a decorating bag with about 1/2 cup of candy melts. Microwave at 60 percent power for 90 seconds, then at 30 second and 15 second intervals until the melts are fully melted, massage after each time in the microwave. Twist the top closed tightly.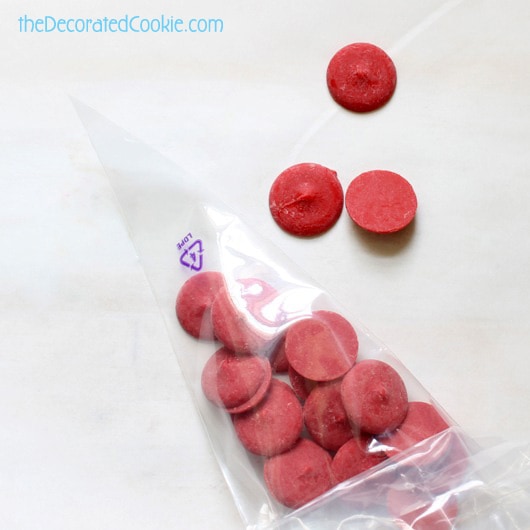 Pipe a dot on the baking tray. Place a lollipop stick on the dot. Pipe the sea creature design on top (see below) and immediately add two candy eyes. Fill the tray and let set at room temperature until fully hardened, about 1 hour.
TIP: Candy melts harden quickly, so only melt one bag at a time (except for the turtles, I melted both greens at once), work with one color at a time, and make one whole pop at a time.
The crabs are red circles with six little lines for legs.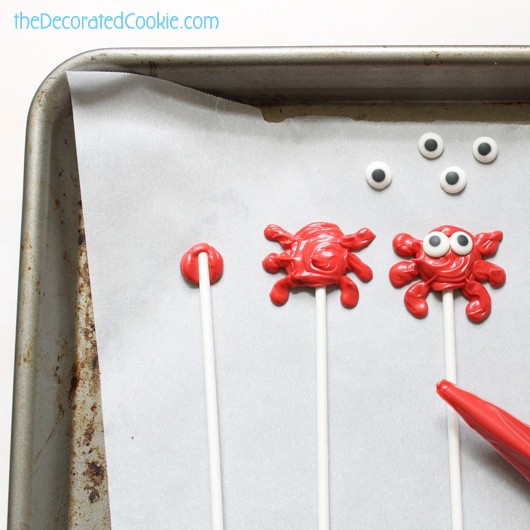 The starfish are basically messy yellow stars.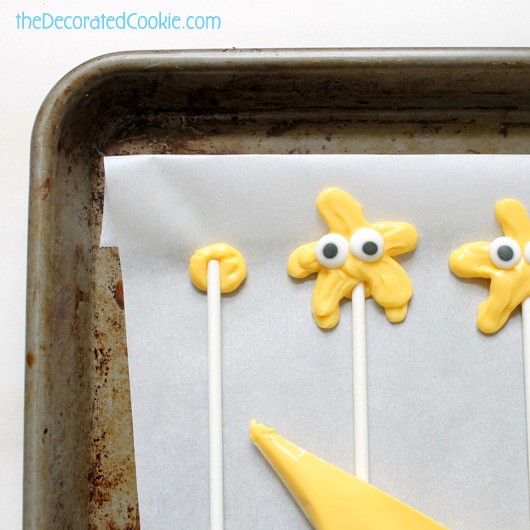 The octopi (octopuses?) have only four legs to make them less crowded. Tell the kids they are sitting on the other four.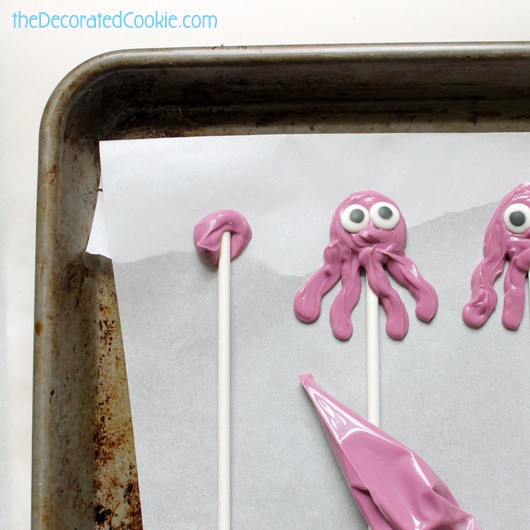 The turtle is fancy, made with two shades of green.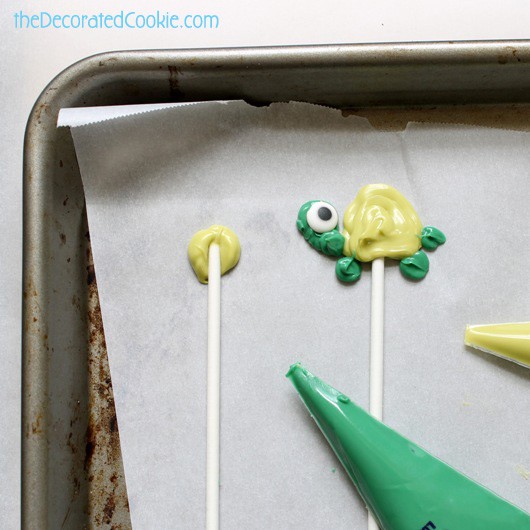 The fish is just a circle with a "V" shape tail.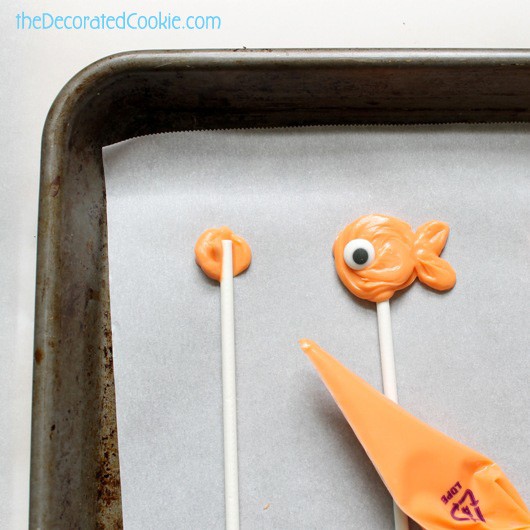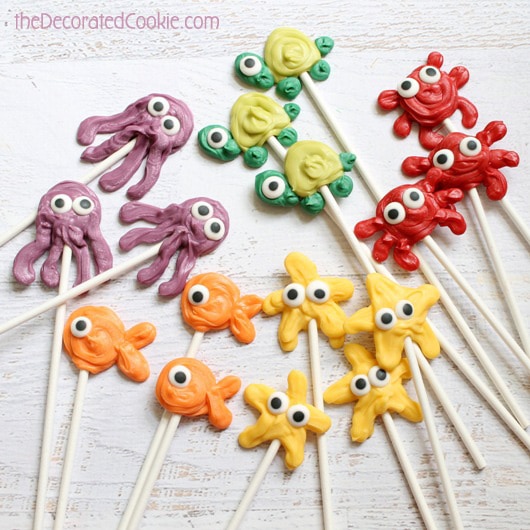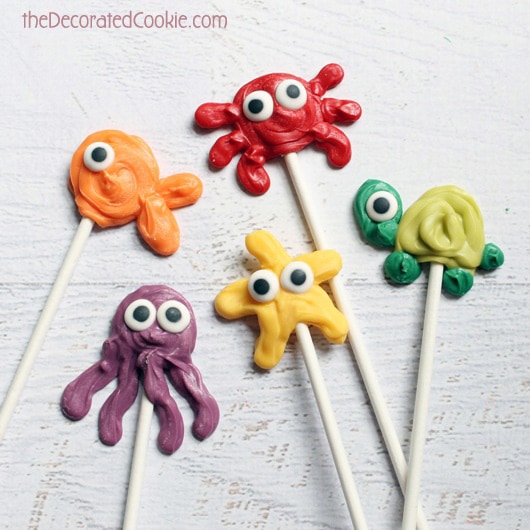 SUPPLIES