Disclosure: *This post may include affiliate links. As an affiliate, I earn from qualifying purchases.


Need a fun party or classroom activity that every kid loves? Here is everything you need to know to throw a cookie decorating party for kids.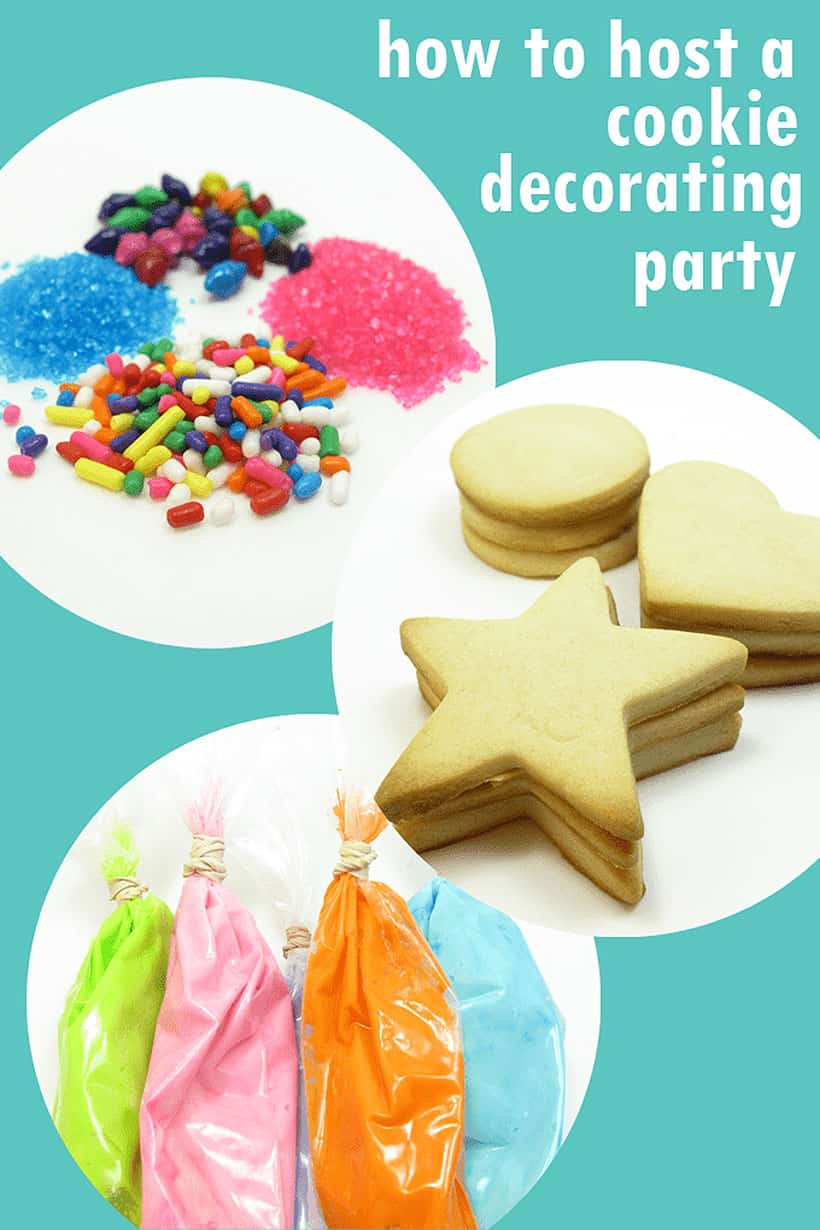 cookie decorating party
There is at least one near-universal truth about kids: They love decorating cookies.
Every time I've led a cookie decorating activity for kids—in my home, at festivals, or in the classroom—every single child attacked their cookies with a joyous fervor.
Here are some tips to host a cookie decorating party, or to lead a cookie decorating activity for kids of any age with minimal chaos and only a few flying sprinkles.
more cookie decorating party advice
For more cookie decorating party advice, check out this cookie decorating and dinner party for toddlers I threw here. Or, find more information on decorating cookies with kids in a classroom. If your hosting kids with food allergies, be sure to check out this post for important tips on keeping kids safe at a cookie decorating party.
more cut-out cookie options
Make-ahead tips for cookie decorating
Prepare cookies:
The cookies: Up to three days ahead of the activity, prepare cut-out sugar cookie dough and bake cookies.
Seal the cookies in plastic containers until the day of the event.
Kids will love to decorate any shape cookie. I often stick with basic shapes, like circles, stars or hearts.
Check online for design ideas and offer suggestions such as rainbows, smiley faces or just stripes and polka dots.
Plan on at least two cookies per child. It helps to have graham crackers or store-bought plain cookies on hand in case kids finish quickly and want to decorate more!
Prepare icing:
Up to a week in advance, prepare royal icing OR sugar cookie icing, divide it, and mix your colors.
Fill disposable decorating bags (found at the craft store) with about ½ cup of icing and close tightly with rubber bands.
Don't worry about couplers and tips, the kids won't need them.
And don't snip the tips of the bags until right before the activity.
For color choices, I tend to stick with the rainbow: Red, orange, yellow, green, blue, purple, white and pink.
Avoid dark colors, such as black, red, or navy, as food coloring can stain.
I usually make several bags of the same color.
I suggest Americolor Soft Gel Pastes for food coloring, in the .75 ounce size.
You should have at minimum the same number of icing bags as there are children. A
nd make sure not to prepare your icing too thick for the kids to squeeze and not so thin that the icing runs all over the cookie.
Store icing at room temperature until the day of the event. Snip the tips with scissors before decorating. Little kids may need a bit more of the tip snipped for easier piping.
what supplies to have when cookie decorating
To decorate cookies with kids, you will need:
cookies (see above)
icing (see above)
rubber bands to tightly close the icing bags
sprinkles (optional)
freezer or parchment paper for the tables
scissors for the icing bags
sanitizing wipes
paper towels
paper plates
smocks (optional, but icing can stain clothing)
I also find it useful to have paper plates marked with each child's name. The child can decorate the cookies right on the plate and then move them aside to dry.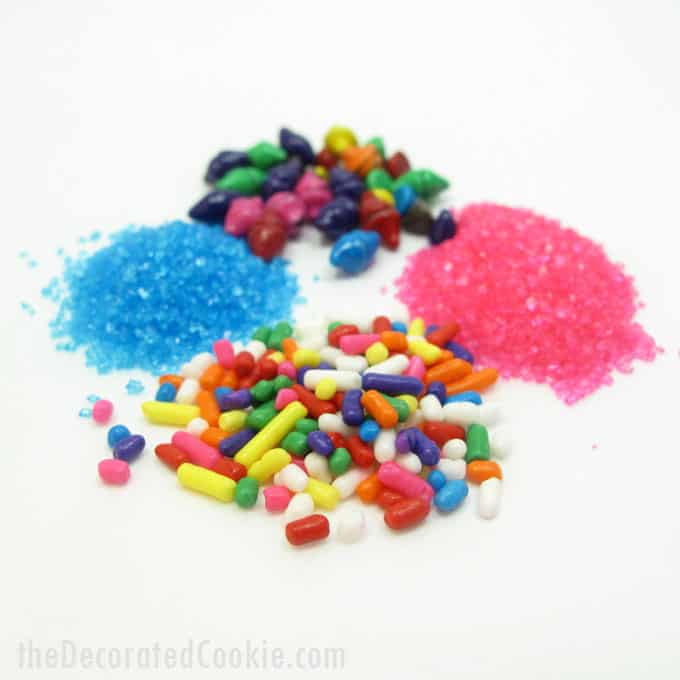 How to set up the cookie decorating table
Line empty table(s) with freezer or parchment paper, securing with blue tape at the ends.
Place the icing bags in the center of the table(s) for the kids to share.
Snip ¼ inch from the tips of the icing bags, or up to ½ inch if the kids have a hard time squeezing the icing out of the bag.
You can also place a few containers of sprinkles on the table, but avoid nonpareils, as they roll around everywhere, especially off the table and on to the floor.
Give kids their paper plates and cookies and let them go nuts.
How many cookies per kid and how long the activity takes:
This activity tends to go more quickly than you'd think!! When I host the activity in a classroom, I tell the teacher I will need about 15 minutes to set up and only half an hour for the decorating.
The number of cookies kids should decorate will depend on the time allotted.
The youngest kids may only take a few minutes. Older kids will take longer.
I usually give kids two to three cookies to decorate, and the activity takes about 30 to 40 minutes, not including set up and clean up. Here is a general time guideline for what to expect:
Younger kids, ages 2 to 4, tend to squeeze icing on the cookie in seconds.
Elementary age kids, 5 to 8, tend to take a bit more care with their cookies, but they also might go for the "how much icing can I fit on a cookie" method of decorating. They take about 5 to 10 minutes per cookie.
Middle grade kids, 8 and up, take the most care and attention planning and executing their design. Each cookie may take 15 minutes (or more!).
How many of these cookies the kids are allowed to consume I leave up to those in charge.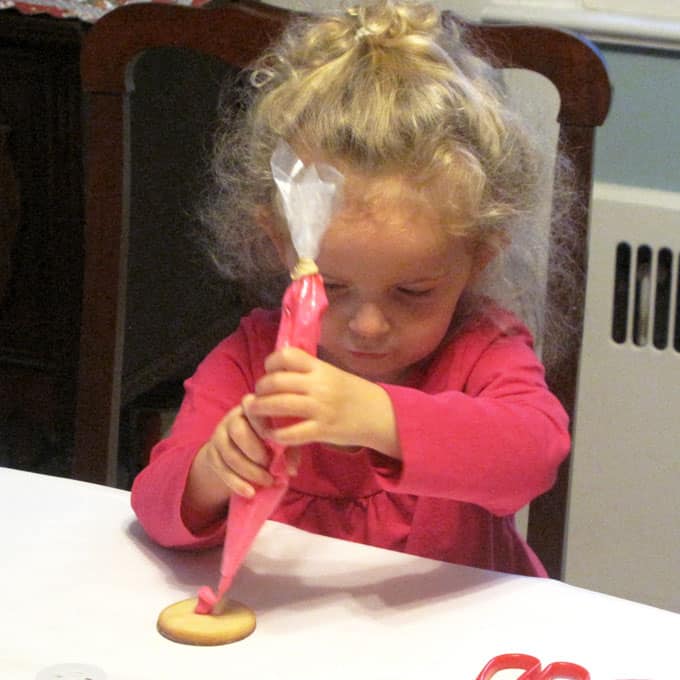 Cleaning up:
Set the cookies aside to dry. Cookies will dry enough to handle and stack if left at room temperature overnight, however in just an hour or two the cookies will set enough to let the child carry the cookies home on the plate.
Kids can throw away the paper covering the tables and any used icing bag. Wipe down the area and enjoy the cookies!
This post on how to host a cookie decorating party also appears on Fun Family Crafts.