Disclosure: *This post may include affiliate links. As an affiliate, I earn from qualifying purchases.


Ice cream cone Easter egg decorating idea.
ice cream cone Easter eggs
Is it too early to start decorating Easter eggs? I hope not. It's been so warm here in DC it's definitely not too early for ice cream. These super cute ice cream cone Easter eggs are simple to paint and require no dye.
Choose any "flavor" you like. (Just be sure to use non-toxic paint, of course, if you plan on eating the eggs.)
And bonus, these use brown eggs. I find that around Easter, the white eggs are harder to find in my supermarket.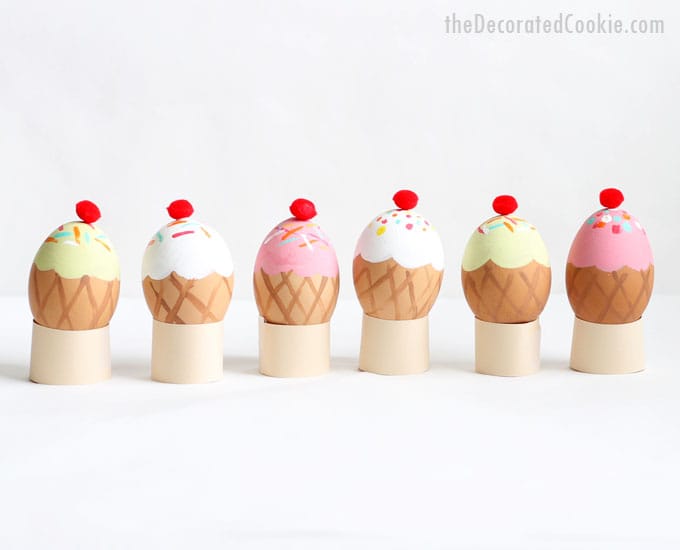 more Easter egg decorating ideas
Here are 9 awesome egg decorating ideas.
Need more Easter egg decorating ideas? Check out my Pinterest board.
how to make hard-boiled eggs
The internet is filled with advice on how to make perfect hard-boiled eggs.
Here is what I do: Place the eggs in a saucepan in cold water. Heat the water to boiling and turn it down to a simmer. Simmer for 20 minutes. Remove the eggs and place in a bowl of ice water. Let cool.
Here are the video how-tos. See written instructions below.
How to make ice cream cone Easter eggs
you will need*
hard-boiled brown eggs
non-toxic craft paint (ice cream colors, sprinkles colors, and brown)
paint brushes
non-toxic glue
mini red pom poms
*Find all of the above in the craft store.
what to do:
Use a flat paint brush to paint the ice cream. Let dry and paint a second coat.
Use a small, liner brush to paint sprinkles and let dry. Use a liner brush to paint the brown stripes for the cone. Let dry. Add a dot of glue to the top and attach a pom pom for the cherry. Let dry.
TIPS: Prop eggs to dry on the underside of the egg carton. To display the eggs, cut strips of cardstock and tape into circles.
Here are 9 more Easter egg decorating how-tos.