Make the Olive Garden lasagna dip at home, an easy and delicious appetizer. And bonus: How to make shortcut Olive Garden breadsticks.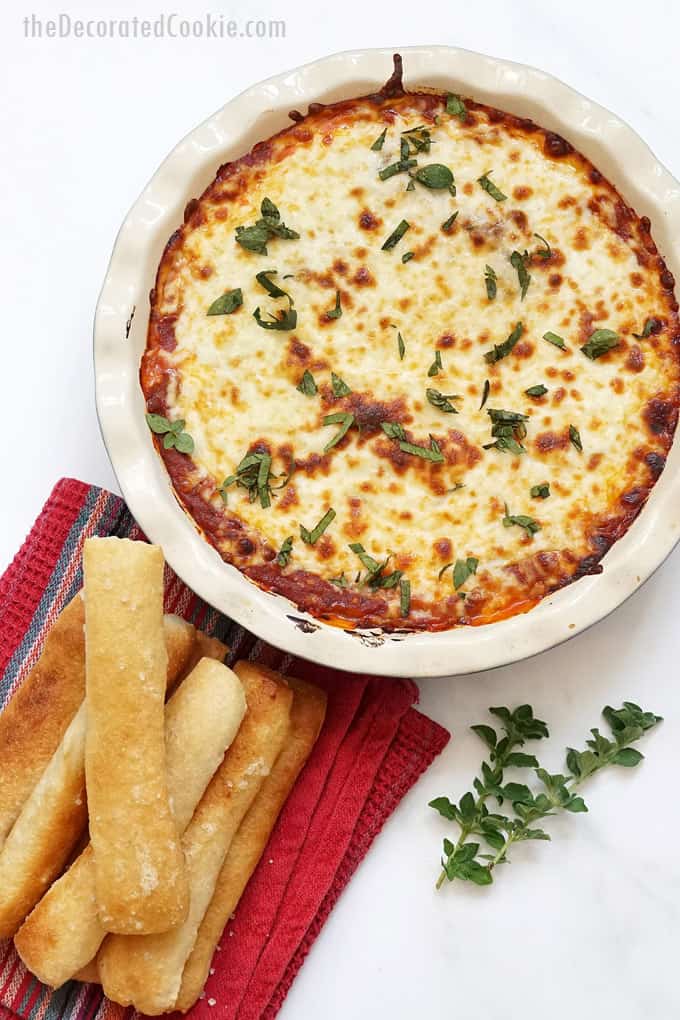 lasagna dip recipe
Who am I to judge the Olive Garden's decision to turn a comfort food dinner casserole into an appetizer when it's so easy to make and tastes delicious? This copycat lasagna dip recipe layers marinara sauce with beef and sausage, ricotta, and lots of mozzarella cheese, just like the original. And as a bonus, I'm throwing in a super-shortcut Olive Garden bread sticks recipe for dipping.
I stopped short of making "pasta chips" for dipping, as the Olive Garden version uses. Instead, I dipped the garlic-y bread sticks. Or, try pita or bagel chips, crackers, garlic knots. Oh my, I bet these cheese bombs would be awesome with the dip. Because cheese. Or this pesto pull-apart bread. Make your own pasta chips by dropping lasagna noodles (broken in thirds) into hot oil until they bubble and crisp.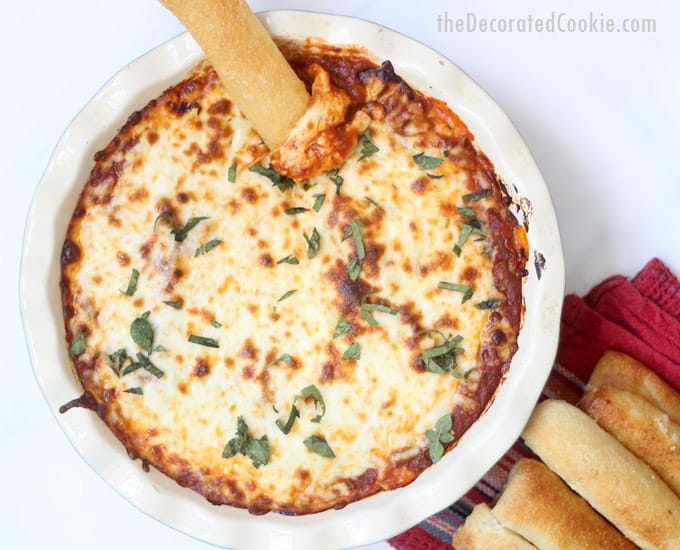 dried vs fresh herbs
For this recipe, you may add fresh basil, fresh oregano, or a combination of both, depending on your preference. If you'd like to substitute dried herbs for the fresh, the general rule is to use one-third of the amount of fresh herbs. This recipe calls for 1 1/2 tablespoons of fresh herbs. So you would use 1/2 a tablespoon of dried herbs (which is the equivalent of about 1 1/2 teaspoons).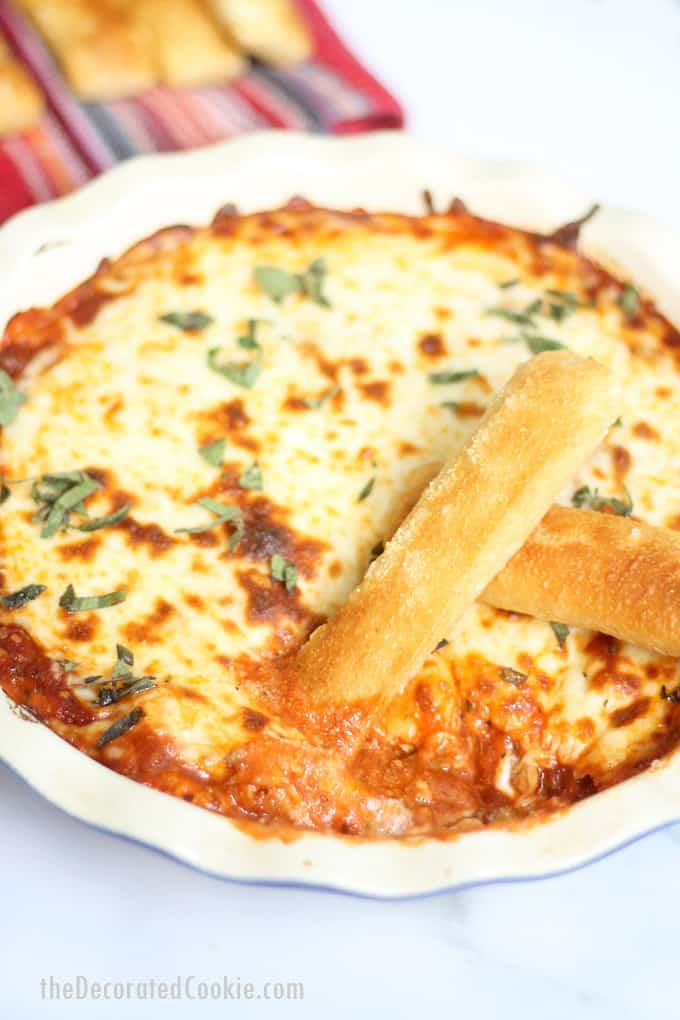 how to make lasagna dip
ingredients:
1 1/2 tablespoons olive oil, divided
2 1/2 cups marinara sauce (24 ounce jar)
1/4 pound Italian sausage
1/4 pound ground beef
1 to 2 cloves garlic, minced
1 1/2 tablespoons fresh basil and/or oregano, finely chopped
3/4 cup ricotta cheese
2 tablespoon Parmesan cheese
2 1/2 cups grated mozzarella cheese, divided
additional basil and/or oregano for topping
what to do:
Preheat oven to 450 degrees F.
Heat 1 tablespoon of olive oil in a skillet. Add the sausage and beef and cook, occasionally stirring and breaking up the meat into crumbles, until no longer pink, 7 to 10 minutes. Drain and set aside.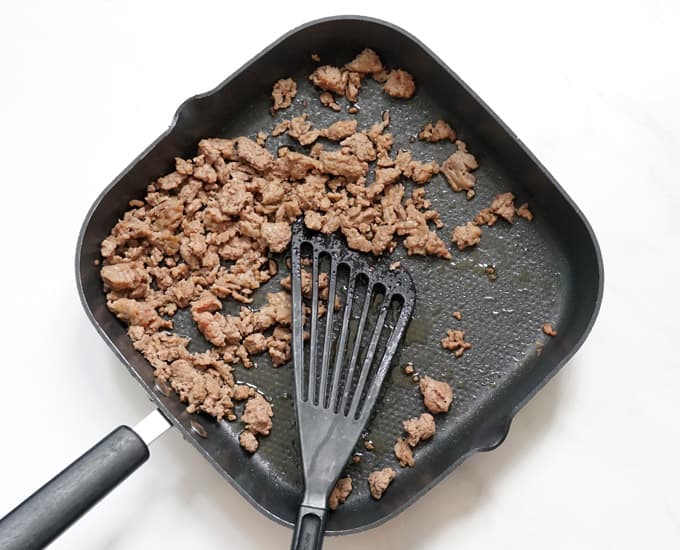 In a large saucepan, heat 1/2 tablespoon of olive oil. Add the garlic and heat until it becomes fragrant, but not browned, about 1 minute. Add the marinara sauce, meats, and herb(s). Simmer over medium-low heat, stirring occasionally, 7 to 10 minutes.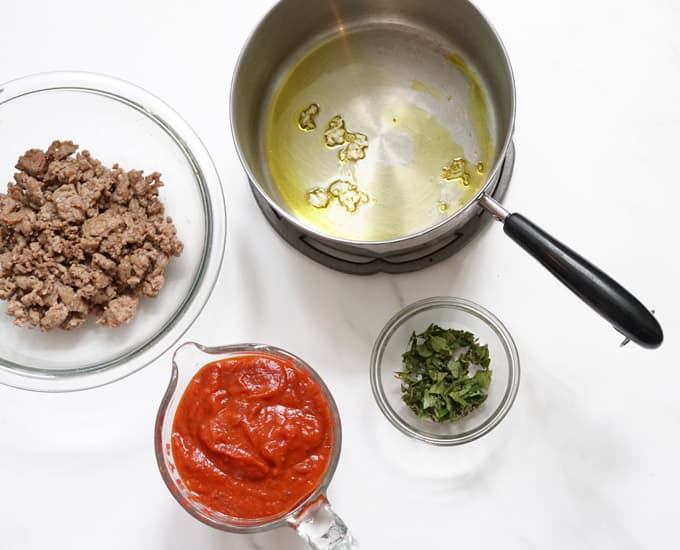 Meanwhile, in a small bowl, stir together the ricotta and Parmesan cheese.
Pour half of the sauce mixture into a baking dish. You may use an 8 x 8-inch baking dish or a pie dish. Spread the ricotta on top of the sauce. Top with 1 cup of the mozzarella cheese. Top with the rest of the sauce mixture and finish with the rest of the mozzarella.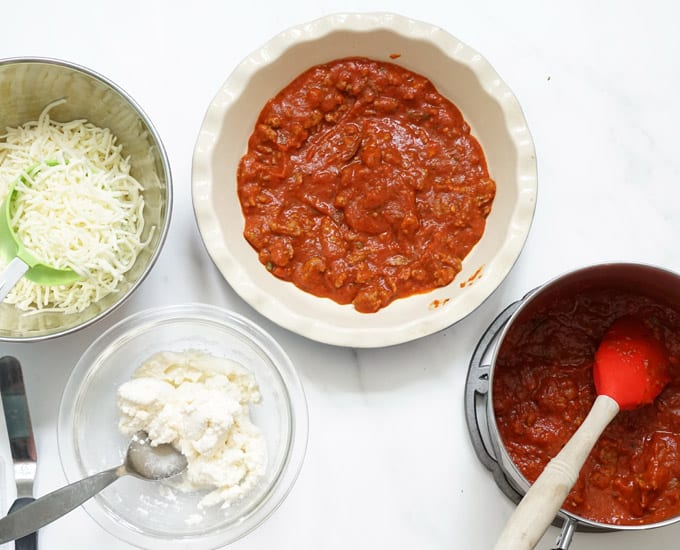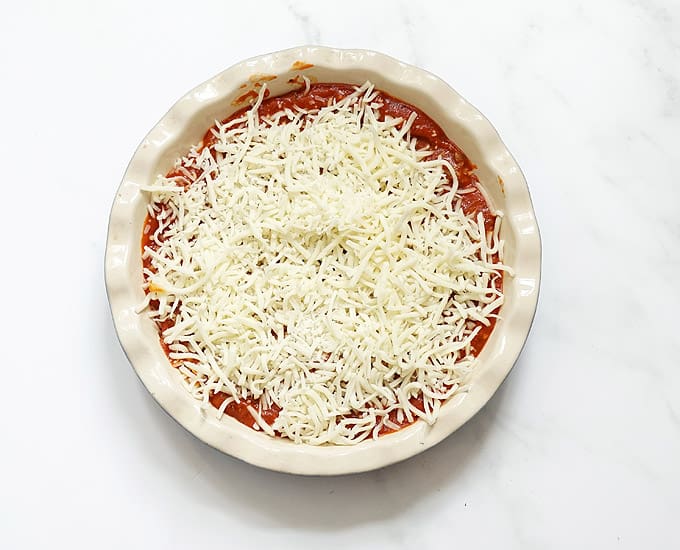 Bake uncovered 12 to 15 minutes until the edges are very bubbly and the top browns. If you like, broil for the last 2 to 3 minutes to ensure the top browns.
Serve warm with bread sticks or dippers of your choice.
how to make shortcut Olive Garden bread sticks
This super easy Olive Garden bread sticks recipe goes perfectly with lasagna dip.
ingredients:
1 tube of refrigerated bread sticks
2 tablespoons butter
1/2 teaspoon salt
1/4 teaspoon garlic powder, plus additional
what to do:
Preheat the oven to 375 degrees F. Line a baking tray with parchment paper. (TIP: my commercial-size baking tray works best to hold all of the bread sticks.)
Open the bread sticks and separate. Place on the baking tray two-inches apart. Do not follow the instructions to twist the bread sticks, just place them flat on the baking tray.
Bake until golden brown, 10 to 12 minutes.
Meanwhile, in a small bowl, melt the butter in the microwave. Add the salt and garlic powder and stir. When the bread sticks are out of the oven, brush with the butter mixture. For extra garlic flavor, lightly sprinkle additional garlic powder on the bread sticks.
lasagna dip recipe