Disclosure: *This post may include affiliate links. As an affiliate, I earn from qualifying purchases.


Use your leftover Halloween candy to make chocolate bark!
leftover Halloween candy chocolate bark
Two days after Halloween, we went to a friend's for dinner. Our mission: The dessert. I admit sighing at the bag of my daughter's Halloween candy and wondering if I could just bring that. I took it only one step better to make leftover Halloween candy chocolate bark.
I'm pretty sure, positive, in fact, I'm not the first person to make leftover Halloween candy chocolate bark. I think there may be 34,700 others who have done this.
I think this because when I googled "leftover Halloween candy chocolate bark," that's how many results came back.
My daughter is as picky with her candy as with every other item of food, so there is plenty in her bag she won't eat. We plan on bringing some to the dentist, who will donate candy to charity.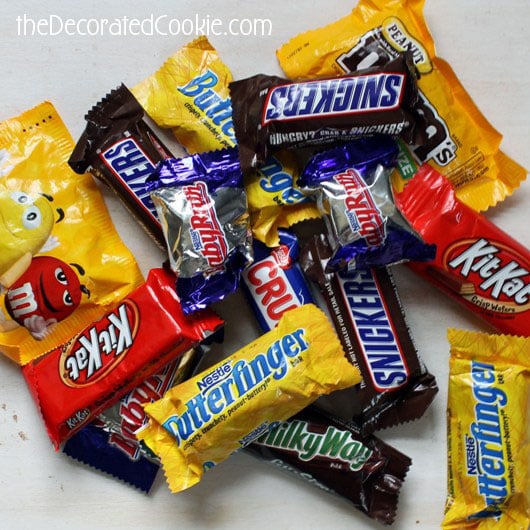 She had her own plan, too, which I'm compelled to share with you. On our front porch, she set up a pumpkin of unwanted candy with a sign that says "Candy for Sale. 1 dollar for as much as you want 5 or under." The two oatmeal containers are for the money, in case one "overflows." We put a dollar in one and a quarter in the other so people know what to do.
The profit she earns will go to "college or twin kittens." Now, I know what you're thinking. Who will buy candy the day after Halloween?
The answer: Her mom and dad, who periodically sneak out to the porch to drop coins and dollars into the oatmeal containers to stave off her frustration at the failed business plan.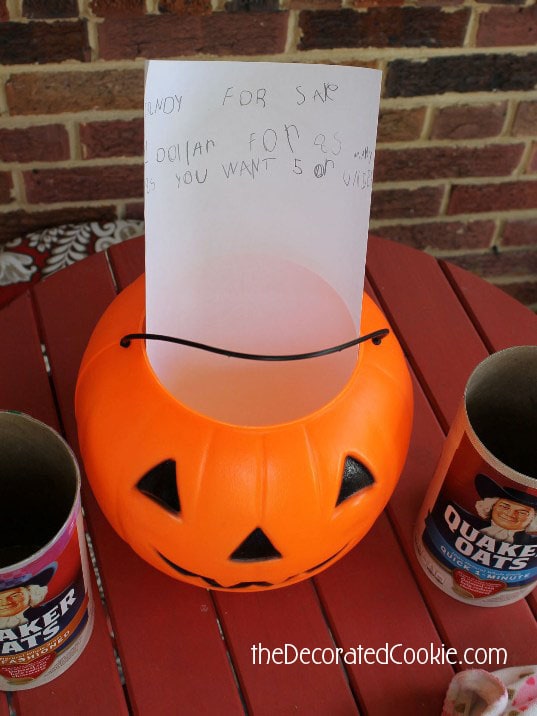 So if you're in the Washington, DC metro area, and would like a great deal on leftover Halloween candy, please feel free to drop by our front porch.
To make leftover Halloween candy chocolate bark
you will need:*
semi-sweet chocolate chips
little candy bars
cutting board and knife
baking tray
wax paper
*A bag of chocolate chips is about 2 cups, so that would be a wise amount to make. But I had more and was bringing this to feed a dinner party, so I went with 3 cups of chocolate chips. I used about 30 little candy bars.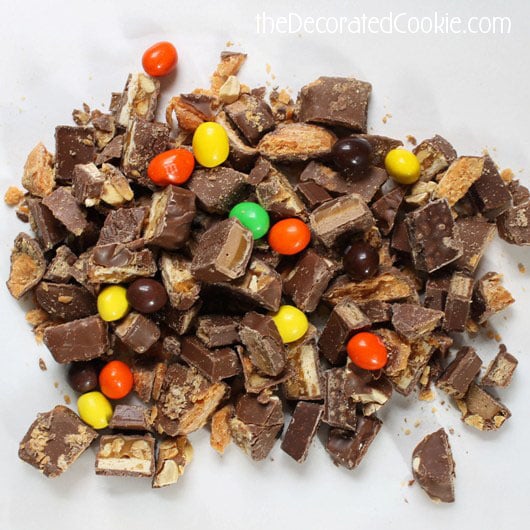 Coarsely chop about 30 little candy bars. I left the peanut M &Ms whole. Melt the semi-sweet chocolate chips. I put the chocolate chips in a stainless steel bowl on top of a saucepan of simmering water, but you can also microwave according to the package directions. Spread the melted chocolate on a baking tray lined with wax paper. Immediately sprinkle the candy over the chocolate, crumbs and all. Smush down a bit with your hands (even doing this, I lost some in the break stage.) Put in the fridge to set for an hour or so. Break into pieces.