Disclosure: *This post may include affiliate links. As an affiliate, I earn from qualifying purchases.


How to decorate lemonade cookies, a fun summer dessert idea.
Given my thrill when the one and only Amy Atlas (of dessert table fame, I'm sure you know) happens upon one of my cookies to feature on her blog, Sweet Designs.
So imagine how honored I was to see her name in my inbox with the loveliest of invitations to share some cookies with her readers. I immediately accepted with the iconic summer sipper, lemonade.
The cookie version, that is. And for a twist, I added some limeade, pink lemonade and orangeade.
how to decorate lemonade cookies
Royal Icing
Circle cookie cutter (use any desired size for the lemon slices, I used a 2-inch circle)
Food coloring (blue, yellow, black and white)
6 disposable frosting bags
5 couplers
5 decorating tips (sizes "2"s, "3"s and "4"s)
Rubber bands
White rolled fondant
Red food coloring pen
Yellow sprinkles or sanding sugar
*Find frosting bags, couplers, tips, the cookie cutter, fondant, and sprinkles in the baking aisle of the craft store. For the food coloring, I recommend Americolor Soft Gel Pastes (Sky Blue, Egg Yellow, Super Black and Bright White) and
Americolor Gourmet Writers.
Step 1: Bake and Prepare Cookies
Bake your cookies according to recipe and then roll out chilled cookie dough. Cut out your lemonade glass shapes with a sharp knife, or to quicken this step, use a dough scraper.Cut out your lemon slices with the circle cutter. Place cookies on a parchment paper-lined baking tray. Bake and let cool.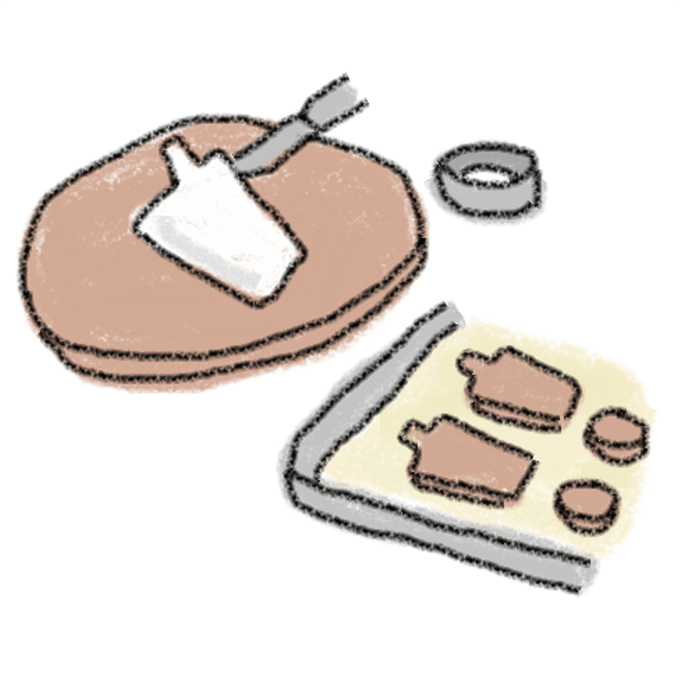 Step Two: Prepare Your Icing
Prepare royal icing according to recipe. To decorate both the lemonade glasses and lemon slices you will need five colors of frosting.
I work with about 3/4 cup of frosting per color, though you will need more of the light yellow, about 1 ½ cups. Prepare gray (mix in a drop or two of black coloring), two shades of yellow (just add more drops of coloring for the darker shade), light blue, and white.
Prepare five frosting bags with couplers and decorating tips. Fill bags with each color using these tips: Gray with size "3," dark yellow with size "4," light blue with size "4," white with size "2" and half of your light yellow with size "4." Tie bags closed tightly with rubber bands.
Reserve remaining light yellow frosting in a covered bowl.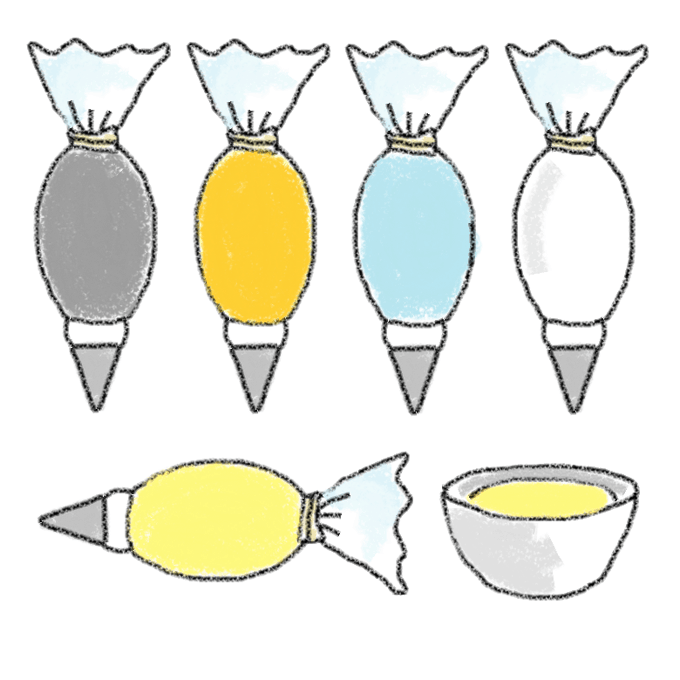 Step 3: Decorate the Straws
Take a piece of fondant, knead briefly and roll about 1/8-inch thick.
Roll between two pieces of wax paper or on a surface dusted with confectioner's sugar to prevent sticking. Cut out sticks about 3/8-inch wide by 1 ½ inches long. This is easily done with a dough scraper, but a sharp knife will work, too. Draw stripes with the red food coloring pen. Set straws aside.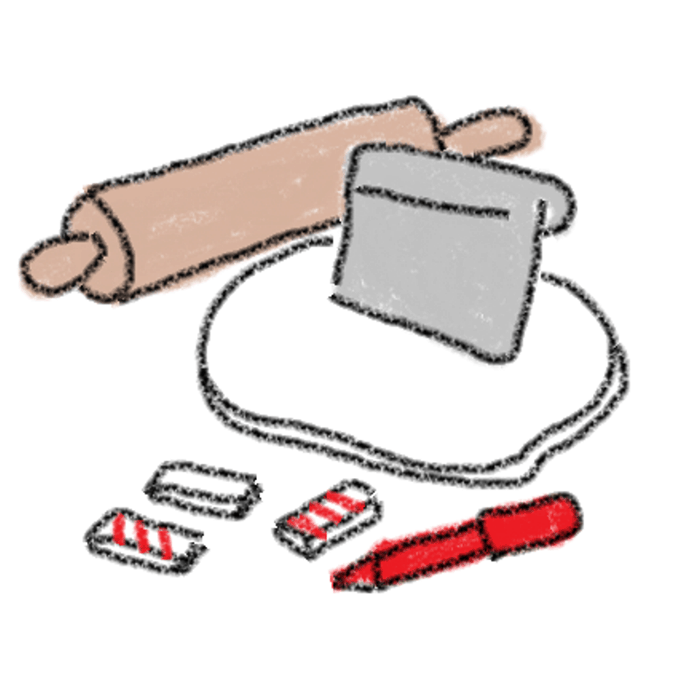 Step 4: Decorate the Lemonade Glass
With gray frosting, pipe a ring at the top of the glass and pipe the outline of the glass.
Put the straw in place on top of the frosting, dabbing more frosting on the back of the straw as needed to adhere. Let set about 15 minutes.
Pipe a line beneath the straw with light yellow, then pipe yellow frosting back and forth in a zig zag motion to completely fill the space below the line. Immediately coat the yellow frosting with yellow sprinkles and turn over to remove excess. Fill the space in the upper glass with light blue. Let cookies dry overnight.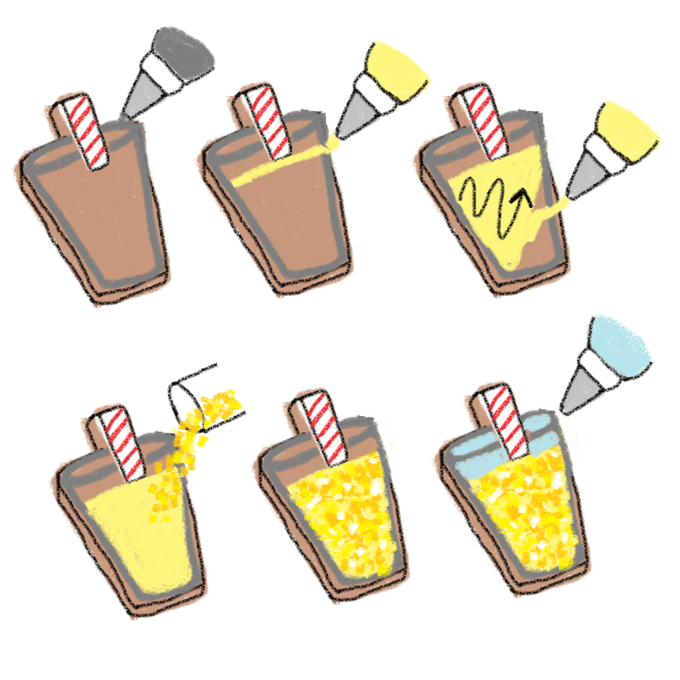 Step 5: Decorate the Lemonade Slices
Pipe a circle with the darker yellow. Immediately coat with sprinkles and turn over to remove excess, brushing away any stray sprinkles. Let set about 15 minutes.
Stir drops of water into the lighter shade of yellow until the consistency of thick glue.
Fill an empty decorating bag with the thinned frosting and snip about 1/8 inch from the tip. Loosely pipe the frosting on the cookie, being sure to pipe along the sparkly rind to leave no gaps of bare cookie there, and let the frosting flood the center of the cookie.
Encourage the frosting as needed with a toothpick. Let set well, a few hours at least. Switch tip on the white frosting bag to size "2" and pipe six spokes. Pipe a seed in each section.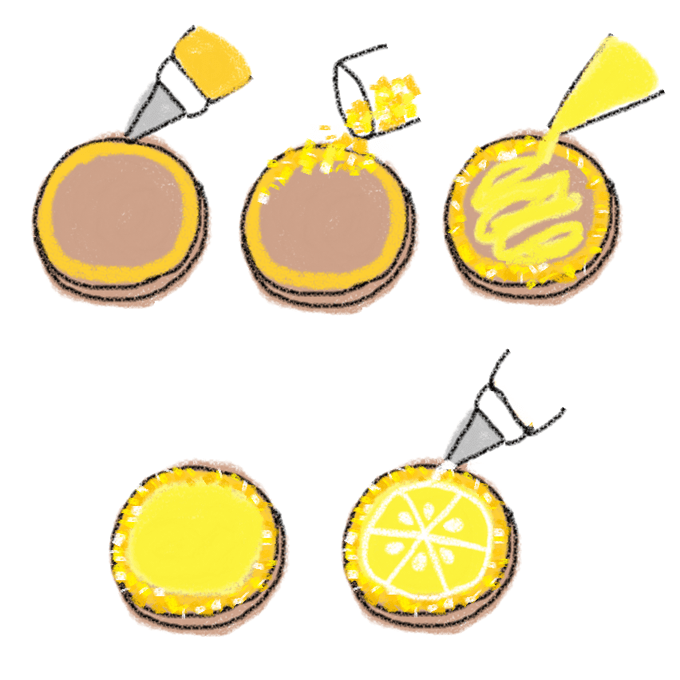 For a twist: Also try pink lemonade, limeade or orangeade. In lieu of the yellow food coloring, use electric pink, green or orange.
Last Step: Serve up your refreshments and cookies! Enjoy!