Disclosure: *This post may include affiliate links. As an affiliate, I earn from qualifying purchases.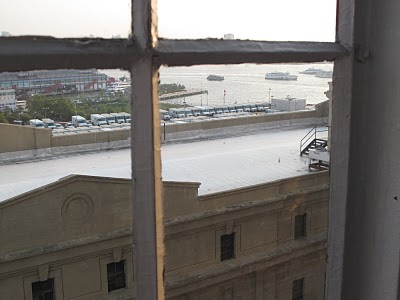 So I heard Martha actually was at the Martha blogger event held at the Martha Stewart Living Omnimedia offices on Thursday. But she must've swooped in and out with record speed while I was in line in the lobby, because I had nary a sighting. Sigh. Next time. They moved the event from the rooftop indoors due to the high winds and storm threat. No storm, but I'll trust the winds were scary given how ominous the skies looked.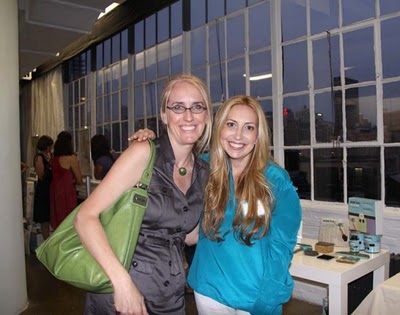 After fighting the urge to tell my cab driver to be a bit bolder in the rush hour traffic (this is NYC, after all, where aggressive driving is crucial to move a block), I arrived a few minutes late to a packed lobby. The partygoers were admitted in small groups to control the chaos. Fortunately, I shared the elevator up with the inspirational and popular Amy Atlas, whom I recognized immediately (as well as Rachel Kramer Bussel from Cupcakes Take the Cake, whom I was too shy to talk to aside from a passing "I know you".) You may remember I was Amy Atlas's guest blogger earlier this week (see HERE), so meeting her in person was a thrill. And she's not only crazy talented but also fabulous, engaging and nice as can be. (Isn't it sorta encouraging to know someone you admire is actually a kind, cool person, too?) I also got to meet Darcy Miller, MS Weddings editor in chief, Karen from Sunday Suppers, and Kim from the TomKat Studio, and chatted with lots of bloggers (and one former Martha guest who was a tad cheeky and kept me laughing).
As I said, I missed Martha. Her daughter, Alexis, was there, however, sitting in the corner looking gorgeous in lots of gold lame. Here is a pic of her shoes. I wasn't brave enough to click this one, this was sent to me by Jennifer of the blog Jen on the Edge.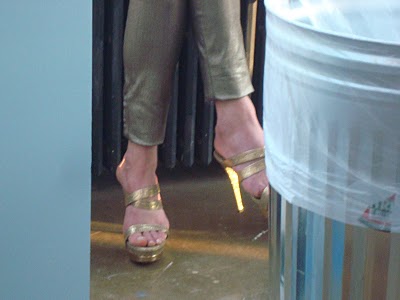 Given the masses of bloggers, navigating the party proved a wee bit of a challenge, so I didn't enjoy all of the tables and treats and appetizers and yummy drinks as best as I should've, nor did I snap as many pictures, but all of the above were there to be enjoyed by those who could navigate crowds more skillfully.
Some pics of the scene: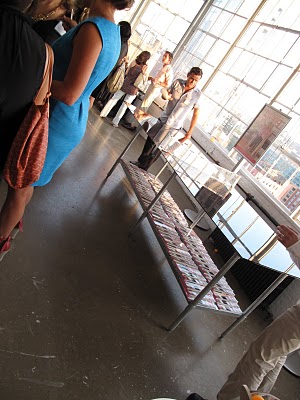 the glass top ping pong table that Martha is playing on
HERE
(I missed the Martha part)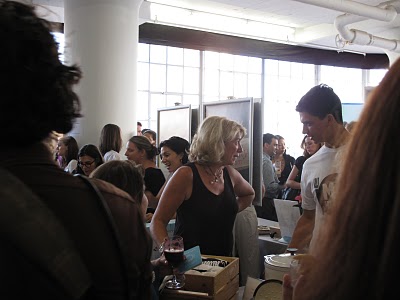 Sarah Carey from Everyday Food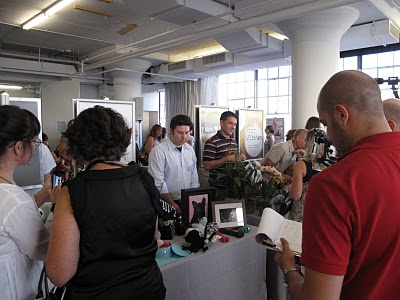 Some gorgeous desserts, including an Oreo "wedding cake." (I'm thinking Kraft sponsored the event, because we got some Oreos–and Miracle Whip, random, right?) in our swag.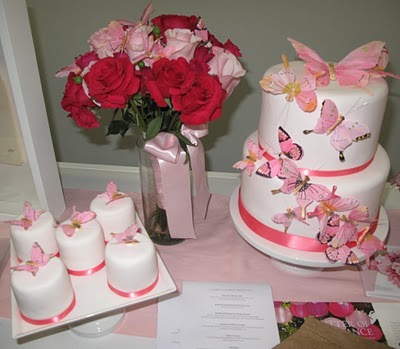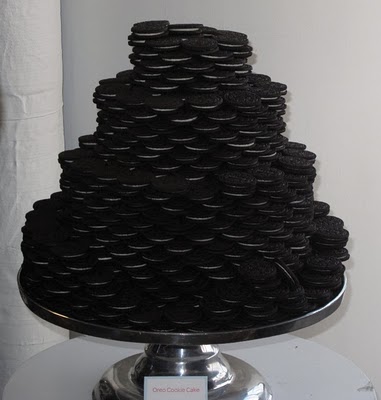 And speaking of swag, we were handed a couple of very heavy bags on our way out with treats, including the aforementioned Miracle Whip and Oreos, but also lots of magazines, this awesome punch around the page edger and this eco friendly hand soap. So all in all, not a bad deal.