Disclosure: *This post may include affiliate links. As an affiliate, I earn from qualifying purchases.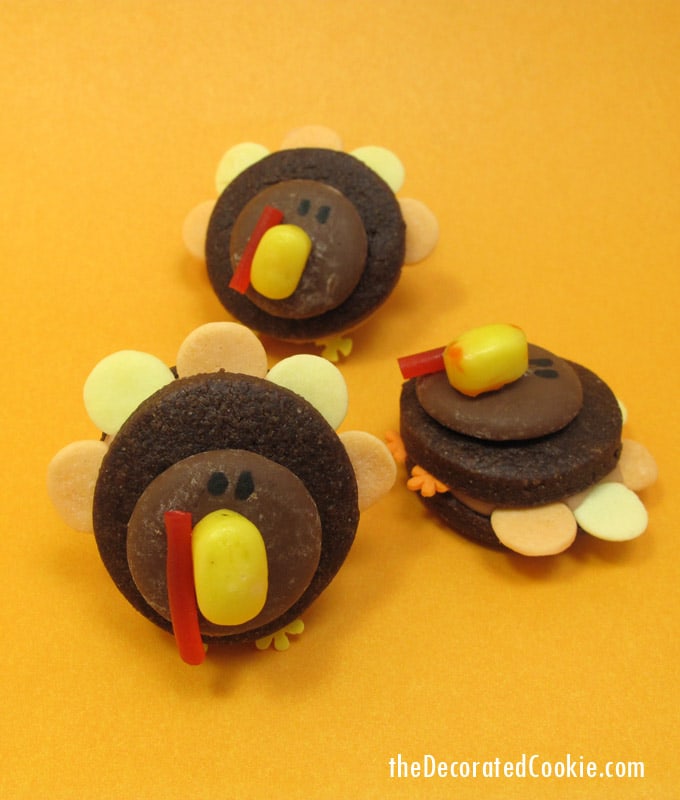 These mini turkey cookies are much simpler to assemble than decorated cookies, but just as cute! If you like these turkey cookies, check out all of my Thanksgiving food craft ideas.
to make mini turkey cookies
you will need:*
Chocolate cut out cookie dough
Basic frosting
Food coloring
1 disposable decorating bag
1 coupler
1 size "5" decorating tip
1 rubber band
Jumbo confetti sprinkles
Flower medley confetti sprinkles
Light cocoa candy melts
Candy corn
Red licorice lace
Black food coloring pen
Light corn syrup
Toothpicks
what to do:
Prepare cookie dough according to recipe.
Roll out chilled dough and cut out two circles for each turkey.
Bake according to recipe and let cool completely. Prepare frosting according to recipe.
Tint desired color and prepare a decorating bag with a coupler and size "5" tip.
Fill bag with frosting and tie closed tightly with a rubber band. Pipe and fill a circle of frosting on the back of a cookie and top with another cookie.
Insert five jumbo confetti sprinkles halfway into the frosting for the feathers and two flower medley sprinkles for the feet.
For the turkey face: cut off the yellow end of a candy corn. Place a dab of corn syrup on the cut side of the yellow candy corn piece using the toothpick and adhere to the center of a candy melt (the top, not the flat side of the candy melt).
Snip a piece of red licorice lace, dab some corn syrup on the lace with your finger and adhere to the candy melt next to the candy corn piece.
Draw two black eyes with the food coloring pen. Adhere the flat side of the candy melt to the sandwich cookie with a dab of piped frosting.