Disclosure: *This post may include affiliate links. As an affiliate, I earn from qualifying purchases.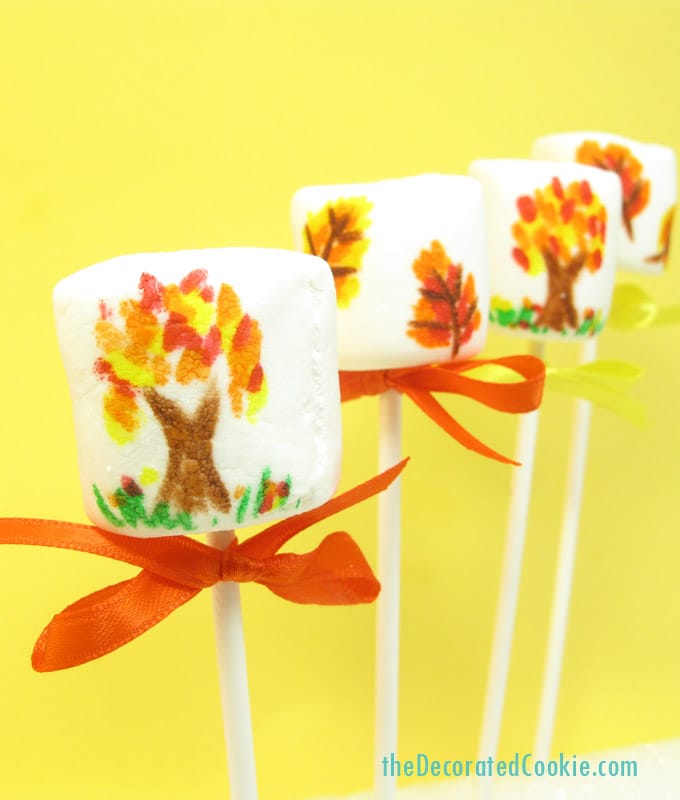 These Fall marshmallow pops are a super quick (as in, they take seconds to make) and easy dessert to make for Thanksgiving or any time during this season. I originally made these for Readers' Digest.
to make Fall marshmallow pops
you will need:*
Marshmallows
Lollipop sticks
Food coloring pens (brown, green, red, orange and yellow)
*Find lollipop sticks in the craft store. For food coloring pens, I suggest Gourmet Writers.
What to do:
Draw your designs and insert a stick. That's it!
Tips on drawing the designs:
For the trees: Draw a brown tree trunk that splits at the top with a "V". Draw small, green lines on the ground for grass. For the tree tops and scattered leaves, make dots with yellow, orange and red food coloring pens.
For the leaves: Draw a leaf stem with the brown pen (a line with two "V"s). With red, draw around the brown stem and "V"s, leaving a bit of the stem at the bottom. Fill in around the red with orange.