Disclosure: *This post may include affiliate links. As an affiliate, I earn from qualifying purchases.


Thanksgiving cookie placecards — Decorated cookie idea for your holiday table that doubles as a Thanksgiving party favor.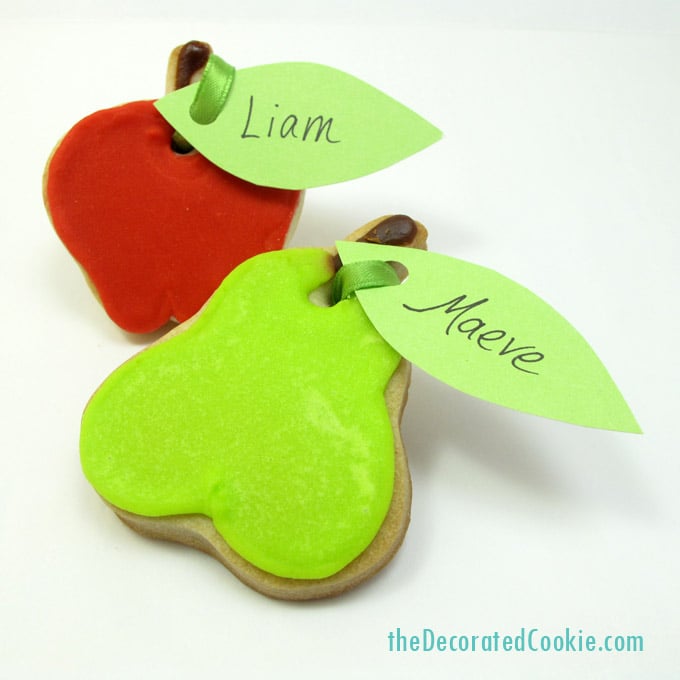 These fruit Fall harvest cookie placecards will liven up your Thanksgiving table (if your guests can wait until after dinner to gobble them up). I originally made these Thanksgiving cookie placecards for Readers' Digest.
To make Thanksgiving cookie place cards
you will need:
Basic cut out cookie dough and royal icing
Apple and/or pear cookie cutters
Lollipop stick or toothpick
Food coloring (brown, lime green and red)
5 disposable decorating bags
3 couplers
3 decorating tips (2 of size "4" and 1 of size "3")
3 rubber bands
Green cardstock
Thin green ribbon
Hole punch
Scissors
You can find apple cookie cutter and pear cookie cutters at the craft store or online at amazon. Opt for an apple cutter without the leaf, as you are adding a paper leaf.
You will find the decorating bags, couplers, decorating tips, green cardstock and ribbon at the craft store, too, or click here for tips on finding cookie decorating supplies. For the food coloring, I suggest Americolor soft gel pastes, Chocolate Brown, Electric Green and Red Red.
What to do:
Prepare cookie dough according to the recipe.
Roll out your chilled cookie dough and cut out apples and pears.
If the cookie cutter has a leaf, you can cut that off.
With the lollipop stick or toothpick, make a hole about ¼ inch diameter centered at the top of the shape. (You may need to wiggle the stick or toothpick to make the hole big enough.) Bake according to recipe and let cool completely.
Prepare frosting.
Divide and tint three colors: brown, lime green and red.
You will need the most of lime green and red, at least one cup of each; you will only need about ½ cup of brown.
Prepare frosting bags with couplers and decorating tips. Fill a bag fitted with a size "3" tip with brown. Fill a bag fitted with size "4" tip with half of your red frosting and a bag fitted with size "4" tip with half of your green frosting. Close bags tightly with rubber bands. Cover reserved frosting.
Pipe a stem on each with the brown frosting.
For the apples, pipe a red outline and for the pears, pipe a green outline, being sure to pipe an outline around the hole, too. Let set about 15 minutes.
Thin reserved red and green frosting a few drops of water at a time, stirring, until the consistency of thick glue.
Fill two empty decorating bags with the thinned red and green frosting. For each, snip 1/8 inch from the tip of the frosting bag and loosely pipe the frosting on the cookies (red for apples, green for pears), letting frosting flood to the piped outline and encouraging as needed with a toothpick or small knife.
Let set overnight to dry.
Cut out leaf shapes from the cardstock, punch a hole at one end and add names with a pen. Thread ribbon through the hole in the cookie and the leaf and tie a knot to attach. Snip ribbon ends and tuck the knot at the back of the cookie.