Disclosure: *This post may include affiliate links. As an affiliate, I earn from qualifying purchases.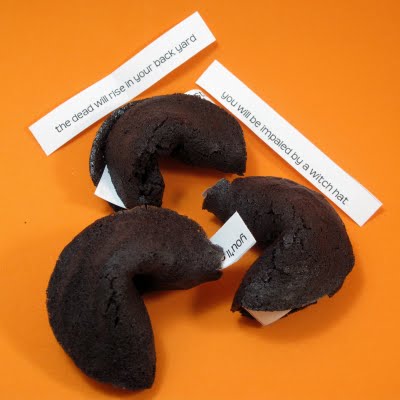 MIS-fortune cookies
These silly mis-fortune cookies for Halloween take the classic fortune cookies and turn them into something awful.
you will get a wart on your nose
you will be abducted by aliens
you will be im
paled by a witch hat
a rat will gnaw on your toe
a bat will get stuck in your hair
zombies will knock on your door
you get the idea…
This is my first attempt at making fortune cookies (in this case, misfortune cookies). I'm sure my second will be better. I used THIS fortune cookie RECIPE, which I found quite tasty, and I added black frosting color to the batter. I also used parchment paper instead of greasing the trays.
Some tips from my mistakes:
work quickly folding the cookies, and bake only a few at a time, 4 or 5
make sure to spread your batter circles well enough. I didn't, and my cookies were a tad too thick, which made them crack when folding.
For the misfortunes, either write your own on 1/2″ by 3 1/2″ paper slips, or print my template for Halloween misfortunes . If you write your own, here are some more misfortune suggestions: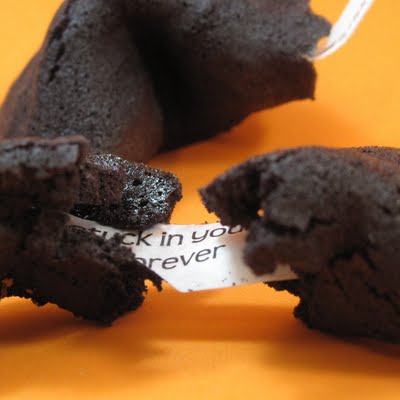 a witch will cast a spell
on you
a ghost will move into your attic
a vampire will suck your blood
you'll get stuck in a spider web
slime will ooze from your nose
you'll enter a haunted house…and never leave
you'll get candy corn stuck in your teeth…forever
the dead will rise in your back yard
someone will poison your apple cider
your Jack O' Lantern will come alive