Disclosure: *This post may include affiliate links. As an affiliate, I earn from qualifying purchases.


How to make a cookie graveyard for Halloween.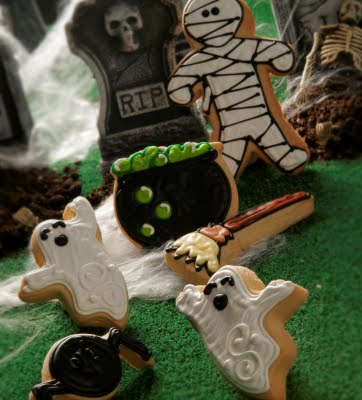 A reader asked me the following question through the proper channels (ie. by clicking on the question mark over there): "One design in your book that I'd like to get direction on is the mummy cookie. Can you give me an idea of the steps you used for that design?" Since the question is pretty timely, I thought I'd share the answer in a more obvious place in case more readers feel the urge to decorate mummies this Halloween. And then put them in a cookie graveyard.
This picture is from my book, Cookie Sensations. I used the graveyard scene for display (photographed by the talented Jason Keefer), and the book offers decorating directions for the cauldron and the ghost, but not for the other cookies. Alas, I had limited pages. So here's a quick recap on how to decorate the mummy.
Need more fun food ideas for Halloween? Because I have a lot.
how to decorate a cookie graveyard
you will need:
cut-out cookie dough
royal icing
gingerbread man cookie cutter
black and white frosting colors (I use Americolor soft gel pastes)
2 disposable frosting bags
2 couplers
2 rubber bands
sizes "2," "3" and "4" decorating tip
*For tips on finding cookie decorating supplies, click here.
how to decorate a mummy cookie:
Use the gingerbread man cutter to cut out your shapes. Bake and let cool. Prepare black frosting and white frosting (you must add white coloring to frosting to make it white). Prepare a frosting bag with a coupler and size "3" tip. Fill with black and tie closed with a rubber band. Repeat with the white frosting, using a size "4" tip. Outline mummy shape (not the details on top) with the black frosting. Let set about ten minutes. Fill with the white and let set. Switch tip on the black to size "2" and pipe eyes and lines for the wrapping on top of the white frosting. Let dry overnight if wrapping.