Disclosure: *This post may include affiliate links. As an affiliate, I earn from qualifying purchases.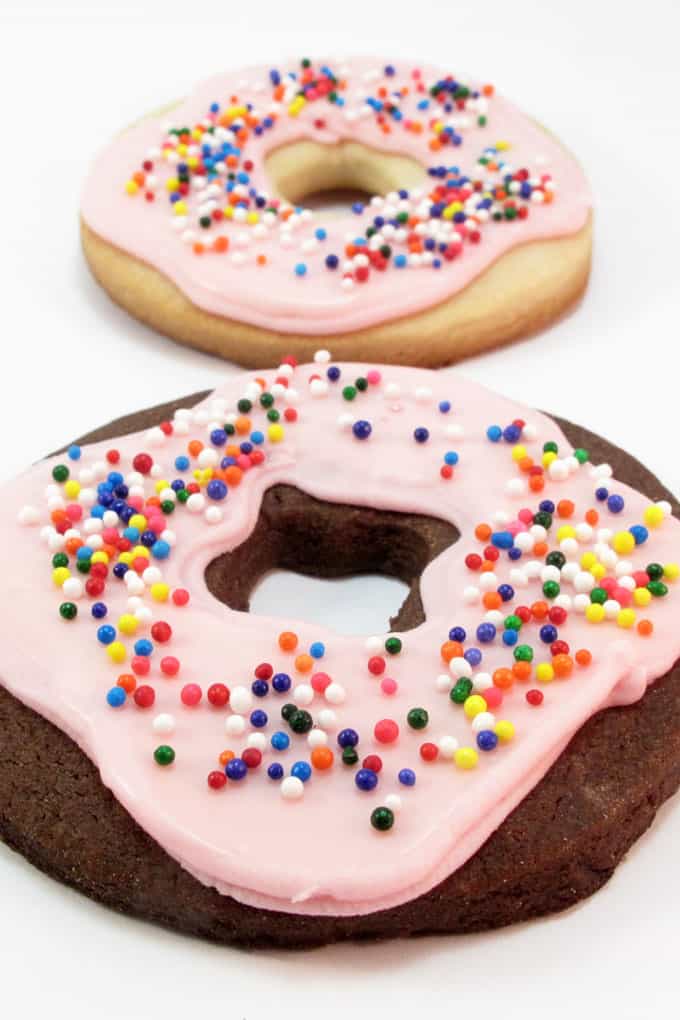 doughnut cookies
In case the title is confusing, there are no doughnut-like ingredients in these cookies. They are simply cookies that look like doughnuts. Or, doughnut cookies, as it were. Or do you say donut cookies? Now, I've nothing against doughnuts. Really. If given a choice between a cookie and a Dunkin Donuts chocolate creme… I'd likely go for the doughnut, I admit that freely. But I have a very long history of putting stuff on cookies that looks like other stuff (like the entire cast of The Simpsons, for example).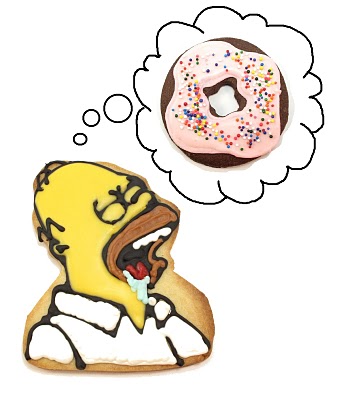 how to make doughnut cookies:

you will need:*
cut-out cookie dough and royal icing
circle cookie cutter (about 2 1/2 to 3 inches)
mini circle fondant cutter (about 1/2 inch)
pink frosting color
1 disposable frosting bag
1 coupler
1 size "4" decorating tip
1 rubber band
small spoon or squeeze bottle
rainbow sprinkles
*You can choose any frosting color(s) you like, of course. I used Americolor soft gel paste (Electric Pink). Find the rest of the items in the baking aisle of the craft store. Click HERE for tips where to buy cookie decorating supplies.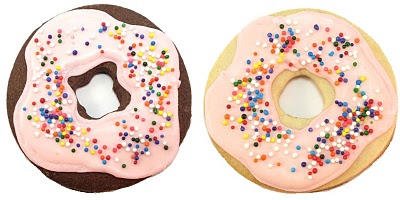 step one: bake your cookies
Roll out your chilled sugar or chocolate dough. Cut out circles with larger cutter. Cut out a mini circle in the center. I found the 1/2-inch cutter was a little bit too small, so I sort of wiggled it around a bit to make the hole larger. Bake cookies according to recipe and let cool completely.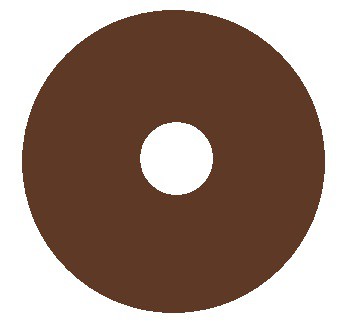 step two: make your frosting
Prepare frosting and tint about 1 to 1 1/2 cups (depending on how many cookies you need) light pink. Only use one drop to start and add more as desired. Prepare a frosting bag with a coupler and size "4" tip and fill about half way (about 1/2 cup). Tie closed tightly with a rubber band. Cover remaining pink frosting.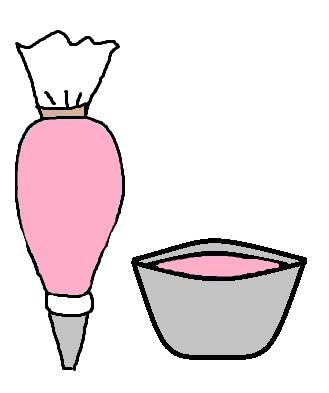 step three: flood your doughnut
Pipe a pink outline as shown. Let set about 15 minutes. Thin reserved pink frosting with water, a drop or two at a time, stirring well, until the consistency of thick glue. It shouldn't be too runny, it should still be viscous. With a squeeze bottle or little spoon, pour some of the thinned frosting inside the doughnut outline and let run to the edges, encouraging as needed with the back of the spoon.


step four: add your sprinkles
Let the flood set about ten minutes (you don't want to sprinkle right away or the sprinkles will sink into the frosting, but you don't want it too fully harden or the sprinkles won't stick, you want the frosting to just set a bit). Sprinkle with your sprinkles. Let cookies dry overnight if packaging or wrapping.