Disclosure: *This post may include affiliate links. As an affiliate, I earn from qualifying purchases.


EASTER fondant toppers for cookies or cupcakes
These little carrot and bunny fondant toppers are easy to make for your Easter treats.
Use them to top cupcakes, cookies, cakes, candy… Crush chocolate wafers and sprinkle over brown or chocolate frosting to make "dirt," if desired.
I just stuck them on top of these New Oreo Fudge Cremes. Perhaps I bought an early edition and they've changed the box.
how to make bunny and carrot toppers (Easter cupcake toppers)
you will need:*
rolled fondant
food coloring (orange, lime, and maybe pink)
light corn syrup
edible writers (black and pink)
cookie decorating supplies
Find pretty much all of the above in the baking aisle of your craft store. You can find food coloring and writers there, though I prefer Americolor soft gel paste (Orange, Electric Green and Electric Pink) and Americolor Gourmet Writers. For tips on finding cookie decorating supplies click HERE. To make homemade marshmallow fondant, click HERE.
step one: make your fondant pieces

For bunny…. Knead a piece of white rolled fondant briefly to make smooth.
Working with small pieces (about the size of a gumball, or desired bunny size), make the body by rolling a ball with a flat top and bottom.
Make the head by rolling a smaller ball with a flat bottom.
Pinch two small pieces for ears and flatten the bottom by pressing onto a flat surface. Make a small ball for a tail and flatten one side (you can use pink fondant, if preferred, by adding a drop or two of pink coloring and kneading into a piece of fondant).
Set your pieces aside and let stiffen an hour or two at room temperature.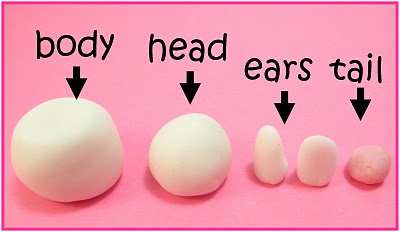 For carrot…Knead a few drops of orange coloring into a piece of fondant very well.
If fondant gets sticky, let sit uncovered at room temperature for about 15 minutes or until easily pliable. Take a small piece and roll into a log.
Narrow one end with your fingers and flatten the other by pressing upright on a flat surface.
For the carrot top, knead a few drops of green coloring into a piece of fondant. Take a small, nickel sized piece of fondant, pinch into a flat oval with your fingers, then roll up the oval, pinching one end to make a point.
Flatten the point a bit by pressing onto a flat surface. Set your pieces aside and let stiffen an hour or two at room temperature.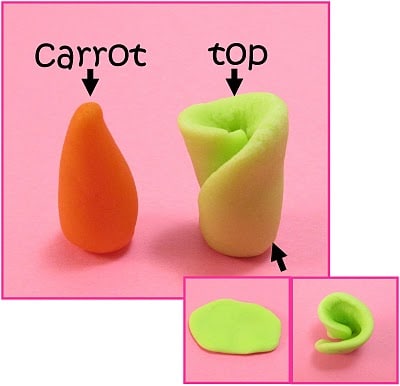 step two: assemble your bunny and carrot
Dab your finger or a clean, small paintbrush into light corn syrup and paint on all the parts that go together to use as glue.
For bunny, put the head on top of the body, attach ears on top and add tail to back. (You can see in the pic that I got a little too syrup happy with the ears. oops.)
For carrot, attach top and let rest on side until dry, a couple hours.
When dry, write details: For the bunny, make a pink dot on the face for a nose, add two black dots for eyes and a few black lines for whiskers. For the carrot, add a few black lines.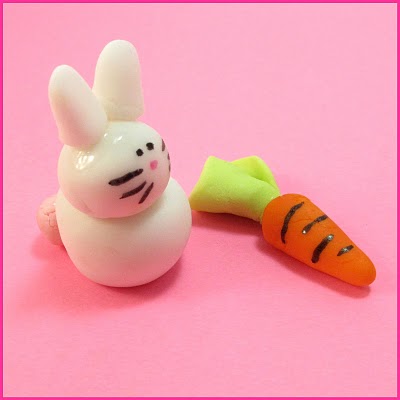 step three: use your toppers
See the above ideas for using your toppers. If desired, snip the end of the carrot so it looks like it's coming out of the ground. Use corn syrup as glue, if needed, to attach the toppers.