Disclosure: *This post may include affiliate links. As an affiliate, I earn from qualifying purchases.


These monster face cookies are a fun, spooky Halloween dessert idea.
monster cookies for Halloween
Vampires, zombies, mummies, oh my! All the monsters have emerged from under my daughter's bed and now they are monster face cookies. Here are some monster cookie decorating ideas, all done on simple circles (and one square). I don't know what evil monster possessed me when I was baking these, because I should've put them on sticks. Ah well, these will have to do.
cmmjbgnkmk,kjinnh bff in8ikhj ghjt5uuikj9u8yjhyyjyjhybn8rnb nbhjuj
(My daughter just typed that. I promised her I'd leave it.)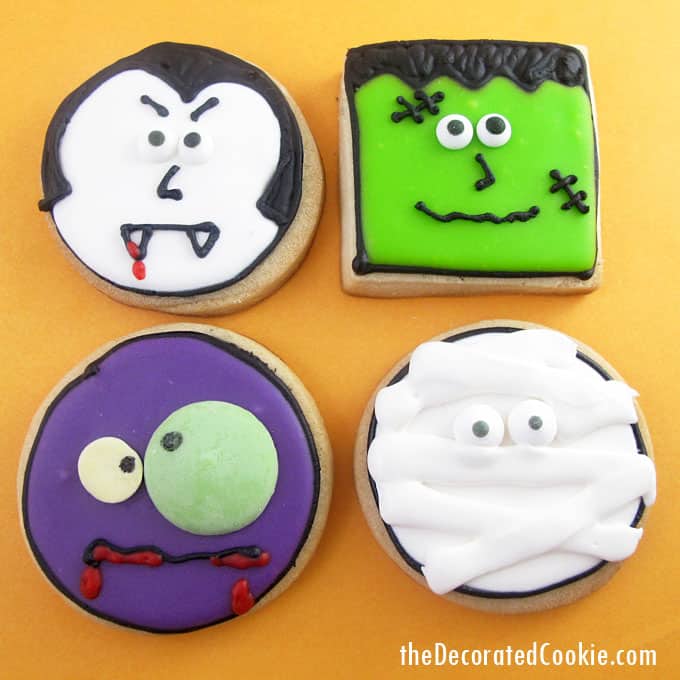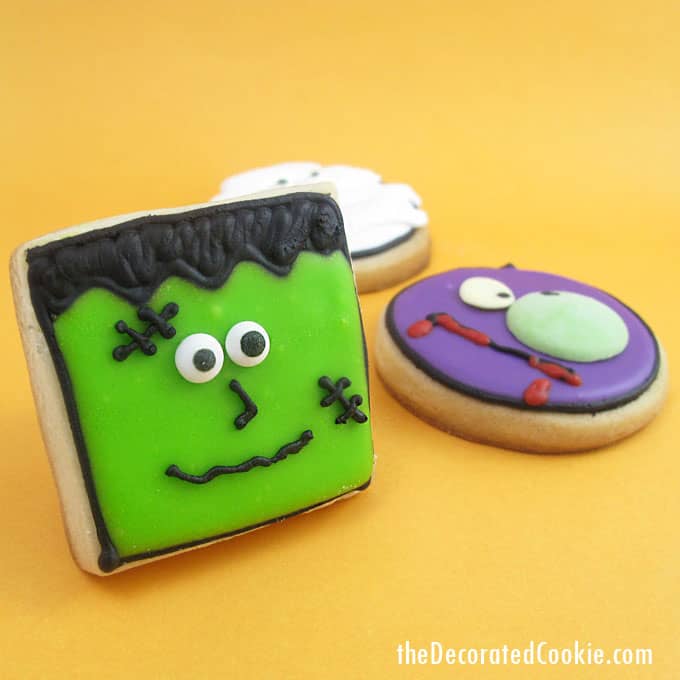 You don't necessarily need all the accoutrements I used for these: candy melts, confetti sprinkles, edible writer, candy eyes… I happened to have all these items already, I didn't go out and purchase them, so you may be able to make substitutions based on what you have around the house, such as different sprinkles, candies, etc. for the eyes, or you can pipe all these things with icing. I'm just in a candy eye phase, so that explains that. If you pipe all the decorations with icing, note you also won't need the light corn syrup, which I use as the glue.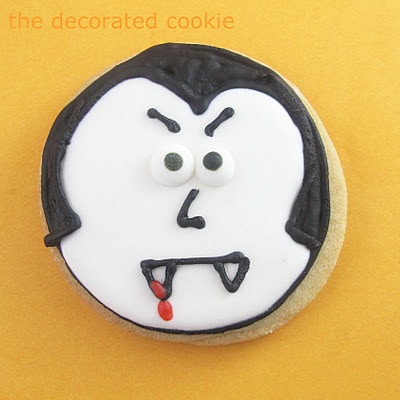 "I don't know what in the name of blood I'm doing with this lot."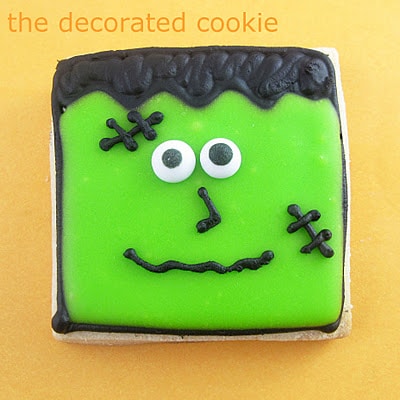 "Me don't know what go on."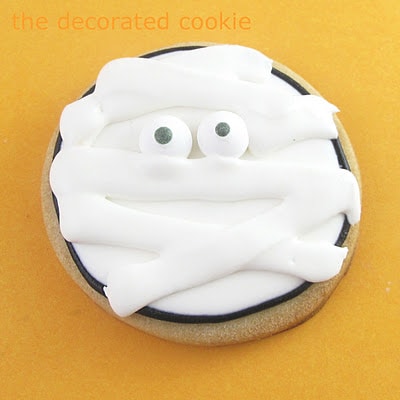 "Where's my mummy?"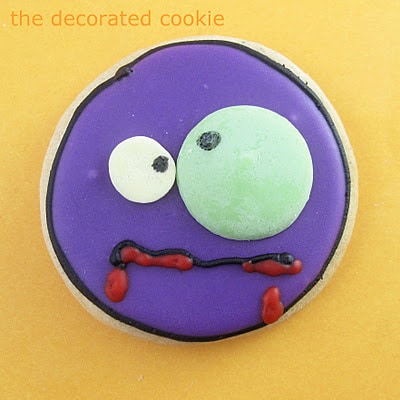 "BRRRGGAHHH"
to decorate monster face cookies
you will need:*
cookie cutters (2 1/2 to 3 inch circle and/or square)
food coloring (black, white, green, purple and red)
decorating bags
couplers
decorating tips (sizes "2," "3," and "47")
rubber bands
light corn syrup
toothpicks
candy melts (any color)
jumbo confetti sprinkles (any color)
black edible writer
candy eyes
*Find the cookie cutters, decorating bags, couplers, decorating tips at the craft store. You'll also find the candy melts, sprinkles, edible writer and candy eyes, if using, at the craft store.CLICK HERE for tips on finding cookie decorating supplies. For food coloring, I suggest Americolor Soft Gel Pastes (Super Black, Bright White, Red Red, Electric Purple and Electric Green used here). The size "47" tip is a long, flat tip for the mummy. Use any comparable tip.
step one: bake your cookies
Roll out chilled cookie dough according to the recipe. Cut out cookies and bake. Let cool.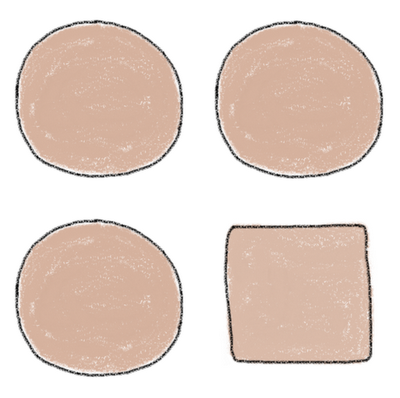 step two: prepare your icing
Prepare royal icing, divide and tint your colors: Black, white, red, purple and lime green. Prepare decorating bags with couplers and tips. Fill a decorating bag fitted with a size "3" tip with black, a bag fitted with size "2" tip with red, and a bag with the "47" tip with half of your white icing.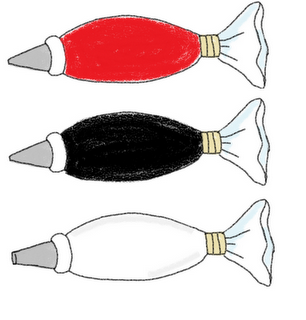 Thin the remaining white icing and the green and purple icings with water a few drops at a time, until the consistency of thick glue (turn a spoonful of icing over the bowl and the icing should disappear into itself in about ten seconds). Fill empty decorating bags (so no tips or couplers) with the thinned white, green and purple. Close all the decorating bags tightly with rubber bands.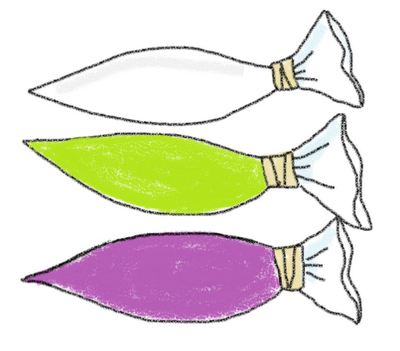 step three: decorate your backgrounds
Pipe an outline on each of the cookies with black and let set about 15 minutes.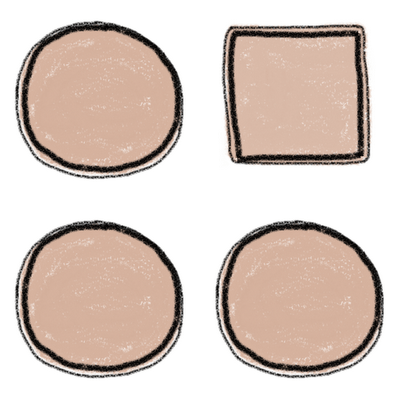 For Dracula and Frank, pipe and fill the hair with black as shown.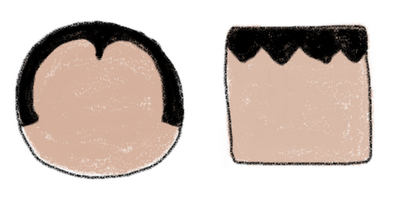 Snip about 1/8 inch to 1/4 inch from the tips of the thinned white, green and purple bags, and loosely pipe to fill the cookies (white for Dracula and the mummies, green for Frank, and purple for the zombie), encouraging the icing as needed with a toothpick until the entire cookie is covered. Let the cookies dry well, several hours at least, overnight preferred.
step four: decorate the monsters
When dry, decorate each monster. Switch the tips on the black and red icing to size "2." To adhere candies, dab light corn syrup with a toothpick to use as glue.
For dracula, adhere candy eyes, then pipe the eyebrows, nose, mouth and fangs and the drop of red blood. For Frankenstein, adhere candy eyes, then pipe the nose, mouth and scars. For the zombie, draw black dots on a candy melt and a jumbo confetti sprinkle and adhere to the cookie. Pipe a black mouth with red blood. For the mummy, adhere candy eyes, then use the white fitted with a size "47" tip to pipe the bandages.