Disclosure: *This post may include affiliate links. As an affiliate, I earn from qualifying purchases.


Halloween Oreo Cakesters
These Oreo Cakester bats and spiders are easy. I mean, really, really easy. So easy I felt a little guilty. I used the same chocolate piping method from these chocolate spider pops to make chocolate bat wings and spider legs and just stuck the wings and legs into the sides of Oreo Cakesters. Add a stick, and that's it.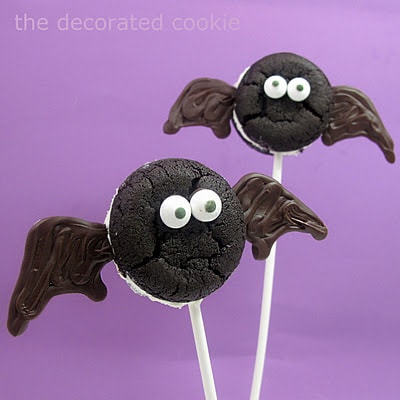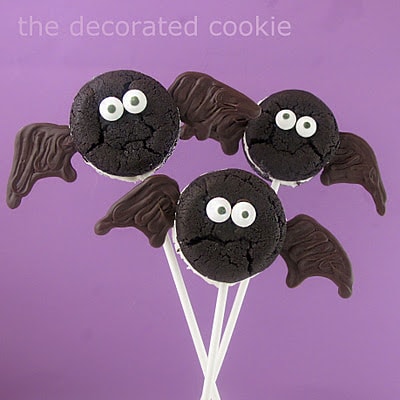 I made a spider, too. Even easier.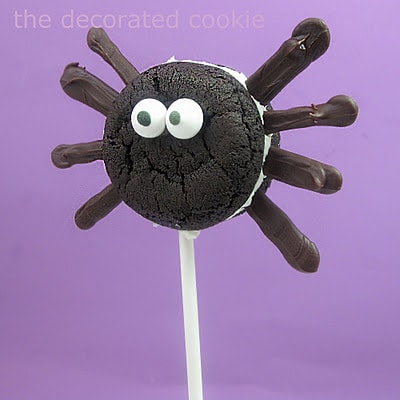 And there are those candy eyes again. I promise, come Halloween, I'll put them away. (Of course, Santa and Rudolph have eyes…)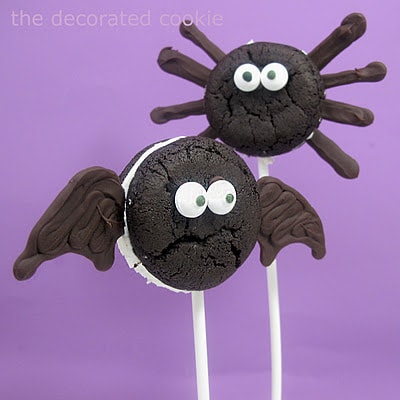 how to make Oreo Cakester bat and spider pops
you will need:*
Oreo Cakesters
lollipop sticks (optional)
chocolate chips
disposable decorating bag
scissors
wax paper
baking tray
candy eyes
*Find the lollipop sticks, decorating bag and candy eyes in the craft store.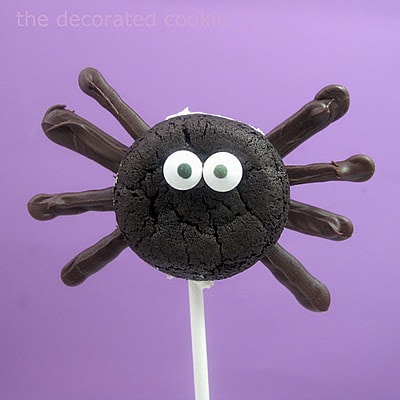 step one: make your bat wings and spider legs
Line a baking tray with wax paper. Place chocolate chips (work with about 1/2 cup at a time) in a decorating bag and melt the chocolate in the microwave: Microwave at 70 percent power for 1 minute, then at 30 second intervals, massaging the chocolate chips periodically, until the chips are almost completely melted. Massage the chips in the bag until totally melted. (Yes, I copied my own instructions from the chocolate spider pops, and even used the same drawing.)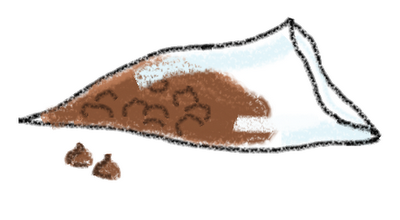 Line a baking tray with wax paper, snip 1/4 inch from the tip of the decorating bag, twist the bag above the melted chocolate, and pipe bat wings (about two inches across) and a bunch of lines for spider legs.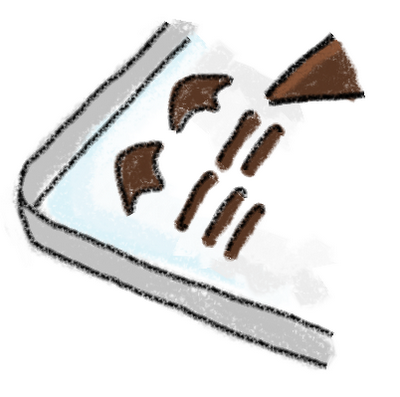 If it helps, draw bat wing shapes first with a black marker on a piece of paper, and slip the drawing under the wax paper to use as a template. Put the tray in the refrigerator.

step two: adhere the candy eyes
Use two tiny dabs of melted chocolate to adhere the candy eyes. You can also use light corn syrup, frosting, or anything sticky, even a dab of the Oreo Cakester frosting.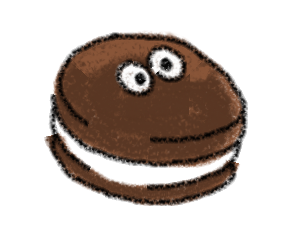 step three: assemble your bats and spiders
When the chocolate has set, at least a couple hours, stick the wings or legs in the sides of the Cakester, in the frosting, and insert a lollipop stick at the bottom.