Disclosure: *This post may include affiliate links. As an affiliate, I earn from qualifying purchases.


Thanksgiving cookie decorating ideas: Pumpkin pie cookies.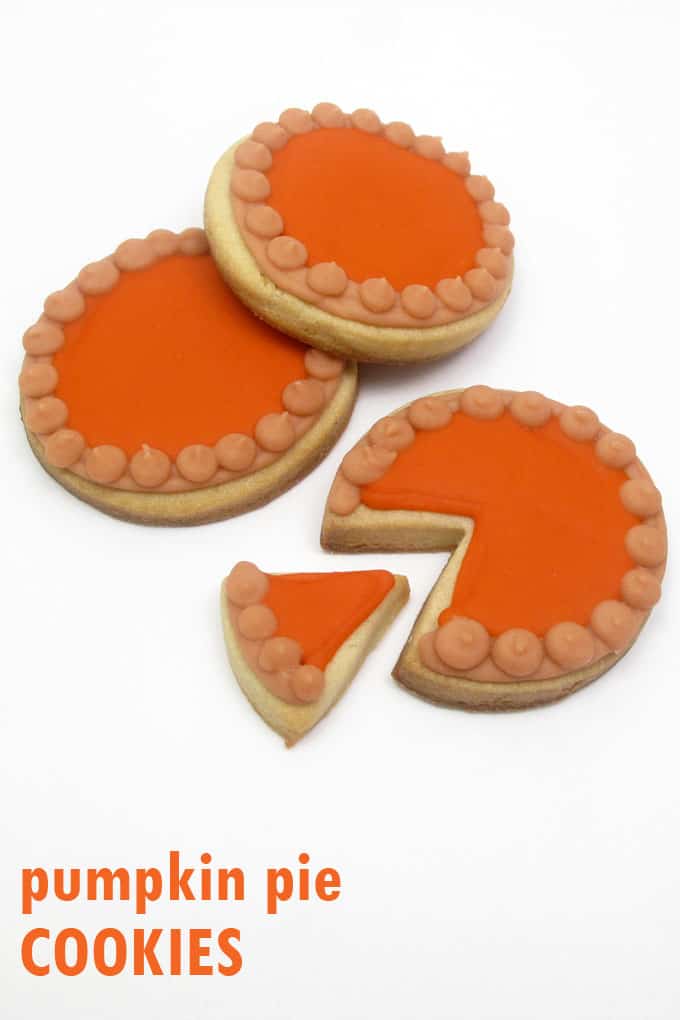 pumpkin pie cookies
Pumpkin pie cookies! It's pumpkin pie that fits in your hand, you can stack, package and even ship. How is that for Thanksgiving convenience? Be sure to check out all my
Thanksgiving fun food ideas here.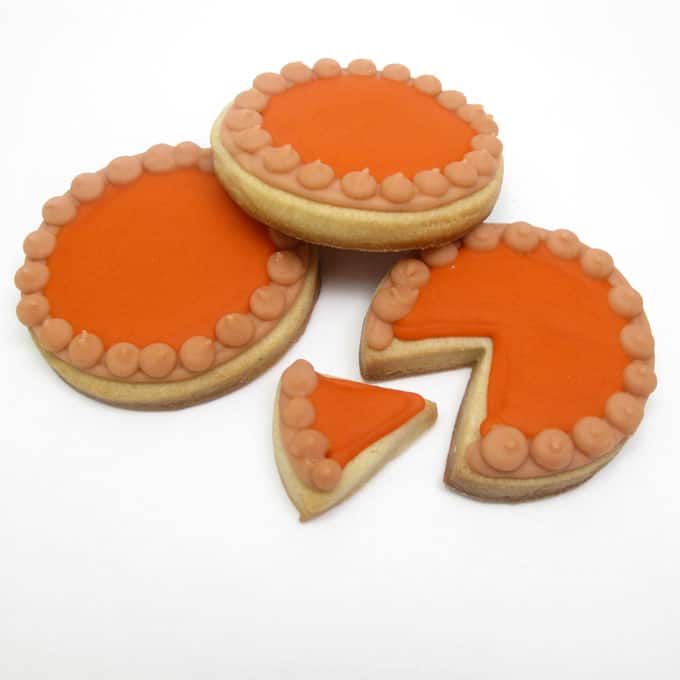 how to make pumpkin pie cookies for Thanksgiving
you will need:
cookie dough (my go-to cookie recipes)
circle cookie (any size you prefer)
food coloring
2 decorating bags
1 couplers
decorating tip (size "5")
rubber bands
toothpick
what to do
Roll out chilled cookie dough, cut out circles and bake according to the recipe. Let cool. OPTIONAL: For another decorating idea, cut a wedge out of some pies before baking.
Prepare royal icing according to the recipe. Make sure the icing is stiff enough to hold its shape. Use additional confectioner's sugar as needed to get the right consistency.
Divide the icing and tint your colors: light brown and orange (Add a drop or two of brown food coloring to the orange to make it more pumpkin pie-color).
Prepare a decorating bag fitted with a coupler and size "5" decorating tip, and fill with the light brown icing. Close the bag tightly with a rubber band. Cover and reserve the orange icing.
Using the light brown icing fitted with a size "5" tip, pipe an outline on the cookie. Repeat with another outline just inside the first outline to make a thick border. Let set well, about 15 minutes.
Thin the reserved orange icing with water, a few drops at a time, until of flooding consistency (when a spoonful is overturned, the icing should disappear into the rest of the icing in ten seconds).
Fill an empty decorating bag and snip about 1/4 inch from the tip. Flood the cookie with orange icing, encouraging as needed with a toothpick so the entire cookie is covered, and let set well, several hours at least.
Pipe dots around the border with light brown icing fitted with a "5" tip. Let the cookies dry overnight.