Disclosure: *This post may include affiliate links. As an affiliate, I earn from qualifying purchases.


New Year's Eve marshmallows
Here are some super-easy marshmallow decorating ideas for last-minute New Year's Eve treats. Did I mention how super-easy and last-minute these are? New Year's Eve marshmallows are easy. All you need are some edible writers and some sprinkles. And some marshmallows and lollipop sticks, too.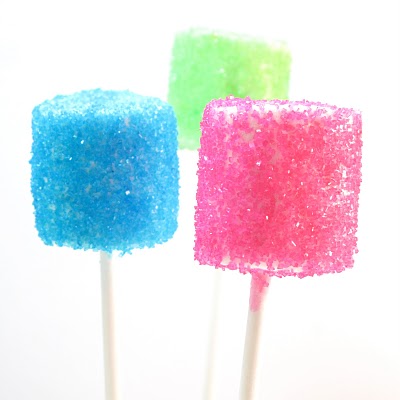 Choose to make simple countdown marshmallows stacked on a stick, or these sparkly, glittery, awesome sprinkle-coated marshmallow pops. Arrange them in a bouquet for a centerpiece, or wrap them in cellophane bags with ribbon for a New Year's Eve party favor idea.
Need more New Year's Eve treat ideas?? I also love these gold marshmallow pops. And these ball-drop marshmallow pops. If cookies are your thing, try these countdown cookie sticks or almost midnight clock cookies.
how to make new year's eve marshmallows
you will need:*
marshmallows
skewers and/or lollipop sticks
and…
for glitter marshmallows:
bowl of water
sprinkles in preferred colors
for countdown and clock marshmallows:
edible pens

*I use Americolor gourmet writers. You can find substitutes in the craft store. You can also find a good variety of different colored sprinkles in the craft store. Choose fine sprinkles for an extra glittery effect.
to make the glittery marshmallows:
Skewer marshmallows or put on lollipop sticks. Working with one marshmallow at a time, very quickly dip a marshmallow into the water, remove immediately, blot on a paper towel and immediately sprinkle with the sprinkles to coat. Let dry.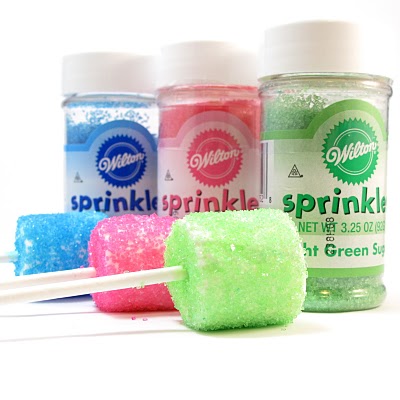 to make the countdown or clock marshmallows:
For the countdown, skewer a few marshmallows. Simply write the countdown with the edible pens. For the clocks, skewer a marshmallow or put on a lollipop stick. Draw an almost-midnight clock face on the marshmallow.