Disclosure: *This post may include affiliate links. As an affiliate, I earn from qualifying purchases.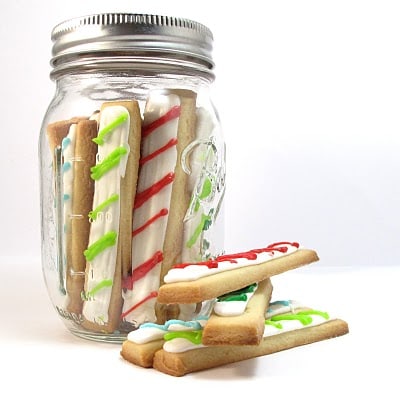 christmas cookies
Christmas cookie sticks in a mason jar are a great twist on traditional Christmas decorated cookies.
Of course I had to fill my leftover mason jars with cookies, so I thought and thought and thought what shape would best fill the jars and came up with…sticks.
how to make Christmas cookie sticks:
you will need:*
dough
icing
disposable frosting bags
decorating tips
couplers
rubber bands
frosting colors
sprinkles (optional)
sharp knife or pastry scraper
ruler
mason jars
You will need one frosting bag, coupler, tip and rubber band, found in craft stores, for each color you use.
I used a size "4" tip (or "5") for the background color and size "2" (or "3") for the detail on top.
For colors, I use Americolor soft gel pastes (can substitute the concentrated pastes from the craft store), Bright White, Electric Green, Leaf Green, Sky Blue and Red.
You can use a ruler and sharp knife to cut the sticks to fit your mason jars, but I used this pastry scraper from Sur la Table. I found mason jars at the hardware store, but some craft stores and grocery stores carry them, too.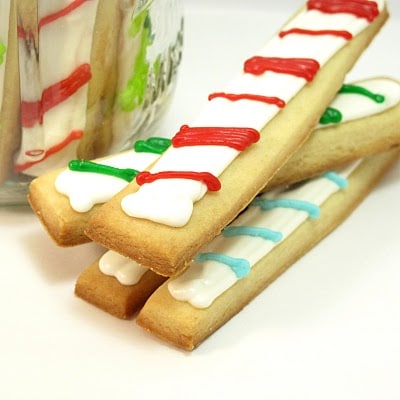 step one: prepare your cookies and frosting
Prepare dough according to recipe and chill.
Roll about 1/4″ thick and cut sticks with knife and ruler (to fit your mason jars) or the pastry scraper. Mine were about 1/2″ wide and about 3 3/4″ long. Bake and let cool.
Prepare frosting and divide among colors you will use.
Tint the desired colors and fill frosting bags that are fitted with couplers and tips. Tie closed with rubber bands. I used white frosting for the background (size "4" or "5" tip), and green, lime, blue and red for the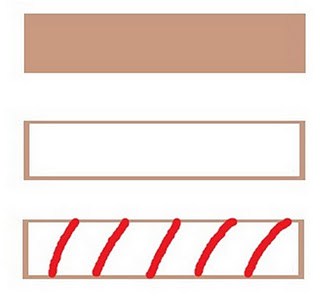 details (size "2" or "3" tip).
step two: decorate your sticks
Pipe background color on sticks and let dry about 15 minutes.
Pipe details on top with the other colors. If desired, use sprinkles instead of details.
Working with one cookie at a time, simply pipe the background color and immediately cover with sprinkles. Shake off excess. Let cookies sit at room temperature overnight til dry enough to handle.
step three: package your cookies
When dry, carefully package cookies in jars. Attach sticker to top or tag if desired.