Disclosure: *This post may include affiliate links. As an affiliate, I earn from qualifying purchases.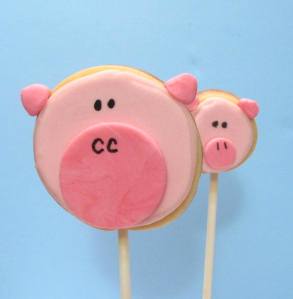 pig cookies on a stick
I realized after making these that the concept of a pig's head on a stick might elicit not-so-cute images. (Is it Lord of the Flies I'm thinking of?) But alas, pig cookies are still sort of cute. And the first cookies I've made in my new, temporary kitchen, thanks to the ridiculous kindness of friends who are putting us up between houses. I do ask you to bear with me, (hmmm, bears, I'll do bear cookies next) as most of my things are in storage or stacked in a precariously tall tower in aforementioned kind friends' basement.
And bonus! Scroll to the end to learn how to make these pig cupcakes using the pig cookies on a stick.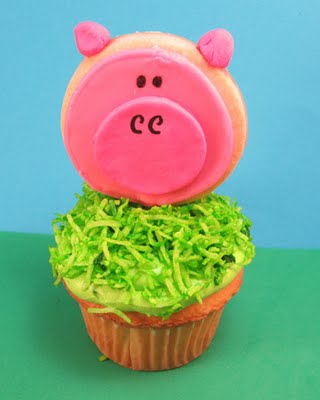 how to make pig cookies on a stick
you will need:
dough
icing
parchment paper
wax paper
lollipop sticks
1 frosting bag, coupler and rubber band
Americolor soft gel paste (Electric Pink)
Size 4 tip
Small knife or spatula
white rolled fondant
Americolor gourmet writer (Black)
circle cookie cutters and fondant cutters (I used 1/2″, 1 1/2″ and 2 1/2″)
light corn syrup
notes: lollipop sticks, the bags, couplers and tips, the cutters and maybe even the gourmet writer should be available at any major craft store. You can of course use any coloring, but I prefer Americolor. I experimented with different size circle cutters, but you only really need 2 (one for the head cookie and a smaller one for the fondant snout).
step one: bake your cookies
Roll your cookie dough somewhat thick (about 3/8 to 1/4 inch) to accommodate the sticks. Cut out circles (using the larger cutter, if using two. I cut out 2 1/2 inch circles for big pig heads and 1 1/2 inch circles for mini pig heads.) Place on parchment paper-lined baking trays. Insert lollipop sticks about halfway into the circle. Pat back into shape if necessary. Bake and let cool. (If you recognize the picture here from my clock cookies, it's because I used the same picture from my clock cookies.)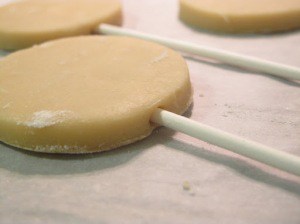 step two: frost your pig head
Prepare a frosting bag with a size 4 tip. Tint frosting light pink (use only a drop or two of Electric Pink) and fill bag, reserving about half your frosting. Tie closed with rubber band. Outline the circles with pink. Let set a good 15 minutes. Thin the remaining light pink frosting with water, 1/4 teaspoon at a time, until it is of a syrupy consistency. Pour a small amount in the center of each circle and spread to fill the circle with a small knife or spatula. Let set very well, a couple hours at least.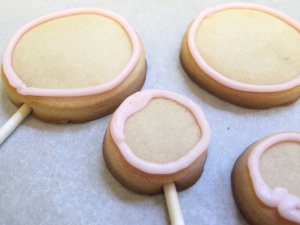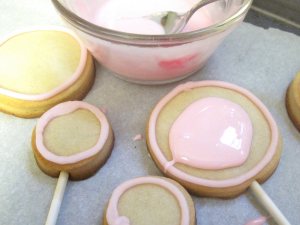 step three: make your fondant snouts and ears
Add a few drops of Electric Pink to a palmful of rolled fondant and knead very well. I colored the frosting to be a bit darker than the head. Roll fondant between two pieces of wax paper thinly.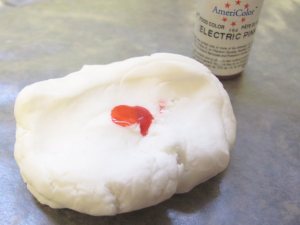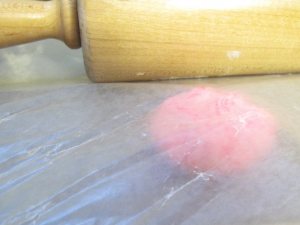 For snouts, cut out circles, pull away fondant, and let set until hard, at least a couple of hours. (For 2 1/2 inch cookies, I used 1 1/2 inch fondant circles, for 1 1/2 inch cookies, I used 1/2 inch fondant circles). For ears, take a pea size bit of fondant and roll into a sphere. Hold between thumb and forefinger and press onto wax paper to flatten one side. (Leave on wax paper to dry). Pinch top of sphere to form a little triangle.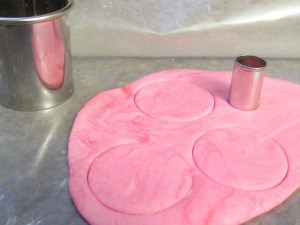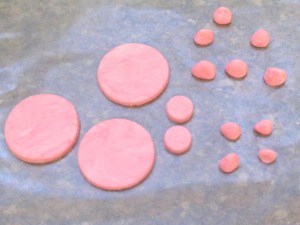 step four: assemble your pig heads
When everything is dry enough to work with, dip your finger in light corn syrup and dab on the back of a snout circle. Press gently but firmly onto the pig head. Repeat with the rest of your circles. Dab corn syrup on the flat side of the ears and attach to head. With marker, draw eyes and nostrils.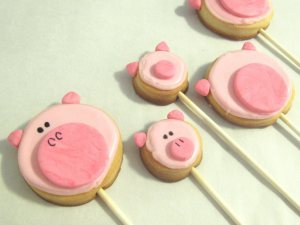 how to make pig cookies for cupcake toppers or for barn party cookie favors
pig cupcakes
Despite being horribly un-photogenic and terrified of being on TV, it is a dream of mine to be on Martha, and I get pangs of angst and jealousy when I see anything cookie related on her show (surely, that should be me showing Martha that). Well, I feel a wee bit closer to achieving said dream, and I must brag, for I was selected as one of the winners of the Cutest Cupcake Contest 2009! Yay! These pig cupcakes (or, pig cookies topping cupcakes). I won: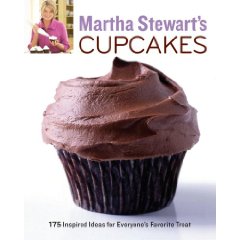 I can't wait to bake something from the book.
how to make pig cupcakes
you will need:
piggy cookies on a stick
cupcakes
frosting
shredded coconut
green food coloring
step one: make your piggy cookies on a stick
See above to make pig cookies.
step two: make and frost cupcakes
Place shredded coconut in a sealable baggie and add a few drops of green food coloring. Shake the sealed back well to tint the coconut. Top cupcakes with frosting that has been tinted green. Immediately press the green coconut on top of the icing.
step three: assemble your cupcakes
Simply insert the lollipop stick into the cupcake.