Disclosure: *This post may include affiliate links. As an affiliate, I earn from qualifying purchases.


Licorice heart cookies on a stick for Valentine's Day.
Still in a borrowed kitchen…still making cookies (specifically, licorice heart cookies for Valentine's Day).
Despite the chaotic state of my scattered supplies, I should note said borrowed kitchen is still infinitely nicer than the galley kitchen of our former DC rowhouse.
(I cut out and decorated hundreds of cookies, 2 to 3 at a time, for my book using about 1 foot of counterspace.) Plus, our hosts' oven actually seems to work at the right temperature. And it has lots of fancy buttons.
Here are some Valentine's Day cookies.
More specifically, licorice heart cookies pops.
They needn't be decorated on sticks, but I'm in a lollipop phase, so there you have it. I used licorice to decorate, to mix things up a bit.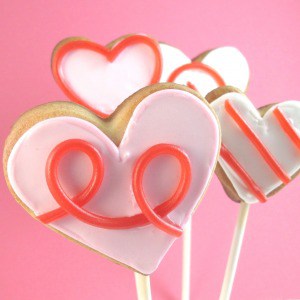 more Valentine's Day cookies ideas
how to make licorice heart cookies on a stick
you will need:
Red licorice lace or Twizzlers cherry "pull n' peel" (the latter much easier to find)
cut-out cookie dough
royal icing
lollipop sticks
heart cookie cutter(s) (I used medium, 3″, and small, 1 1/2″)
parchment paper
Americolor soft gel pastes (Bright White and Electric Pink)
2 disposable decorating bags
2 couplers
2 rubber bands
2 size 4 tips
scissors
small knife or spatula
light corn syrup
step one: bake your cookies
Roll out your dough thick enough to take the lollipop stick (about 1/4″). Lay cookies on a parchment paper lined baking tray and insert stick about halfway into bottom of heart. Pat back into shape if needed. Bake according to recipe and let cool.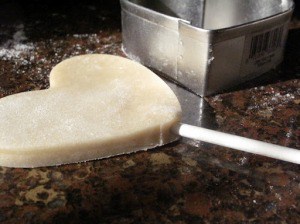 step two: frost your hearts
Mix about 1 cup each (or more depending on how many cookies you have, you will have plenty of frosting if using my recipe) of white frosting and light pink.
Prepare 2 frosting bags with size 4 tips. Fill one halfway (about 1/2 cup) with white frosting, fill the other halfway with light pink (I mix a couple drops of Electric Pink with Bright White color).
Tie both closed tightly with the rubber bands. Pipe outline on heart and let set a good 15 minutes.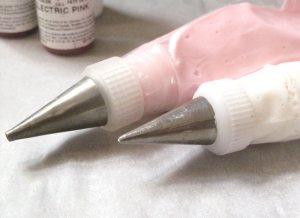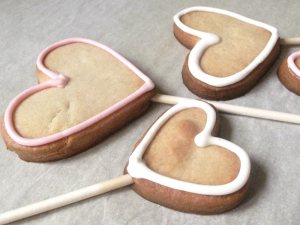 Add water to remaining white and pink frostings to thin until syrupy. Add 1/4 teaspoon at a time so you don't go too far. Pour a little white frosting in the middle of the hearts with white outline. Spread with a small knife or spatula until covered. Repeat with the pink hearts. Let set a good hour or two.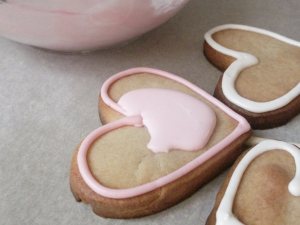 step three: decorate your hearts
Take a piece of licorice lace or pull off a piece of Twizzlers. Using scissors to trim, decorate your hearts with checks, swirls or loops.
To adhere the licorice, dab your finger in light corn syrup and run along the back of the licorice.
Tips: Lightly lay out the licorice first, then adhere. I snipped the ends after adhering to the cookie (as in, I snipped off the licorice overhang to fit the cookie). Let dry several hours or overnight.