Disclosure: *This post may include affiliate links. As an affiliate, I earn from qualifying purchases.


Today I'm making love bug cookies for Kids' Cancer. Read on to help!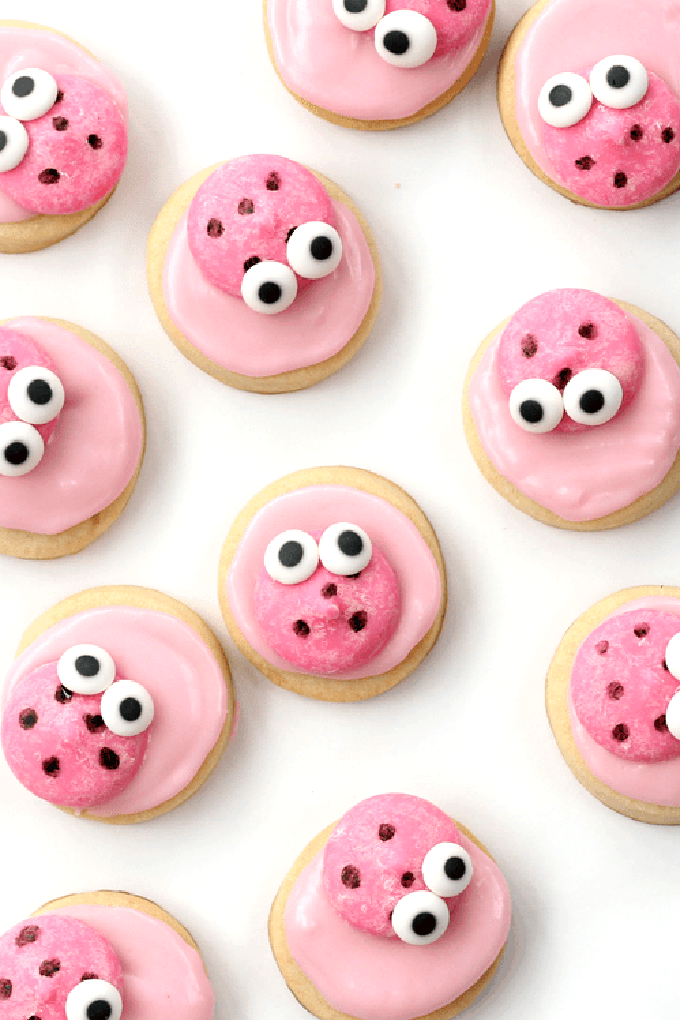 love bug cookies
Why love bug cookies?
Julie of The Little Kitchen is organizing a virtual cookie-making event for Cookies for Kids' Cancer.
The non-profit was founded by Larry and Gretchen Witt, who lost their son, Liam, to childhood cancer. For their first fundraiser, Gretchen, with the help of 250 volunteers, baked and sold 96,000 cookies, raising $400,000.
Now, the non-profit is dedicated to raising funds for research to develop new treatments for pediatric cancer. Read the whole story and more about this fabulous organization here.
Cancer is the #1 cause of death of children by disease in the U.S. There are 40,000 U.S. children actively battling cancer right now.
With less than 4% of the National Cancer Institute's budget going to all childhood cancer combined, it's so important for the rest of us to get involved.
So I'm joining my fellow bloggers in baking some virtual cookies for children and families affected by pediatric cancer. My love bug chocolate bark was a hit, so I've turned the idea into cookies. For every cutie pie out there and for all of those who love them…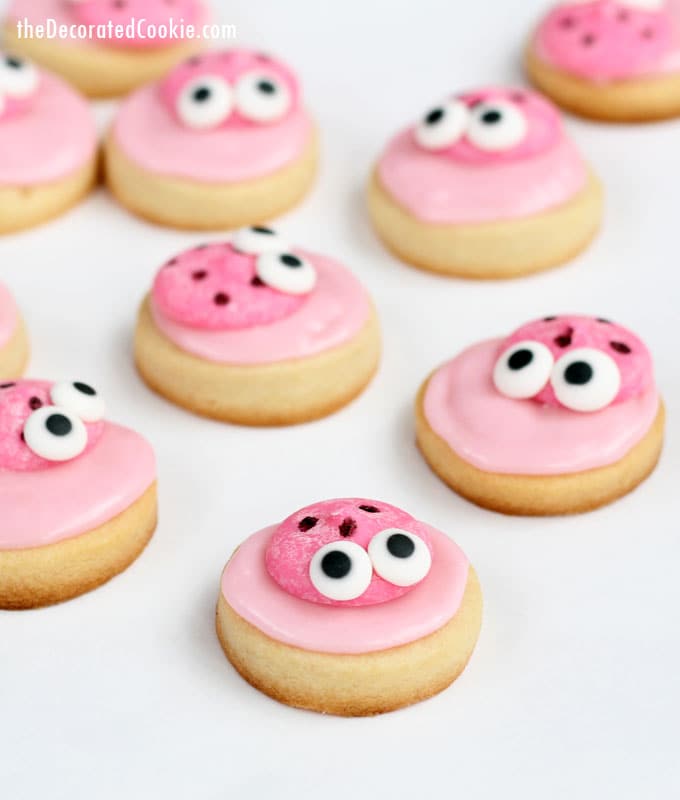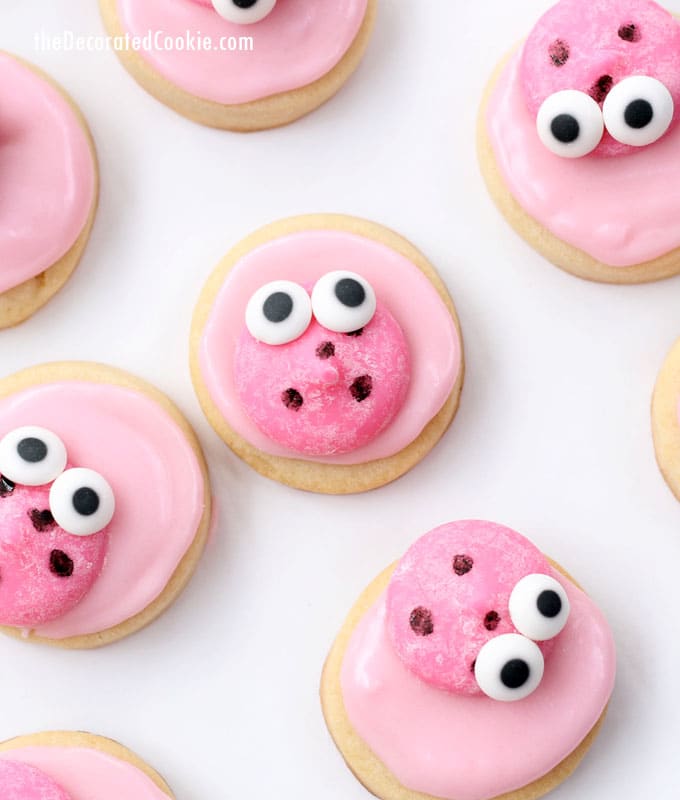 how to make love bug cookies for Valentine's Day
you will need:*
cut-out cookie dough
royal icing
circle cookie cutter (1 1/2-inch used here)
pink food coloring (or any preferred color)
disposable decorating bag
pink candy melts
black food writer
candy eyes
toothpick
light corn syrup
cookie decorating resources
Food writers don't always work well on candy melts, but because you're only making dots, they should work just fine. For tips on finding cookie decorating supplies, click HERE. For basic cookie decorating how-tos, click HERE.
For more cookie decorating recipes. (By the way, if you need vegan cookies and icing recipes.)
step one: make your love bugs.
Use the black food writer to draw dots on the candy melts. Add dabs of light corn syrup with a toothpick to attach the candy eyes. Let set.
step two: bake your cookies and prepare your icing.
Prepare your cookie dough according to the recipe, chill, roll out, cut out and bake the cookies.
Let cool completely. Prepare royal icing, tint with a couple drops of pink food coloring, and fill a decorating bag. Close tightly with a rubber band.
(Here, I'm using one consistency of icing, just thick enough to be able to pipe the outline, but thin enough to fill without leaving piping lines.)
step three: assemble your cookies.
Snip the tip of the icing and outline your circles. Pipe to fill in the cookies. Set a love big on top. Let the cookies dry overnight before handling.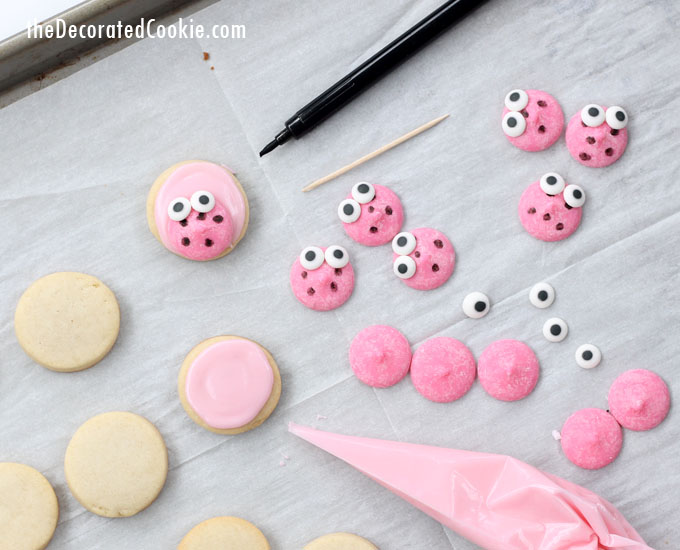 Need more Valentine's Day cookie inspiration?
Check out what all of the bloggers are creating to help in the fight against pediatric cancer:
Heart-Shaped Pink Velvet Bundt Cake from Julie of The Little Kitchen
Melt In Your Mouth Sugar Cookie Bars from Julie of Julie Blanner
Frosted Sugar Cookies from Becca of The Salted Cookie
Triple Chocolate Cherry Cookies from Sue of It's Okay to Eat the Cupcake
Fudgy Chocolate Mug Cake from Gwynn of Swirls of Flavor
Cannoli {in support of Cookies for Kids' Cancer} from Sheila of Life, Love, and Good Food
Red Velvet Pizzelle from Liren of Kitchen Confidante
Microwave Chocolate Ganache from Melanie of Melanie Makes
Brownie Ice Cream Valentines from TammyJo of The Chocolate Cult
Frosted Chocolate Sugar Cookies from Deborah of Taste and Tell
Soft Sprinkle Sugar Cookies from Lisa of Blogghetti
Rice Crispy Treat Hearts from Heather of Totally Tailgates
Vegan Banana Chia Pudding with Blackberry Sauce from Marly of Namely Marly
Spicy Double Chocolate Chip Cookies from Becca of Two Places at Once
Coconut Almond Biscotti from Kathleen of Fearlessly Creative Mammas
Strawberry Valentine Marshmallows from Serena of SerenaLissy
Strawberry Sugar Cookies from Miranda of Cookie Dough and Oven Mitt
Salted Dark Chocolate Caramel Fudge Cookies from Jessica of A Kitchen Addiction
Double Chocolate Cherry Thumbprint Cookies from Natalie of The Devil Wears Parsley
Chocolate Covered Strawberry Macaroons from Ashley of Spoonful of Flavor
Salted Chocolste Caramel Chip Bars from Emily of It Bakes Me Happy
Red Wine Brownies from Nicole of For the Love of Food
Valentine's Day Sugar Cookies from Denise of Chez Us
Easy As Pie Cookies from Ashley of A Cup of Charming
Skinny Gluten-Free VDay Cookies from Jessica of Pensive Paleo
Flourless Dark Chocolate Cookies from Carolann of Apron Warrior
Chocolate Chip Butter Cookies from Jessica of My Baking Heart
Peppermint Brownie Cookies from Aimee of Aimee Broussard & Co.
love bug cookies from Meaghan of the decorated cookie