Disclosure: *This post may include affiliate links. As an affiliate, I earn from qualifying purchases.


EASY dinner idea: One dish no-boil baked ziti and chicken casserole with a cheesy spinach topping. Seriously easy. One dish, just dump it all in, uncooked pasta and all, and bake.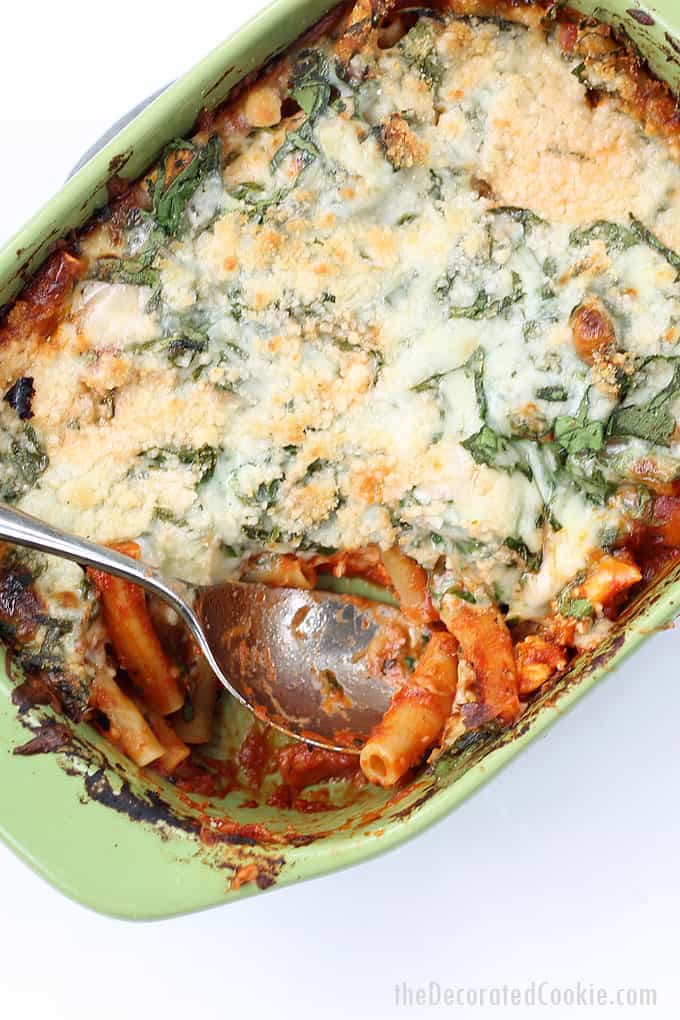 no-boil baked ziti with chicken
If you search for the word "easy' on this blog, it will likely come up in just about every post.
I have this little part of me that is just purely, wonderfully lazy, and I don't like stuff that takes a lot of time or work.
But this no-boil baked ziti and chicken with a cheesy spinach topping dish really, truly can't be described by any other word than "easy."
Also, delicious, amazing, complete-dinner-in-one-dish. It takes zero skill at all.
Sprinkling the spinach with the cheese on top, rather than incorporating it into the dish itself, gives the spinach a little cripsness that I like. And it makes it more interesting.
All you have to is dump everything in a casserole dish, add the topping and bake. That's it.
You don't even have to cook the pasta in boiling water.
Just add it to the mix straight from the box.
And it's so crazy delicious. I can't stop eating it. One thing that drives me bonkers about most pasta casseroles is mushy pasta. Not boiling the pasta first eliminates that problem.
tips for making baked ziti
The recipe here is made in a small casserole dish, only 1 3/4 quart, or 8 1/2 x 6 1/2 inches.
You can absolutely double this recipe for a larger casserole dish if you like.
This size uses about half a box of pasta. For a larger casserole, use the whole box.
And feel free to play around with ingredients.
Want to make it vegetarian? Leave out the chicken and add additional veggies, such as chopped, steamed carrots and/or broccoli.
Spinach not your thing? Kale is fantastic substitute. In fact, I usually use kale instead of spinach because I find it hardier to use in the oven and it crisps better when sprinkled on top of the casserole.
Use store-bought spaghetti sauce or homemade, whatever you have on hand.
To shred the spinach, I use these fantastic herb scissors. If you don't have them, you can use a knife or just snip the spinach with any kitchen scissors.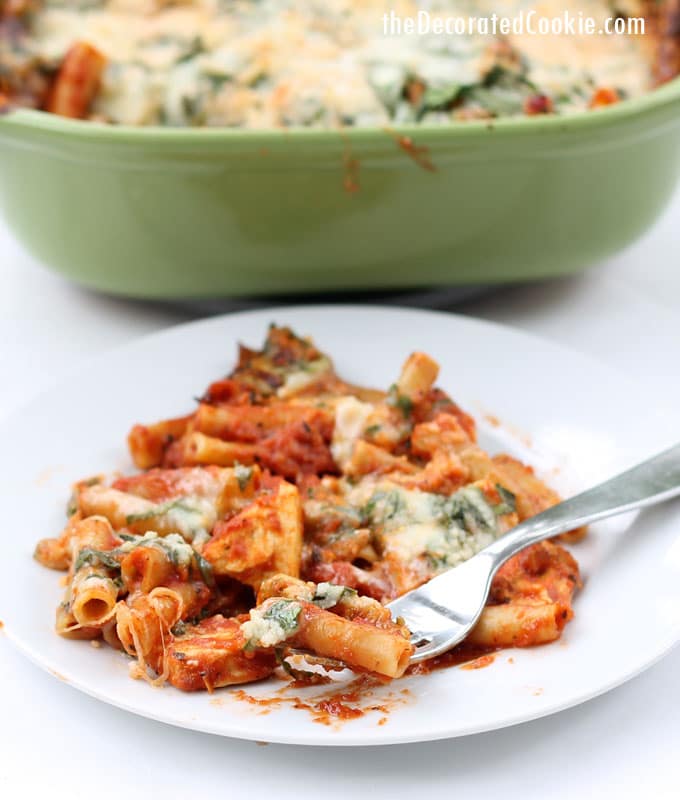 Yield: 4 servings
one-dish baked ziti and chicken with a cheesy spinach topping
Delicious one-dish baked ziti with chicken and cheesy spinach topping.
Ingredients
3 cups (8 ounces) dried ziti pasta
2 cups spaghetti sauce
1/4 cups chicken broth or water
1 1/2 cups cooked chicken
1 teaspoon dried basil
1/2 teaspoon dried oregano
1/8 teaspoon black pepper
1/4 teaspoon crushed red pepper flakes (optional)
1 cup shredded mozzarella cheese
1 cup shredded spinach
1/4 cup grated Parmesan cheese
Instructions
Preheat oven to 400 degrees F.
Spray a 1 3/4 quart casserole dish with cooking spray.
Pour the pasta, sauce, broth or water, chicken, dried herbs and pepper in the dish and stir to combine.
In a separate bowl, mix the mozzarella cheese and spinach. Spread over the pasta mixture.
Sprinkle the Parmesan cheese on top.
Cover the dish with foil and bake for 30 minutes. Uncover the dish and bake for an additional 10 minutes, or until lightly browned on top.
Recipe may be doubled for larger casserole dishes.
Nutrition Information:
Yield:
4
Serving Size:
1
Amount Per Serving:
Calories:

716
Total Fat:

29g
Saturated Fat:

12g
Trans Fat:

0g
Unsaturated Fat:

13g
Cholesterol:

132mg
Sodium:

1975mg
Carbohydrates:

68g
Fiber:

9g
Sugar:

16g
Protein:

44g