3-ingredient Peppermint Schnapps Boozy fudge topped with crushed candy canes will make Christmas better for everyone.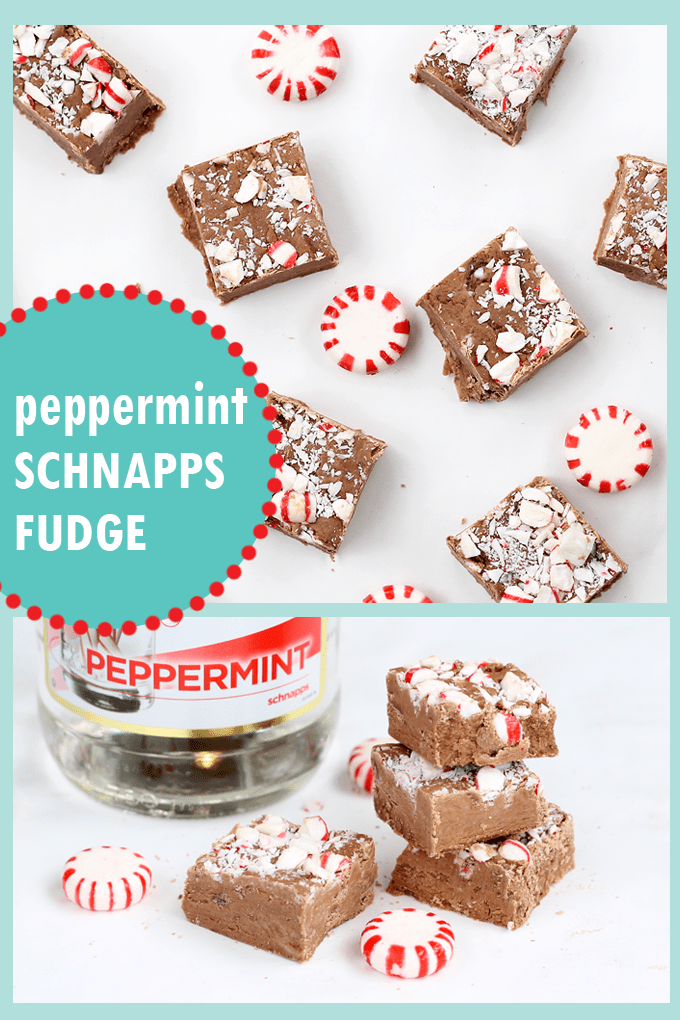 peppermint schnapp's fudge
More boozy fudge for Christmas coming your way! Last time, my Drunk Santa fudge had vodka. This time, Peppermint Schnapps fudge. Three ingredients (Schnapps, powdered sugar and chocolate), minutes to make. Awesome. And it makes a great gift, too. The best-ever homemade Christmas gift.
My boozy fudge is not a delicate fudge enhanced by the slight flavor of alcohol. It's fudge that tastes like alcohol. And it's deliciously addictive. If you do not like alcohol, this is not the fudge for you. Along those lines, since this is a no-bake dessert and the alcohol does not cook out, please make sure to label this fudge well so grown-ups who can not drink alcohol and kids who should not drink alcohol do not accidentally have a piece. You would need a few pieces to equal a shot, but still… let's stay safe this holiday season.
Back to booze. For all of my boozy fudge recipes you can make with every liquor imaginable, click HERE.
For peppermint schnapps boozy fudge, see the video here and find the detailed recipe below. Enjoy!
how to make peppermint Schnapps boozy fudge
you will need:
1 cup Peppermint Schnapps
2 cups semi-sweet chocolate chips
2 pounds powdered sugar
1/2 cup crushed peppermint candies or candy canes (optional)
what to do:
Line a 9 x 13 inch baking pan with parchment paper. Crease the edges so the sides are also lined and you can later use the parchment paper to lift the fudge out of the pan. If necessary, snip the corners of the paper with scissors.
Place the chocolate chips in a microwave-safe bowl. Microwave for 90 seconds at 70 percent power. Stir and continue to melt at 30 second, then 15 second, intervals just until melted, stirring well each time. When the chocolate is almost melted, stir well to let the residual heat completely melt the chocolate.
While the chocolate is melting, place the confectioner's sugar in a large bowl. Whisk the Schnapps into the sugar. The mixture will look like icing.
When the chocolate is melted, quickly pour the chocolate into the sugar and liquor mixture and stir very well. Scrape the chocolate, liquor and sugar mixture into the prepared baking pan. Spread evenly. If the fudge is too thick for the spatula, just use your hands to spread the fudge in the baking dish.
If desired, sprinkle crushed candies on top and press into the fudge. Let set at room temperature or in the refrigerator at least an hour. Cut into squares.
Makes about 60 squares.