Disclosure: *This post may include affiliate links. As an affiliate, I earn from qualifying purchases.


Simplify your Christmas baking with these 3-color easy Christmas cookies decorated as wreaths and trees. Simple Christmas wreath and tree cookies.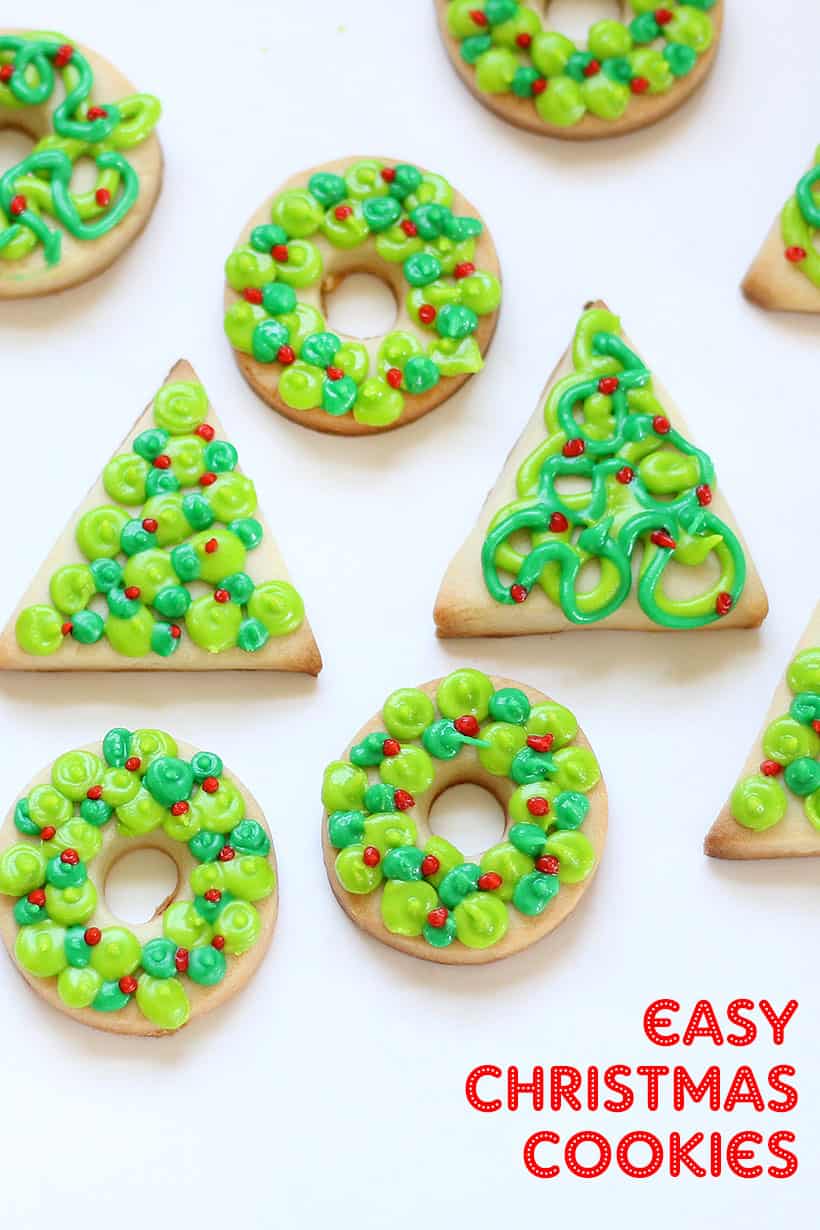 easy Christmas cookies
Easy Christmas cookies are my jam.
As I've said a billion times before, I'm no stranger to complicated cookie decorating. I spent almost a decade working at a shop as a cookie decorator, and the customer requests got more and more crazy with each year. You can name any object and chances are I've put it on a cookie.
Major appliances, major organs, people in yoga poses, people with their dogs in yoga poses… Seriously. I've made an icing version of everything that exists in the universe, including Mars, Jupiter and beyond.
And so maybe that's why every cookie I make now is so simple. Burn-out? Or it could be that making elaborate cookies means a lot of different icing colors, and it's just easier to do in a commercial kitchen.
Or it could be that I want anyone to be able to re-create any of the cookies I make here. And these simple Christmas wreath and tree cookies? Anyone can re-create them.
Christmas wreath and tree cookies
These easy Christmas cookies are cute, small, delicious, and perfect for packaging and gift-giving. AND, to decorate, you only need three colors and one consistency of icing.
No need to flood anything. No need for precision, either, you can decorate a bit haphazardly, and they will still look (and taste) great.
video how-tos
more easy Christmas cookies ideas
how to make simple Christmas wreath and tree cookies
you will need:*
cut-out sugar cookie dough
royal icing
food coloring (Leaf Green, Electric Green and Red)
3 disposable decorating bags
3 couplers
3 decorating tips (size 5, size 3 and size 2)
rubber bands
circle cookie cutters
square cookie cutter
*Find much of the above at the craft store, or see the affiliate links. For food coloring, I suggest Americolor Soft Gel Pastes. For tips on finding supplies, click HERE. For basic cookie decorating instructions, click HERE.
For more cookie decorating recipes, click here. If you need vegan cookies and icing recipes, click HERE.
First, bake your cookies.
Prepare the cookie dough according to the recipe. Chill, roll out and cut out your shapes. For the wreaths, I used a 2-inch circle cutter and a 5/8-inch circle for the center.
For the trees, I used a 2 3/8-inch square and trimmed into triangles. You may use any comparably-sized cutters. Bake and let cool.
Second, prepare your icing.
Prepare the royal icing according to the recipe. Divide and tint three colors (I usually tint about 3/4 cup per color at a time), two shades of green and red. Prepare decorating bags with couplers and tips, fill with the colors and close tightly with rubber bands. Fit the darker green with a size 3 tip, the electric green with size 5 and the red with size 2.
Third, decorate!
Pipe to decorate your cookies. Either make dots in each color (with the red as accents) to cover the wreaths and trees, or draw squiggly lines.
Let the cookies sit at room temperature overnight before packaging and handling.