How to decorate easy pool party cookies for a fun summer dessert idea.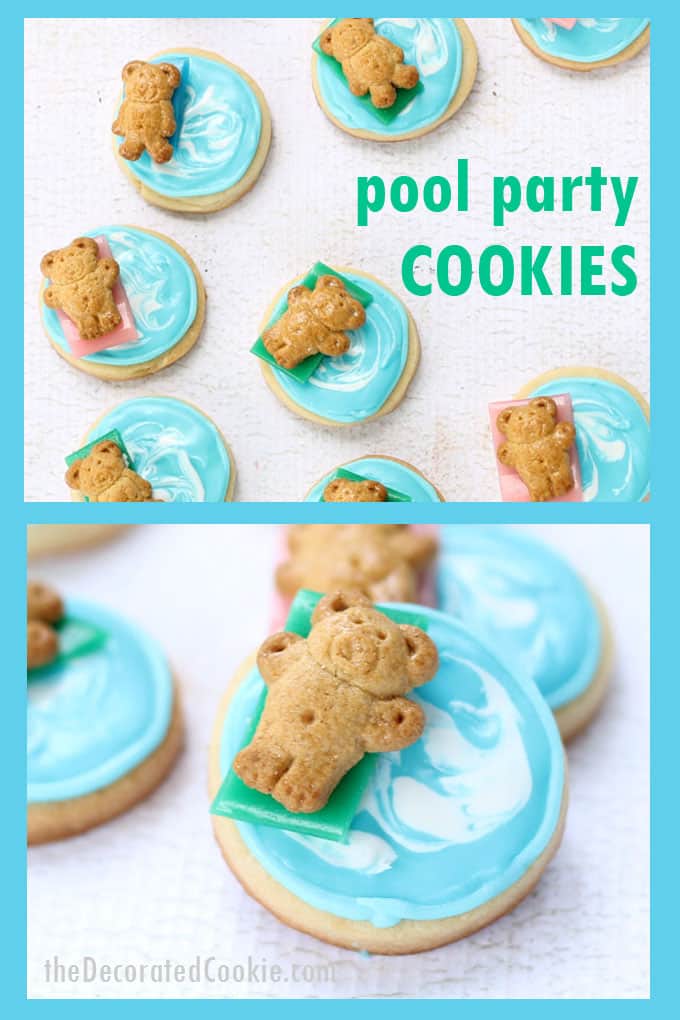 pool party cookies
I made these cute and easy little pool party cookies for a friend who meant to celebrate her birthday at the pool. But then there were those threats of storms and lightning and thunder and all, so it was shifted indoors. So thank goodness I made these, as these little cookies were the only actual pools at the "pool party." Not quite the same though, huh?
If you like this idea, try these pull-apart beach cookies or these easy crab cupcakes. Try your hand at the brush embroidery cookie decorating technique with these turtle cookies. Or, what about shark marshmallows for Shark Week? Having a BBQ? Try these mini burger and fries cookies. I also love these watermelon slice and bake cookies.
(This post was originally published in July 2018 and updated June 2019.)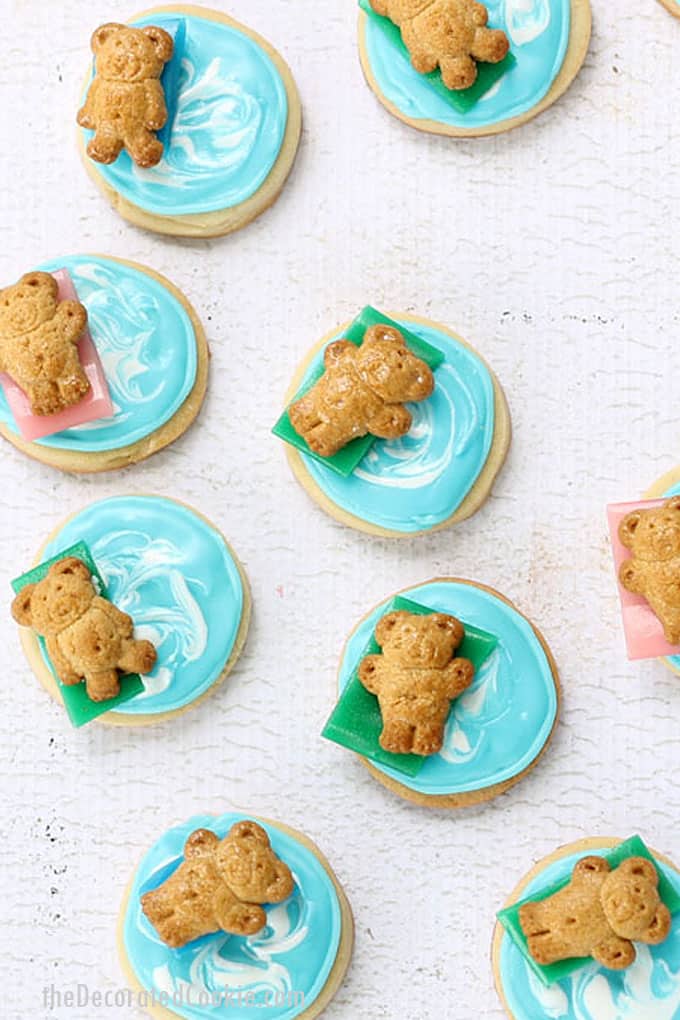 Teddy Grahams are truly magical creatures. They are the perfect size and temperament for when you want to add a cheery character to a decorated dessert. I mean, look at this guy. He's so relaxed.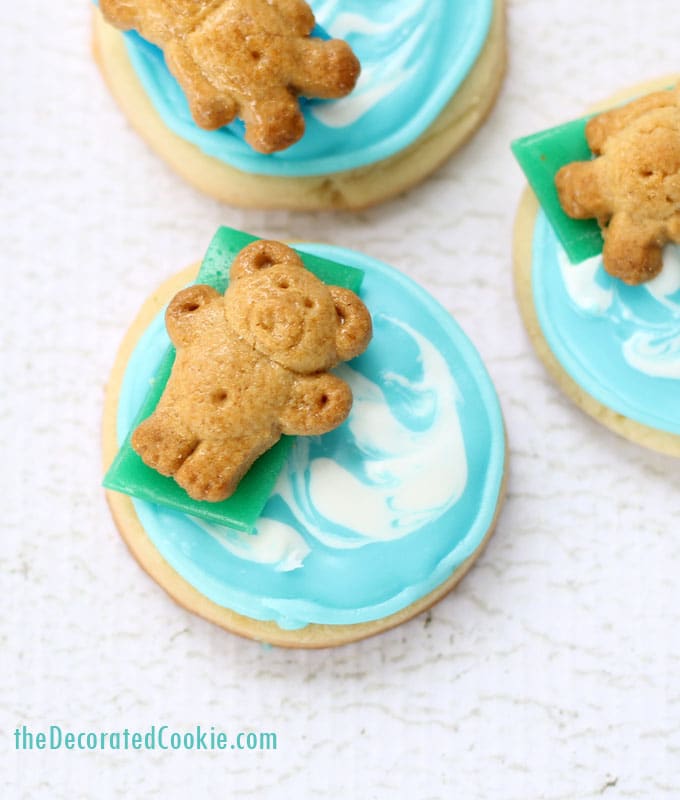 These guys know how to swim They don't need a float thingy. Of course, it appears the water is only waist high, so…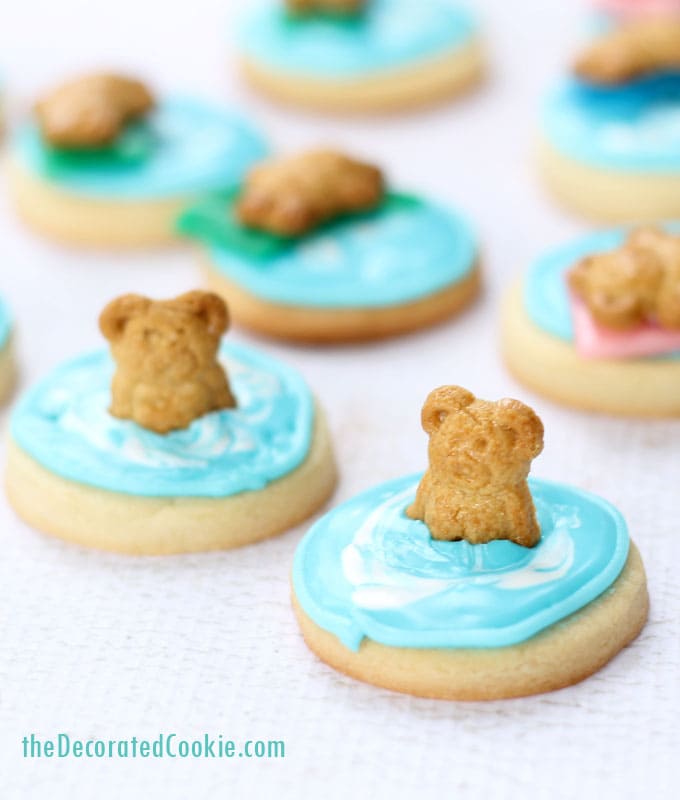 Need more ideas for Summer desserts? Be sure to check out my Pinterest Board filled with Summer food craft ideas.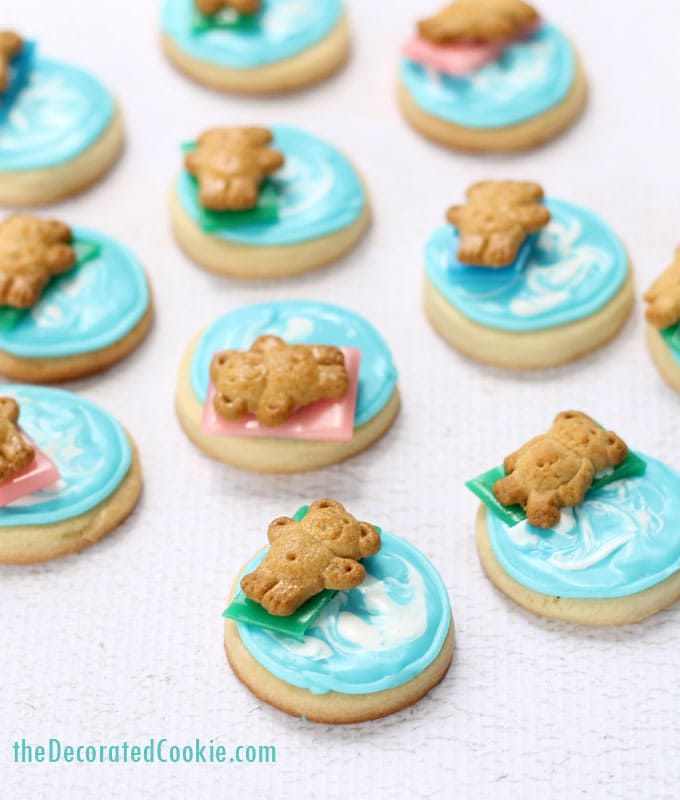 how to make pool party cookies
you will need:*
AND royal icing
2-inch circle cookie cutter
blue and white food coloring
disposable decorating bags
size 3 decorating tip
Teddy Grahams
Fruit Roll-Ups, AirHeads or any comparable candy
toothpicks
*Use any size circle cutter you like. For food coloring, I suggest Americolor Soft Gel Paste (Sky Blue and Bright White). For tips on finding cookie decorating supplies, click here. For tips on basic cookie decorating, click here. For more cookie decorating recipes, click here.
Bake your cookies. Prepare cookie dough according to the recipe, chill, roll out and cut out circles. Bake and let cool.
Prepare icing. Prepare the royal icing according to the recipe. Divide and pour some icing into a bowl. Tint with white food coloring and thin to the consistency of flooding. Pour into an empty disposable decorating bag and close tightly with a rubber band. Pour additional icing into a bowl and tint light blue. Assemble a decorating bag with the tip and fill with some of the blue icing. Close tightly with a rubber band. Thin the remaining blue icing to flooding consistency and pour into an empty decorating bag. Close tightly with a rubber band.
Decorate your cookies. Outline each cookie with the blue icing and let set about 15 minutes. Work with one to two cookies at a time. Snip 1/4-inch from the tip of the thinned blue icing and pipe back and forth to almost fill a cookie. Snip the tip of the thinned white icing and pipe a bit of icing on the cookie. Use a toothpick to swirl the icing around. Repeat with the remaining cookies.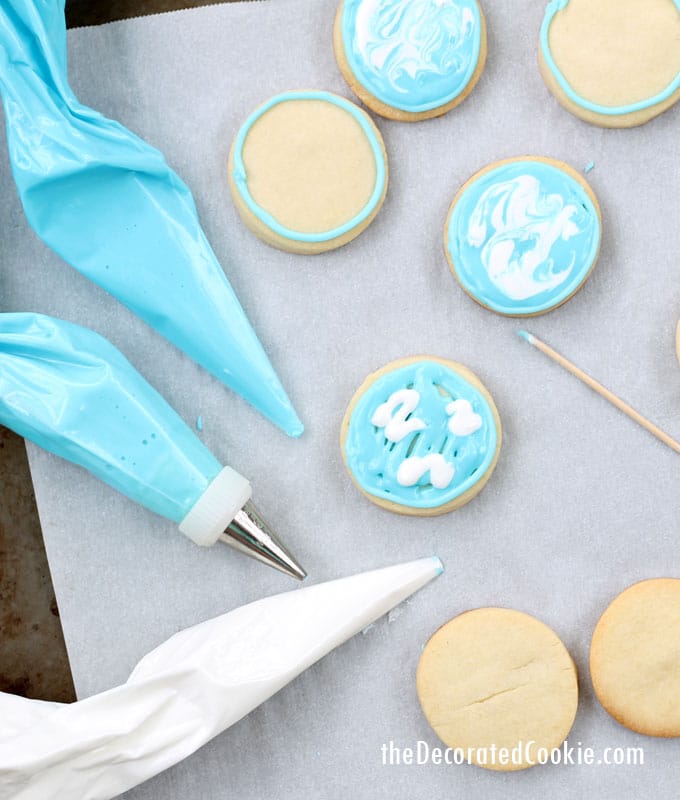 Add your sun bathing Teddy. Cut Fruit Roll-Ups, Airheads or comparable candy into rectangles about the size if a Teddy Graham. Use a dab of icing to adhere the Teddy Graham. Place the pool-floating Teddy on the cookie.