Disclosure: *This post may include affiliate links. As an affiliate, I earn from qualifying purchases.


How to make quick and easy chocolate bunny pops for Easter.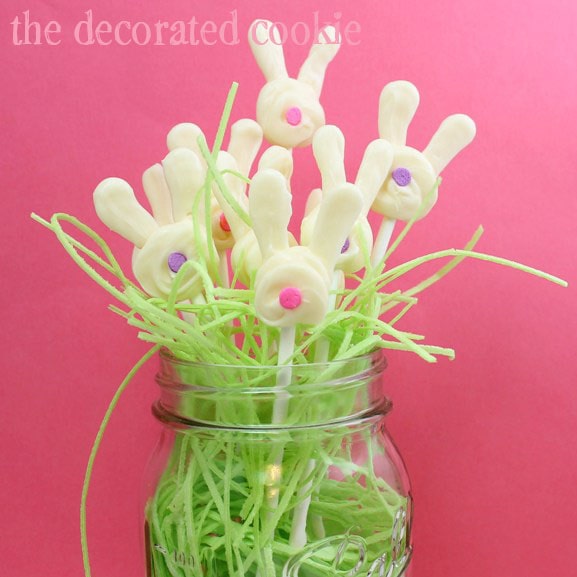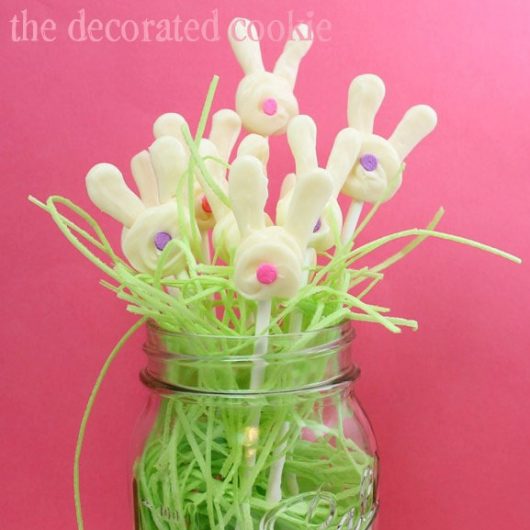 easy chocolate bunny pops
So I thought my last post was all about last minute, but these chocolate bunny pops for Easter are reeeeeeally last minute. And they take no time at all to make.
And they are easy enough for a four-year-old. Mine made these all by herself. I did nothing but melt the candy melts and snip the tip, she did the rest solo.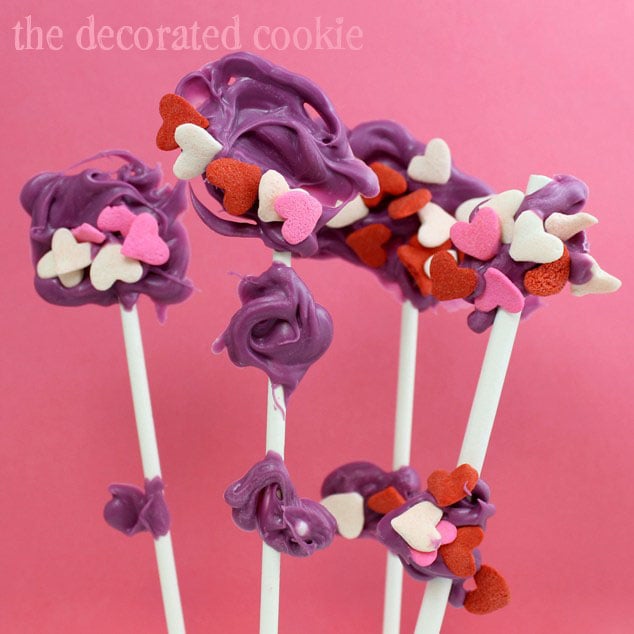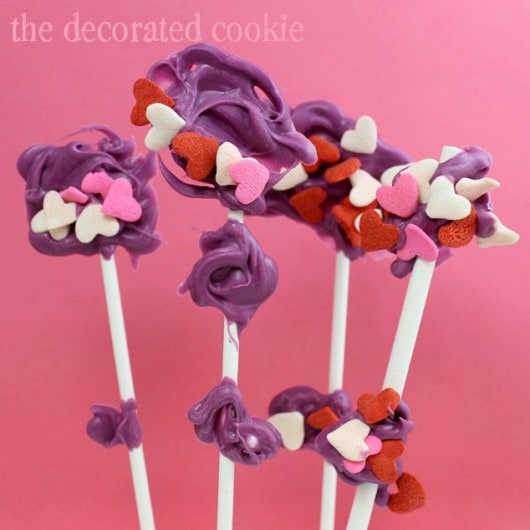 If it isn't obvious, those are flowers (see the flower and the leaf halfway down the stick… I thought that was brilliant, of course).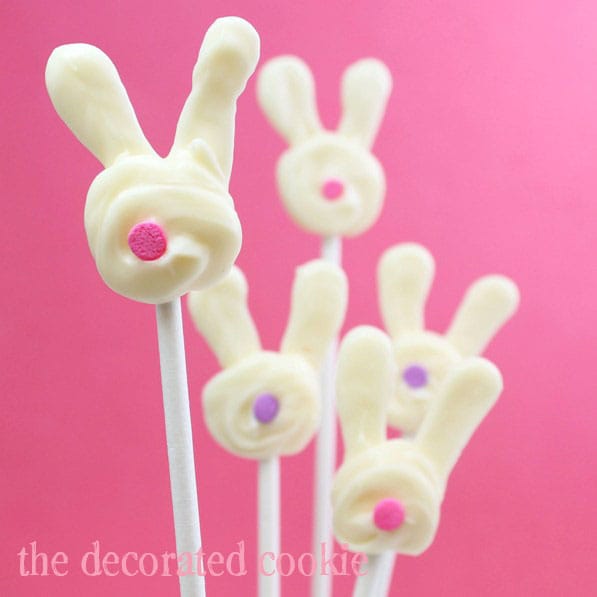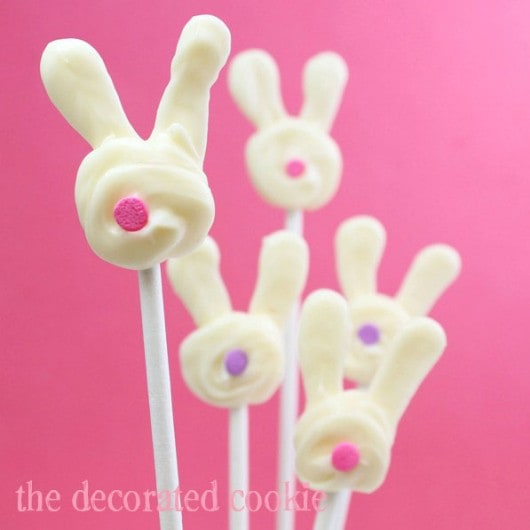 how to make chocolate bunny pops
you will need:*
candy melts (white or any color)

disposable decorating bags

rubber bands

scissors

baking tray(s)

wax paper

lollipop sticks

confetti sprinkles
*Find the candy melts, decorating bags, lollipop sticks and sprinkles in the craft store.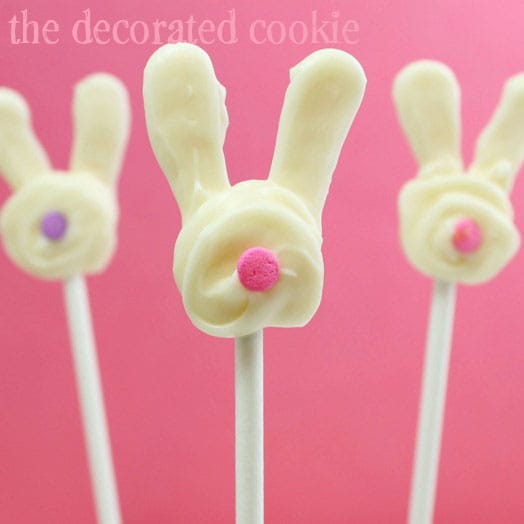 what to do:
1. Prepare the baking trays by lining with wax paper. Have the sprinkles handy in a bowl (I used tiny pink and purple confetti sprinkles, my daughter used hearts.)
2. Melt the candy melts: Fill a disposable decorating bag with about 1/2 cup of candy melts.
Microwave at 50 percent power for 90 seconds. Massage the bag and continue to microwave at 50 percent power at 30 second intervals, then 15 second intervals just until the candy melts completely. (Don't overheat!)
If you don't have a microwave, you may also melt the candy melts in a double boiler or in a heat-proof bowl resting over simmering water and transfer to the decorating bag. Close the bag with a rubber band if kids are handling.
3. Snip 1/2-inch from the tip of the bag.
To make a bunny, first pipe the ears and a small dot on the tray.
Lay a lollipop stick on the dot and pipe another dot on top, about the size of a nickel or slightly bigger. Immediately place a confetti sprinkle on the candy for the nose.
Because candy melts dry quickly, complete one pop at a time. (My daughter just placed a lollipop stick on the tray, and piped her design on top, then added sprinkles.)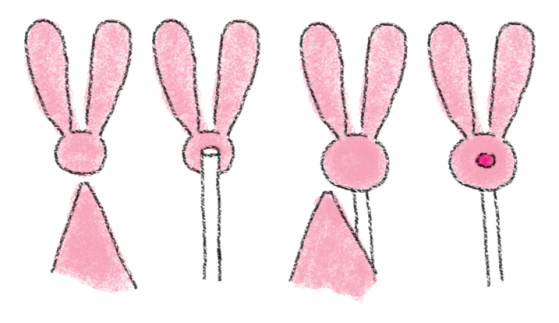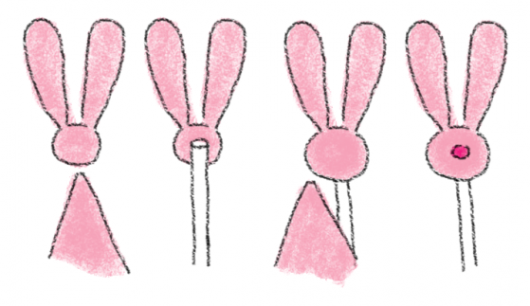 4. Let the pops dry at room temperature, about 1 hour.
NOTES:
• Candy melts cool quickly, but they may be hot when first taken out of the microwave. Use caution when handling and let cool slightly before giving to children.
• If you run out of candy melts, don't reheat more in the same decorating bag. Dispose of the decorating bag and start with a new one.