Disclosure: *This post may include affiliate links. As an affiliate, I earn from qualifying purchases.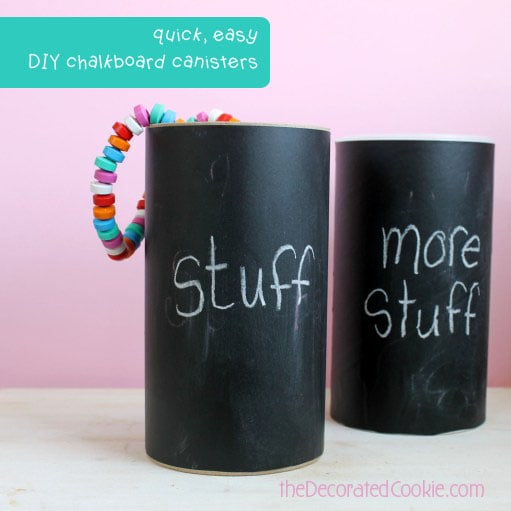 chalkboard canisters
I made these chalkboard canisters for a totally un-sweet reason: To contain my daughter's ever-growing collection of junk jewelry.
But they took minutes to make, and since I thought some of you with collections of things that need containing might appreciate this idea, I'm posting here on my sweets blog.
Except wait, these could also be used to give cookies as a gift. Yes! A perfect fit for the blog, then. You can put treats, or Christmas cookies, or marshmallows, or all kinds of fun things in these.
Now my mind is racing with possibilities. It's a good thing I eat a lot of oatmeal. Every morning, I mix up my tablespoon of coconut oil, 1/2 cup of oatmeal, 1 cup of water, pinch of salt, nuke for 90 seconds. I start the morning feeling healthy. Sure, I go downhill from there, but at least for those first few minutes I'm on track.
I don't even have photographs of the how-tos because they are so easy to make. Except for lining up the piece of chalkboard paper to the container. I kept peeling it off and resticking to get it perfect. Or sorta perfect.
Drove me a wee bit nuts, to be frank. But I did have a baby trying to crawl up my legs as I was attempting to keep the paper steady. Even with that mini-frustration, these are still in the category of "quick and easy."
Here are some ideas for using your chalkboard canisters: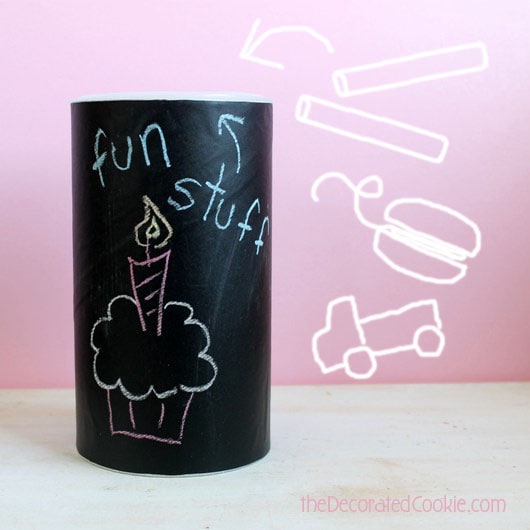 Fun inside! Fill with little toys (including chalk) for kids.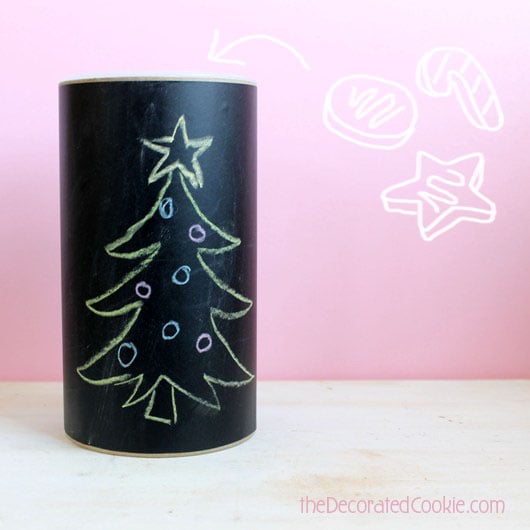 Use as a container for holiday cookies or a hostess gift.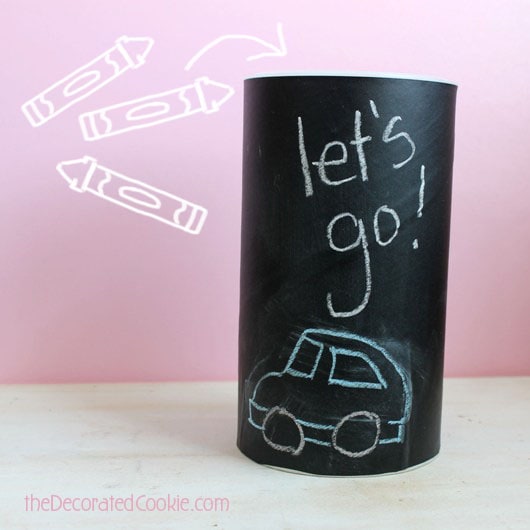 Load it up with chalk, crayons, crossword puzzles, and other games to occupy them in the car.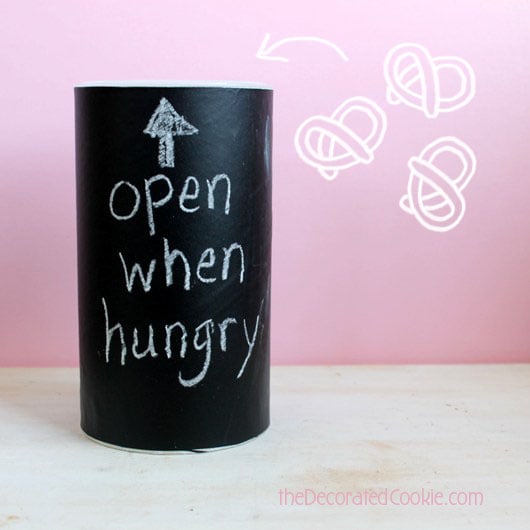 Fill it with healthy snacks, such as granola bars, raisins or pretzels.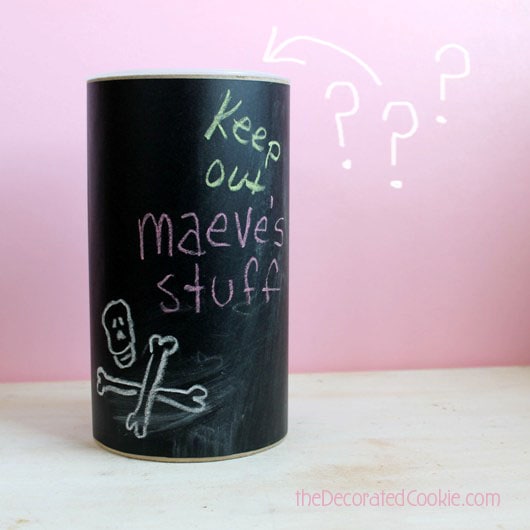 Let kids (or grown-ups) decide what they want to stash in their containers.
How to make chalkboard canisters.
You will need:
chalkboard adhesive paper (see below, I had some leftover from THIS CRAFT)
oatmeal container
scissors
ruler
pencil
Cut a piece of chalkboard adhesive paper the exact height of the oatmeal container and the exact circumference, plus about 1/2 inch for overlap. For my oatmeal containers, this meant 7 7/8-inch wide by 13 inches long.
Peel the paper and wrap around the container. This is where I struggled for perfection. Smooth the paper with your fingers.
TIP: I used a circle label on the lid to cover the label, but you can cut out and glue a round piece of decorative paper. One of my oatmeal containers was the store-brand, which curiously came without labels on the top, so I'll be buying more of those.
Another TIP: If packaging cookies or food that is perishable or can leave grease, line the inside with wax paper or package the food first in cellophane bags.
This is what I used: