Disclosure: *This post may include affiliate links. As an affiliate, I earn from qualifying purchases.


This post is sponsored by Welch's® Fruit Snacks. I am being compensated for this post. All comments and opinions are my own.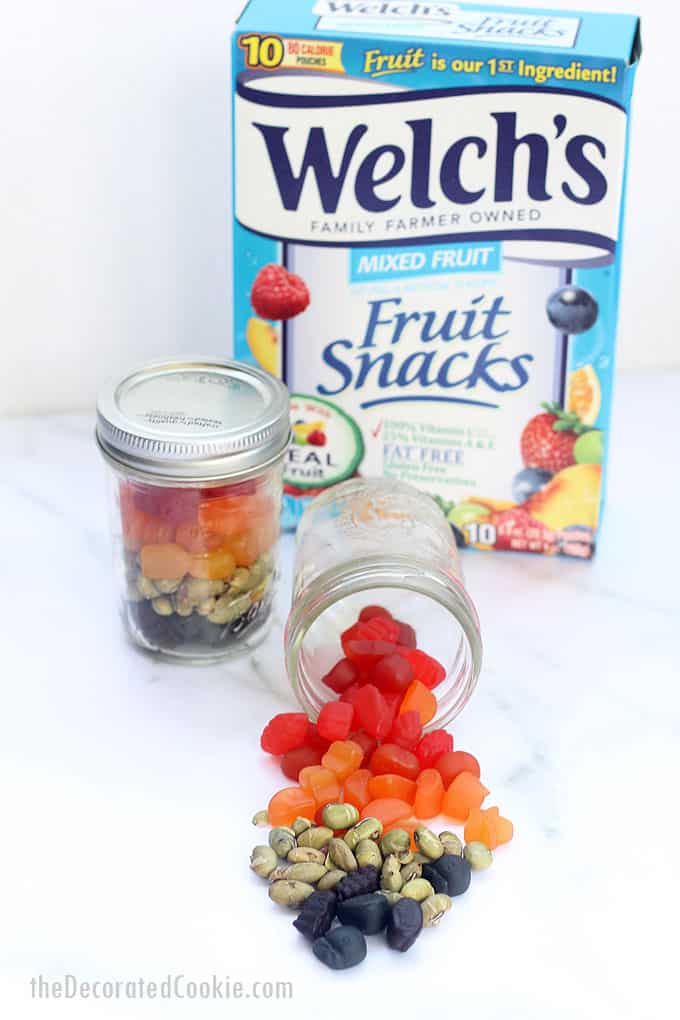 Rainbow Snack Mix Jar
Back to school is near, which means kids are going to have to start using their brains again! Fire up their thinking power with this colorful, fun activity and snack in one: Welch's® Fruit Snacks Rainbow Snack Mix Jars.
Kids can sort the fruit snacks by color and layer them in small mason jars for the perfect after-school or on-the-go snack. Need help finding your favorites? Click HERE for a Welch's Fruit Snacks product locator.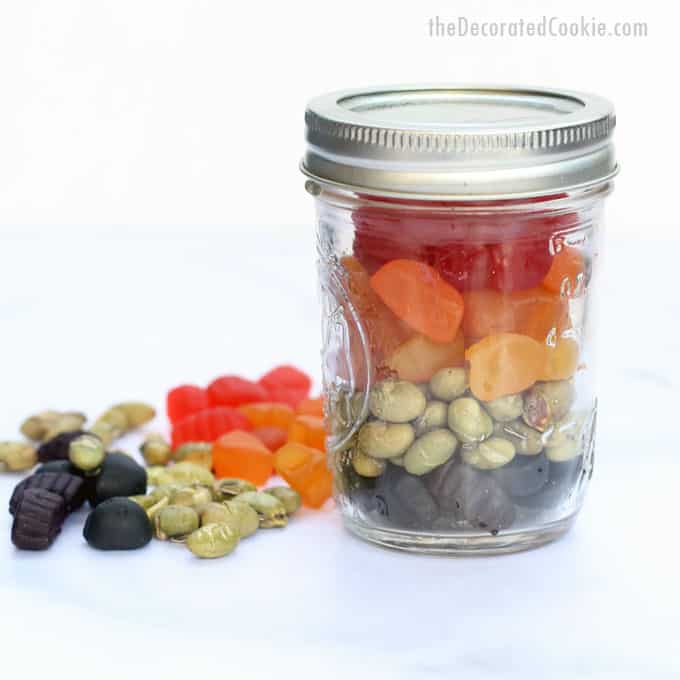 rainbow snack ideas
Let the kids brainstorm other colorful snack ideas to mix in with their Welch's Fruit Snacks to make the rainbow.
Try yellow popcorn or orange crackers, orange butterscotch chocolate chips, green dried peas or edamame, peanuts or almonds… anything they can think of to add color to the rainbow.
The combination of fruit snacks and salty snacks is not only pretty, but delicious.
My six year old helped me divide the fruit snacks by color. She LOVES Welch's Fruit Snacks, so I always pack them in her lunch box. I totally get why these are America's favorite Fruit Snacks!
Welch's Fruit Snacks are made with Real Fruit, so you can really taste the difference. Plus, fruit is the first ingredient.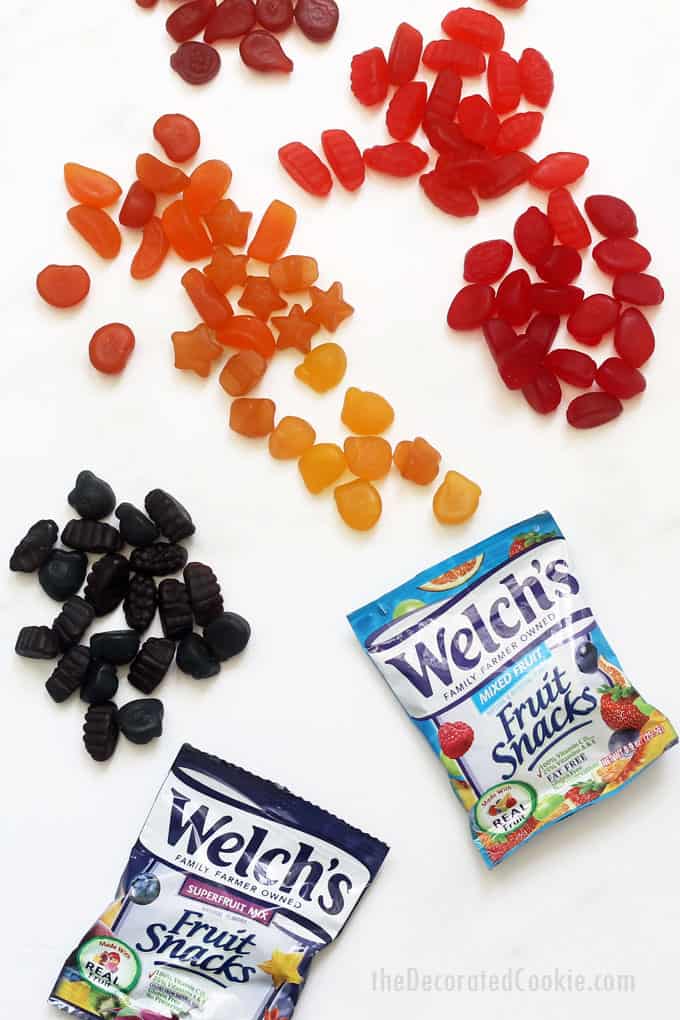 Make a bunch of rainbow snack mix in mason jars to have handy at home. Kids can grab a jar when they are home from school, pour in a bowl, and enjoy!
Or you can snag a jar when you're on the go to after-school activities. Many schools don't allow glass jars, but if you find food-safe plastic jars, these would also be a fun addition to a lunch box.
Or, if your rainbow-obsessed kid wants a unicorn or rainbow themed party, these snack jars would make fantastic party favors.
(Need more back to school ideas? Check out these free printable lunch box games and my other Welch's Fruit Snacks hacks.)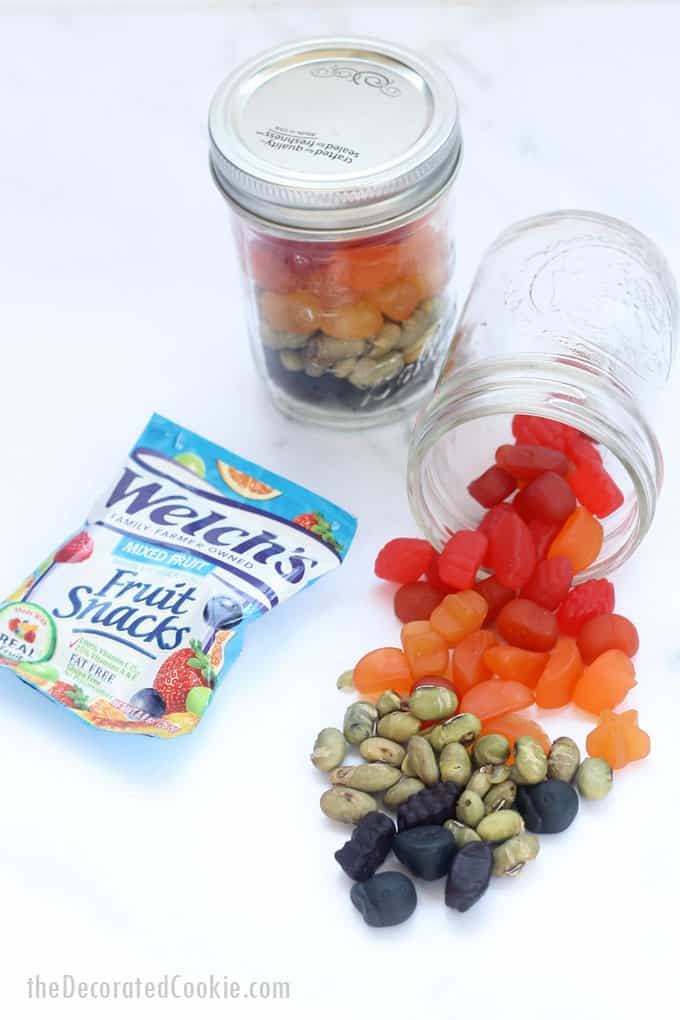 How to Make a Rainbow Snack Jar
You Will Need:
Welch's Fruit Snacks (One package of Mixed Fruit and Superfruit Mix used here)
Other assorted snacks (dried peas or edamame, popcorn, small crackers, etc.)
Small mason jars (8 ounces)
What to Do:
Open packs of Welch's Fruit Snacks and sort by color.
Layer the snacks by color. Top with the lid until enjoying!