Disclosure: *This post may include affiliate links. As an affiliate, I earn from qualifying purchases.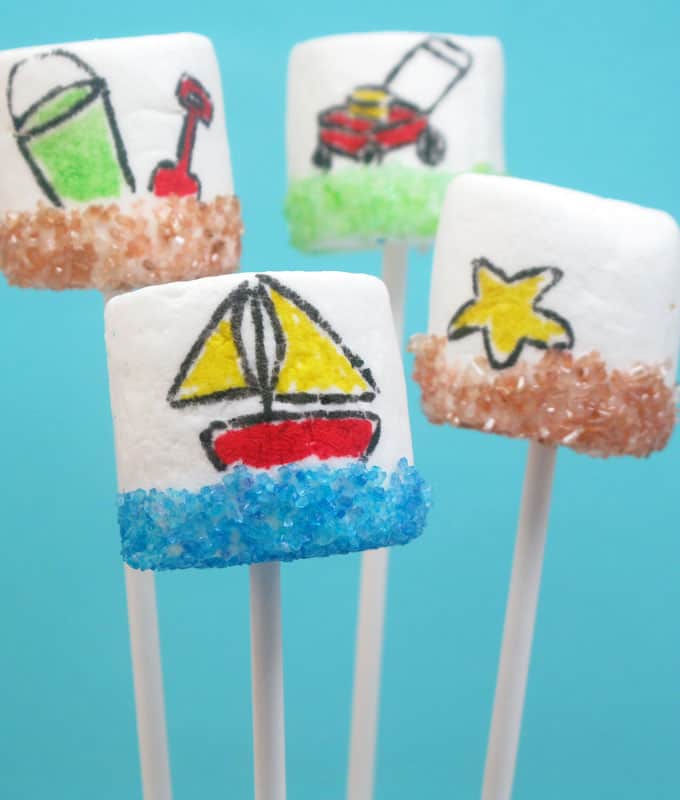 summer marshmallows
It's been awhile since I pulled out the old marshmallows and markers, so how about a few Summer marshmallows?
Those dedicated may recall these BBQ marshmallows from last year. This year I'm turning to sand, surf and lawn and things found on sand, surf and lawn.
how to make summer marshmallows
you will need:*
marshmallows
shallow bowl of water
brown, blue and green sprinkles
edible markers
lollipop sticks (optional)
wax paper
paper towels
*Find the sprinkles and lollipop sticks at the craft store.
For edible markers, I prefer the FooDoodler fine line set of ten, the Americolor Gourmet Writers and/or the KopyKake set of ten.
how to dye your own sprinkles
If you can't find brown (or any other color): Put white sprinkles or sanding sugar in a jar or small tupperware container. I only had about half a container of white sprinkles left, so I just used that container.
Add a drop, just a drop, of brown food coloring (or any other color). Close the lid and shake shake shake. That's it. Add more drops for a darker color.
step one: make the sand, surf or lawn
Set up a sheet of wax paper on a baking tray or the counter, a shallow bowl of water, and a small cup with brown, blue or green sprinkles. Hold the top of a marshmallow and dip just the bottom of the marshmallow into water, dab on a paper towel, and dip in the sprinkles. Set on wax paper to dry.
step two: draw your design
Draw your boats, shells, buckets, shovels, lawnmowers, barbeques, whatever…. with the markers.
step three: insert a lollipop stick
If desired.
some ideas…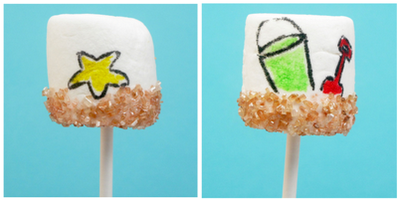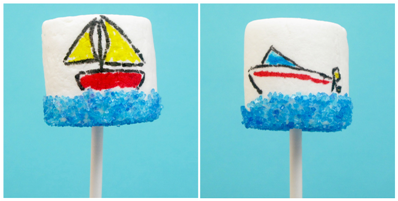 lawn