Disclosure: *This post may include affiliate links. As an affiliate, I earn from qualifying purchases.


How to make silhouette Halloween cookies with fondant.
Halloween cookies
I'm just loving these silhouette Halloween cookies. They are so easy to make, too!


how to make silhouette Halloween cookies
Prepare cut-out cookie dough. Roll out, cut out and bake cookies according to the recipe. I used a 2 1/2 inch circle cutter. Let cool.
Tint fondant (homemade fondant or store-bought) by kneading drops of coloring very well into a chunk of fondant. If the fondant gets too sticky from handling, let sit out uncovered for 15 minutes. I made plain white, purple, lime green and orange with food colorings Regal Purple, Electric Green and Orange. Roll out fondant between pieces of wax paper or on a surface dusted with confectioner's sugar. Cut out circles with the cookie cutter and adhere to cookies with light corn syrup or a thin layer of icing or frosting.
Prepare black fondant with Super Black food coloring and roll out. Cut out silhouettes as shown below. This would be easy with mini Halloween cookie cutters.
Adhere to cookies with light corn syrup.
NOTE: You can also flood royal icing for the cookie backgrounds instead of fondant.
how to make a bat silhouette

you'll need:
1/2 inch circle fondant cutter
1 1/2 inch square fondant cutter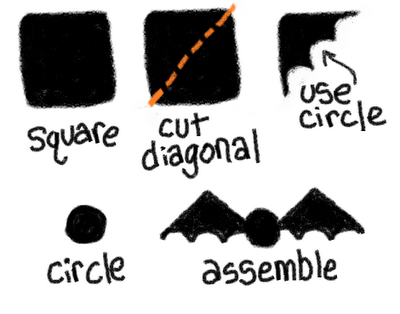 how to make a witch hat silhouette

you'll need:
to know how to cut out a witch hat
I did this one by hand. It would've been easier with a witch hat cookie cutter.
how to make a cauldron silhouette
you'll need:
1 1/2 inch circle fondant cutter
1/2 inch circle fondant cutter
dough scraper or sharp knife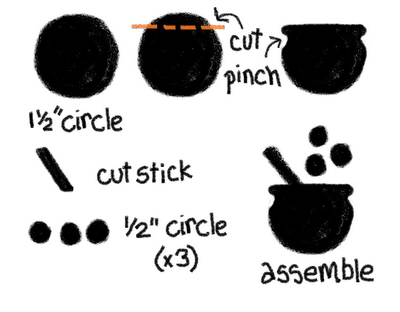 how to make a spider silhouette
you'll need:
1/2 inch circle fondant cutter
decorating tip*
black food coloring pen
*use the wide end of the decorating tip as a cutter to make circles about 3/4 inch diameter