Disclosure: *This post may include affiliate links. As an affiliate, I earn from qualifying purchases.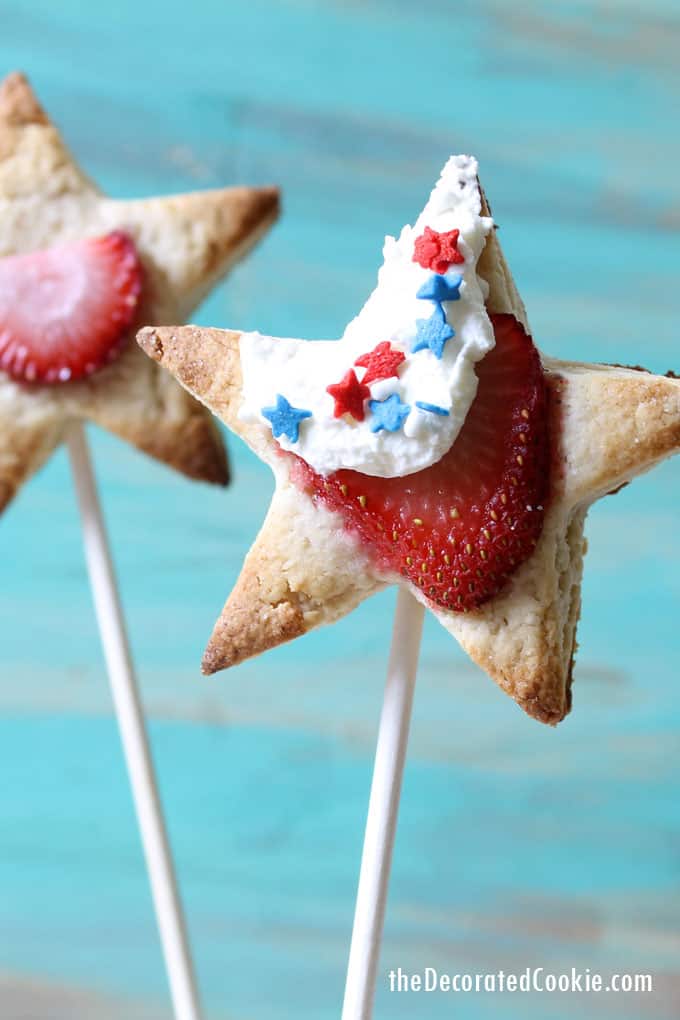 strawberry shortcake pops
Or, should I say "Star"berry shortcake pops. (Go ahead and grown.) Callye, of The Sweet Adventures of Sugarbelle, inspired my own starry dessert. You see, she's hosting a star-shaped extravaganza of ideas from bloggers around the web for the 4th.
Want to see the brilliance that is out there? Scroll to the end of this post to visit all of these stars above. This is what I made. You can groan if you like at my naming these "strawberry shortcake pops", but "star-shaped strawberry shortcake on a stick" was just too long, don't you agree?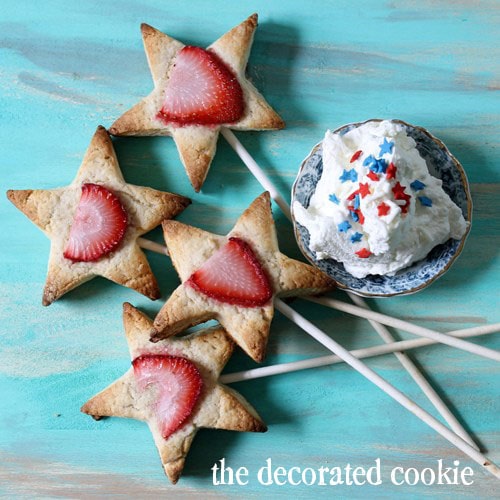 Callye left the star-theme wide open. We could do anything star-shaped, aslong as we used a star cutter. So I had to do something besides cookies, because as usual, my first thought was cookies. One of my favorite desserts growing up was my mom's strawberry shortcake.
And because I'm a firm believer that anything can be put on a stick, that's where this shortcake had to go. While moving things vertically means these are heavier on the shortcake part than the strawberries, I wouldn't stop you from grabbing a spoonful of fruit with each bite. Served with whipped cream for dipping, no forks or plates are necessary!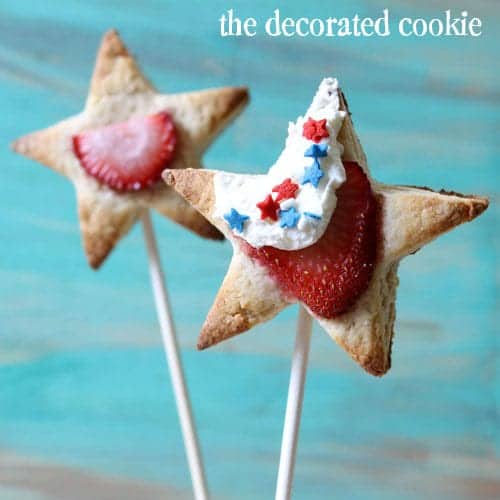 how to make STARberry shortcake pops
you will need:
2 1/3 cups Bisquick mix
4 tablespoons sugar, divided
4 tablespoons butter, melted and divided
1/2 cup half and half or whole milk
3-inch star cookie cutter
lollipop sticks
4 or 5 strawberries, washed, hulled and thinly sliced
1 cup heavy cream
4th of July sprinkles (optional)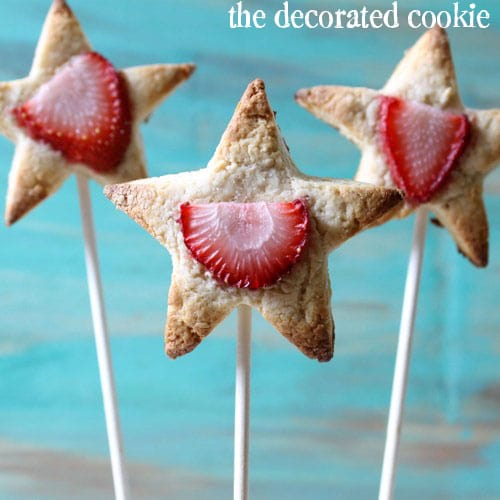 what to do:
1. prepare your shortcake stars.
Preheat the oven to 425 degrees F. Combine the Bisquick, 3 tablespoons of sugar, 3 tablespoons of butter, melted, and the half and half in a bowl. Mix with a spoon until a dough forms, then turn out the dough on a surface sprinkled with Bisquick. Knead 8 to 10 times and form a ball.
Roll the ball of dough about 3/8-inch thick. Cut out star shapes, insert lollipop sticks and place on a baking tray lined with parchment paper.
Brush the remaining tablespoon of butter, melted, on the surface of the stars. Place one to two strawberry slices on each star, sprinkle with additional sugar, if desired, and place in the oven.
Bake for 10 to 12 minutes or until golden brown. Let cool. Yields 12 star pops.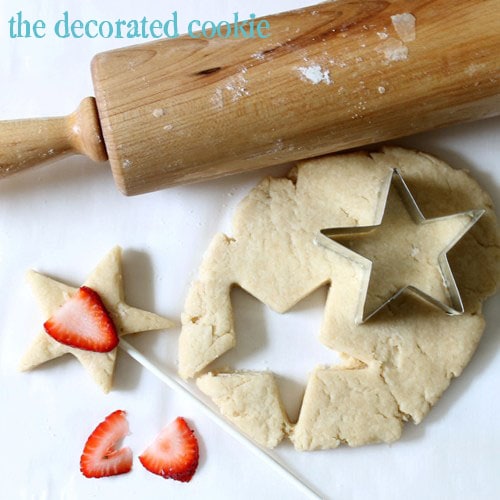 2. prepare your whipped cream.
Before serving, whip the cream on high speed until stiff peaks form. Blend in a tablespoon of sugar. Spoon in a bowl and top with sprinkles (if desired), and serve with the shortcake stars for dipping. Or, spoon a dollop on each star, sprinkle with sprinkles, and serve.
AND NOW THE SUPER STARS!!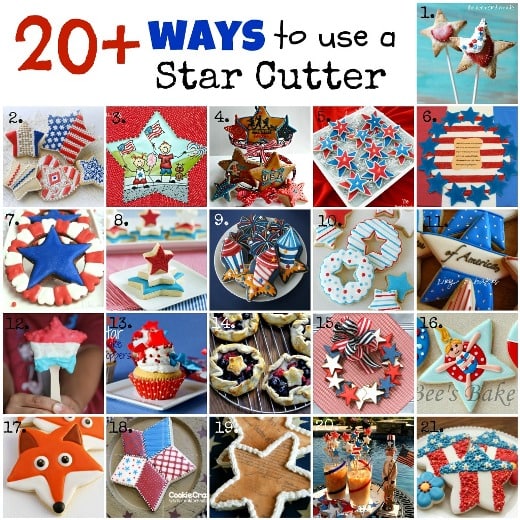 Old Fashioned 4th of July, Vicki's Sweet Treats
4th of July Firecracker Cookies, Klickitat Street
Easy Star Cupcake Toppers, Confessions of a Cookbook Queen
Rustic 4th of July Galletes, Haniela's
Hosted by Sweet SugarBelle, find the roundup HERE.
How would YOU use a star-shaped cookie cutter??