Disclosure: *This post may include affiliate links. As an affiliate, I earn from qualifying purchases.


Need a colorful snack for a party? Try this sparkly rainbow Chex mix.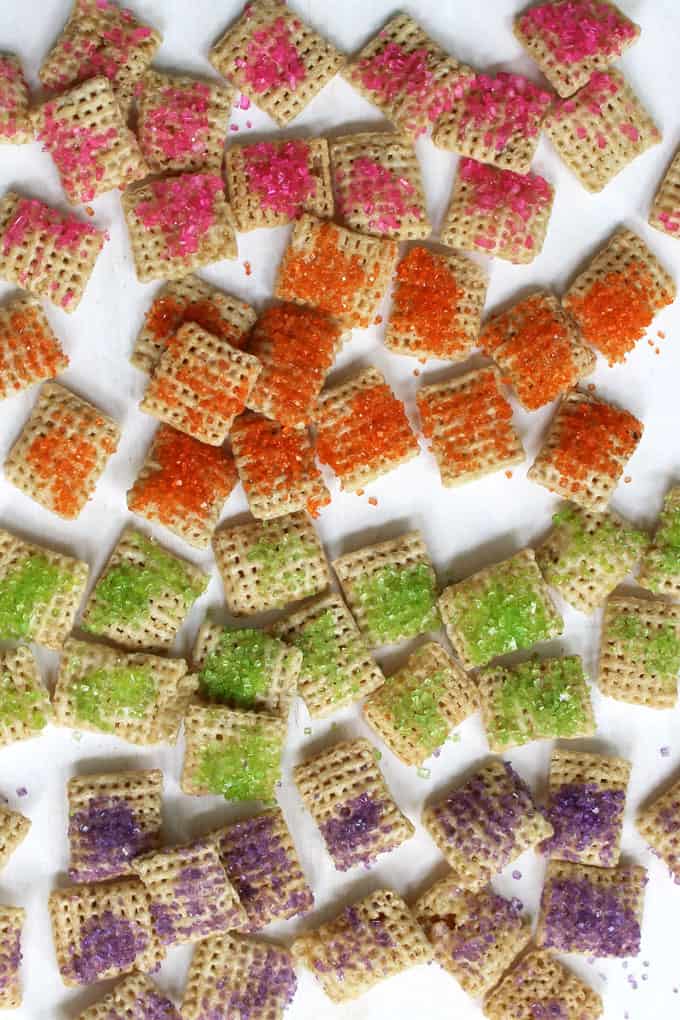 sparkly rainbow Chex
So a couple months ago, we decided to host a happy hour for my daughter's pre-K class. The whole class. All the kids, their siblings and their parents. In our modestly-sized home. We ended up with about 40 kids, siblings and parents, all very good sports to cram themselves in said modestly-sized home. Naturally, I had to serve desserts, though I kept it simple with mini cupcakes with swirled frosting, homemade brownies and homemade chocolate chip cookies. Oh yes, and sparkly pink Chex. Or, sparkly rainbow Chex cereal snack mix.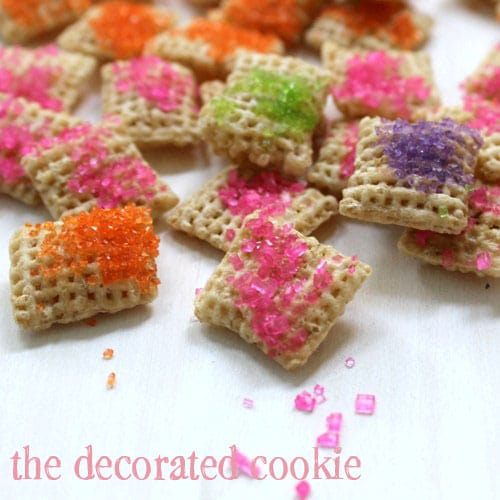 The sparkly pink Chex was a last minute addition, invented by my daughter. Earlier in the day, she requested some frosted mini wheat cereal. Aw, sorry darling, we don't have any frosted mini wheat cereal. I have Chex, though. After thinking for a moment, Maeve had the genius idea of turning Chex into frosted mini wheat cereal by adding sprinkles. I do take credit for a bit of the execution, but this idea is all hers.
So I set her up with a baking tray lined with wax paper and filled with Chex, a pastry brush, some melted butter and a shaker of pink sprinkles. She painstakingly painted each Chex with butter, then coated each one with sprinkles individually. Skeptical, I tasted one. Yum. It was really, really tasty, so when she suggested serving them at the Happy Hour, I pulled out my little cake plate and said "Absolutely."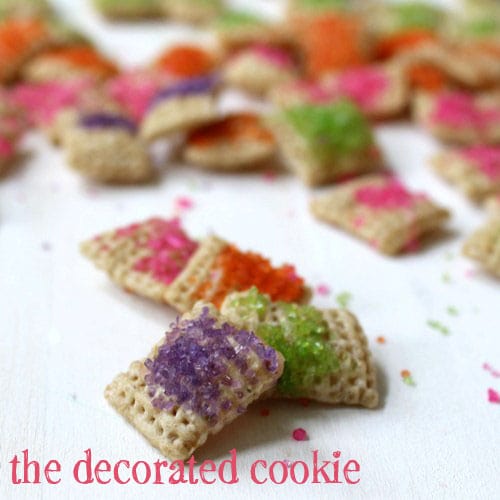 Here's how we made sparkly Chex. You could probably find an easier way, like just spooning melted butter over the lot of them, stirring and adding sprinkles. Or maybe use a Ziploc bag and shake. But I'm sticking with the integrity of Maeve's original and showing you this way. I was a bit more hurried though, and dabbed the butter and sprinkles on a bunch at a time, rather than work with the Chex individually with greater detail.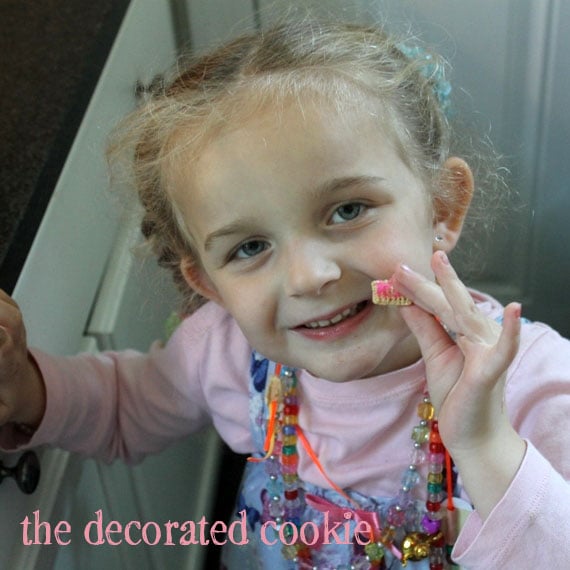 how to make rainbow sparkly Chex
you will need:
Chex ® cereal

baking tray

wax paper

cooling rack

pastry brush

butter

sprinkles
Line the baking tray with wax paper and top with the cooling rack (the cooling rack isn't necessary, it's just handy to catch leftover sprinkles so you waste less. Cover with a single layer of Chex cereal. Melt the butter (I worked with a couple tablespoons at a time, then just kept melting more as needed) in a microwave-safe dish. Working with a section of the Chex at a time, use the pastry brush to dab butter on the Chex, then immediately sprinkle with sprinkles. Let dry on the tray for an hour or so, then serve.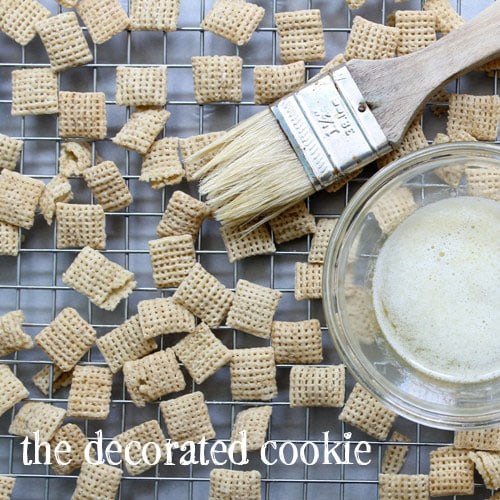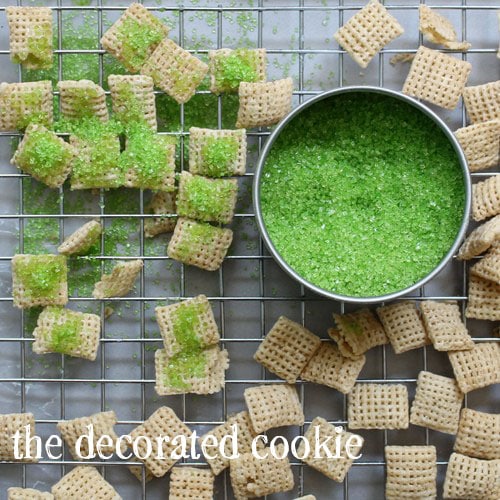 more rainbow food ideas
You've come to the right place for unicorn food!