Disclosure: *This post may include affiliate links. As an affiliate, I earn from qualifying purchases.


How to make sunflower marshmallow pops.
I have another version of sunflower marshmallow pops coming your way, too, so stay tuned… This idea is super similar to an idea I have in Sugarlicious (except in there I use cake pops instead of marshmallows, and add leaves, and do something a bit different with the card stock).
But I'm spilling the beans here, cuz I love you that much.
I made these ages and ages ago and just saved 'em, because my foresight is that good.
(Though my real eyesight isn't. You'll always see me in glasses.)
I knew my summer would be nutso, and sure enough, it is.
Not only is the kiddo out of school and with me 24 hours a day, 7 days a week, and she talks incessantly, and doesn't like to play alone, but the husband is away for Army reserves AND our house is full of dust, holes, noise, and construction workers.
Also, we take sponge baths in our powder room because we're renovating both of our real bathrooms. Nutso. Hence, a few saved posts during this crazy time.
Imagine skipping barefoot through a field of marshmallow sunflower pops, sigh.
Actually, that doesn't seem wise at all if you want to eat them. Instead, maybe just make a mock field and prop these in a Styrofoam block covered with green tissue paper.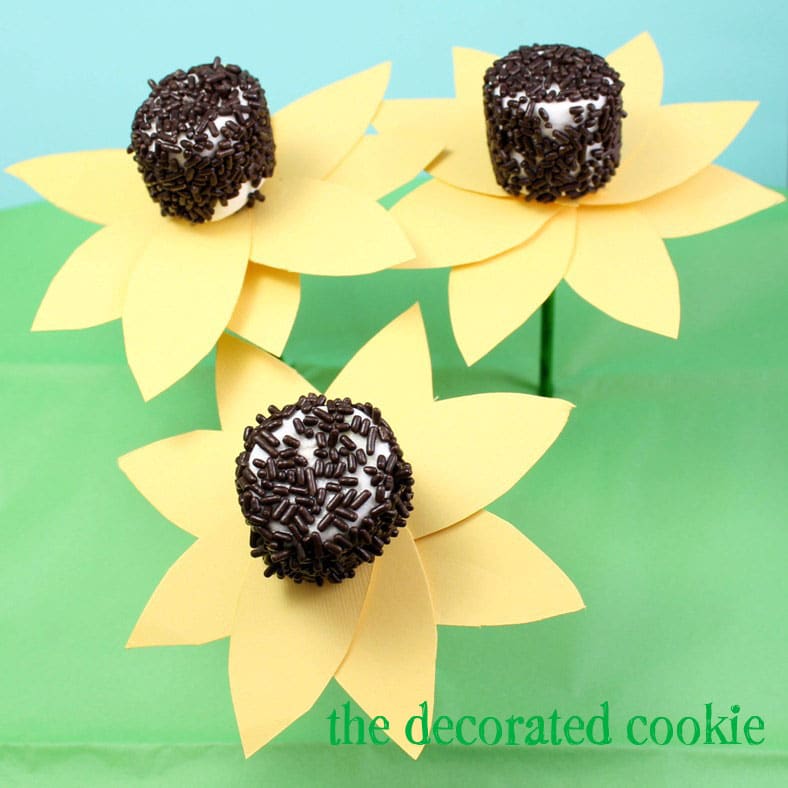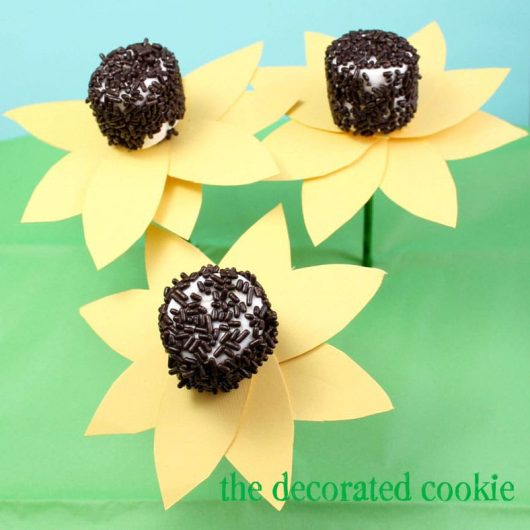 how to make sunflower marshmallow pops
you will need:*
marshmallows

lollipop sticks

bowl of water

paper towels

chocolate jimmies

Styrofoam block

green food coloring

wax paper

paint brush

yellow card stock

scissors

1/8-inch hole punch
*Find the lollipop sticks, jimmies, Styrofoam, food coloring, paint brush, card stock and hole punch in the craft store. The hole punch is smaller than a regular hole punch. This size is slightly smaller than a lollipop stick, so the petals stay on the stick without falling, but you may also use a needle to poke a hole if you prefer.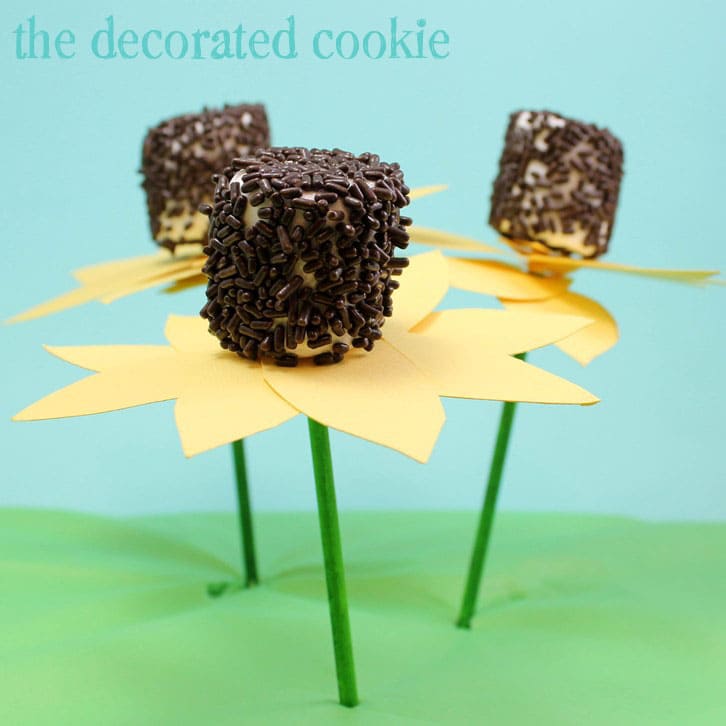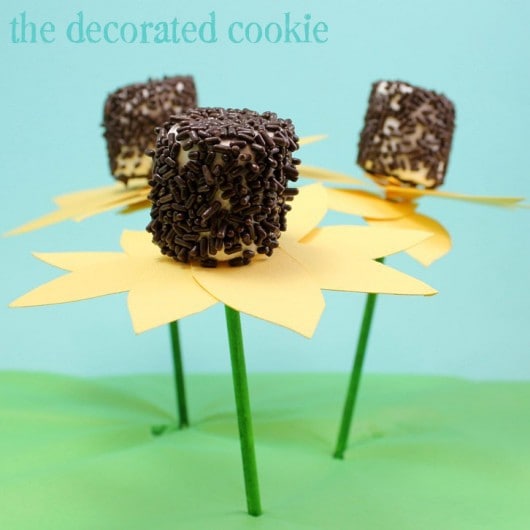 step one: dip your marshmallows
Have ready a bowl of water, a paper towel, the jimmies and an empty bowl or plate.
Skewer a marshmallow with a lollipop stick, quickly dip the marshmallow into the water, trying to get as little of the stick wet as possible, dab the marshmallow on a paper towel to remove excess, hold the marshmallow over the empty bowl and sprinkle the jimmies generously over the marshmallows to coat.
Prop the marshmallow in a Styrofoam block.
step two: paint your lollipop sticks
Mix a few drops of green food coloring with a couple drops of water, using a piece of wax paper as a palette.
Paint the lollipop sticks and rest the pops on a piece of wax paper to dry.
step three: add your petals
Cut out petal shapes from yellow card stock (I made one petal as a template).
Punch a hole at one end of the petal. Slide a lollipop stick through the hole of a petal and push up to the marshmallow. Repeat so you have 8 petals on each flower.