Disclosure: *This post may include affiliate links. As an affiliate, I earn from qualifying purchases.



panda sushi
I rarely eat sushi because I live in a household where I'm the only one who will go near it. And I'll always be wary of raw fish. (Hence, I'm the boring sushi restaurant partner who orders the California rolls.) Not only do I not eat sushi often, but I most certainly have never tried actually making it. So why panda sushi now?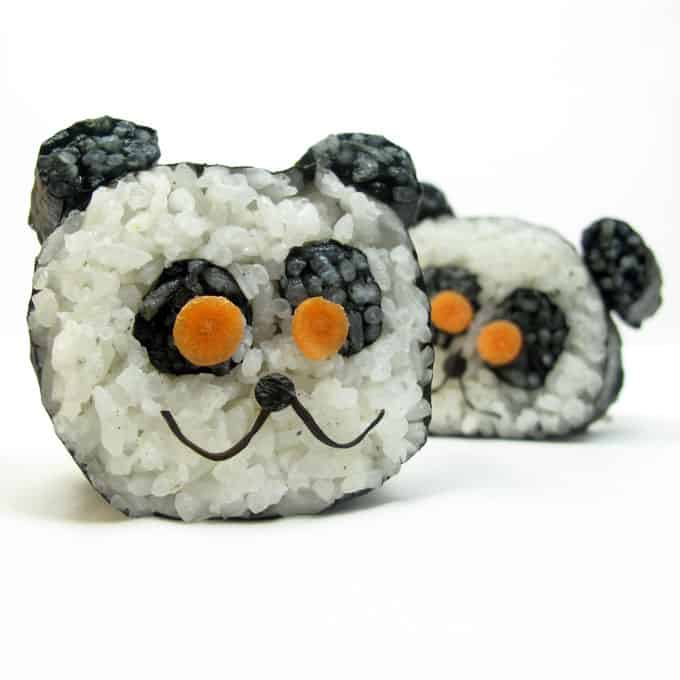 WBecause, dear readers, I surpassed the first challenge of the
Foodbuzz Project Food Buzz!
Remember my
cookie pop meal
? It got me through to Round Two.
A gigantic THANK YOU to those who voted for little old moi. So I'm ready to face my next challenge: To "tackle a classic dish from another culture" that is "outside my comfort zone."
I chose sushi because: 1. It's not a dessert, so out of my element. 2. My sushi resistance has led to voluntary social exclusion. Sigh. I never went to my friend's "Sushi Friday." I politely move "how about sushi?" conversations elsewhere. Sushi sushi sushi.
Even my four-year old niece is a fan.
And 3. I'm of Irish and English descent and grew up in the Jersey suburbs. Sushi is outside my culture. (UPDATE: The contest is long over, and alas, I did not win in the end.)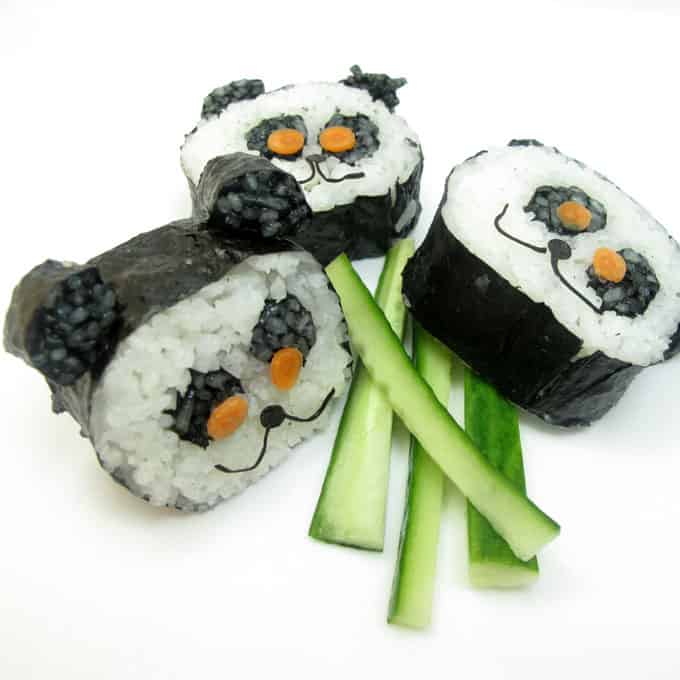 So sushi it is. But as I must add art to every edible, I give you… PANDA SUSHI.

how to make sushi when you're a beginner
First, I googled "sushi art" and found
this panda bear sushi
. OK, my inspiration. Panda bear? Perfect. I live in DC where the
Panda Bear
is big. Problem was, my "how to make panda bear sushi" search was fruitless. So I'd have to wing it.
Second, I googled "how to make sushi" (see? I really am starting from scratch) and found
this site on how to make sushi
. And I entered this phenomenally huge world of edible art and delicacies. Classic roll, inside out roll, Temaki sushi, Nigiri sushi, Dragon Roll, Rainbow Roll, Pandanni Roll…. Best stick with classic (maki) sushi. And vegetarian, please. Step one: The norisheet.
Third, after some more research, I lined up my basics: a rolling mat, some seaweed (the nori sheet), Japanese rice. Maybe throw in some carrot eyes like the picture. I found almost everything at my local Giant. Rice vinegar, sure, but even the sushi rice and Nori. Then a trip to Whole Foods to find something I could use for the Panda's mouth resulted in Arame Sea Vegetables. OK, here goes.
how I made Panda sushi
step one: make the sushi rice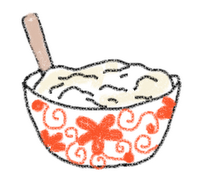 step two: make the ears and eyes
After a little more internet search for "how to roll sushi," I figured I'd start small with the ears and eyes. I tried to tint some rice with soy sauce to make it black. It was brown. So I added a couple drops of food coloring. Cheating? I learned of "black rice" after the fact. So I spread out my own "black" rice on a bit of Nori and folded a small roll. Then I cut the excess Nori with scissors. (Can I do that?) Two small rolls for the ears, which I sliced into pieces, and two slightly larger rolls for the eyes.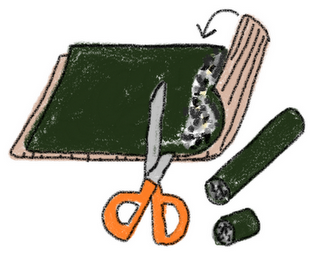 step three: the big roll
I spread out my rice on a full sheet of Nori, wet hands and all, then used logic to determine the placement of the two eye rolls. I was a little off. But the roll went relatively well considering I was applying logic to a total unknown. Then I sliced the pieces.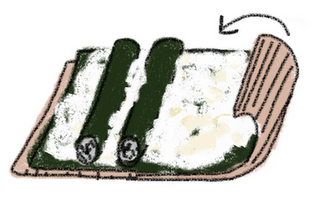 step four: assembling the Panda
I relied mostly on gravity and the sticky nature of things, but I used tiny pieces of dried spaghetti to keep some of the ears on. I used slices of baby carrots for the eyes (as in
the photo
), Arame sea vegetable strings for the mouth (tedious and difficult, since they are stiff), and I used a hole puncher on a piece of Nori for the nose (I already used scissors, I figured I could use a hole punch). A few slices of cucumber for "bamboo" (to add more than just rice, which I imagine is the dullest sushi ever) and I was done.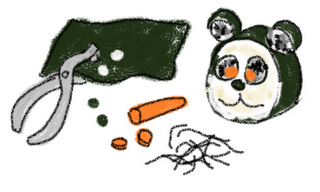 the result
While my sushi recipe was simple for a new adventure (rice and a few veggie sticks? No raw fish?), my challenge was the rolling. I had never rolled sushi, let alone tried to make art from the roll. Clearly I need a bit more finesse. But I'm pleased that I tried something totally foreign to me and with minimally recognizable–and even pretty tasty–results.
what I would have done differently
I'd have started at an Asian supermarket. Since I was focused on the art of wrapping and my ingredients were simple, I thought I could get away with more conveniently located stores. Had I started at the right supermarket, I'd have learned about black rice. What was I thinking? Although the black food coloring worked, I'm pretty sure it's not a Japanese delicacy. Mistake. Second, I'd have taken pictures of the mess in my kitchen after trying to make sushi.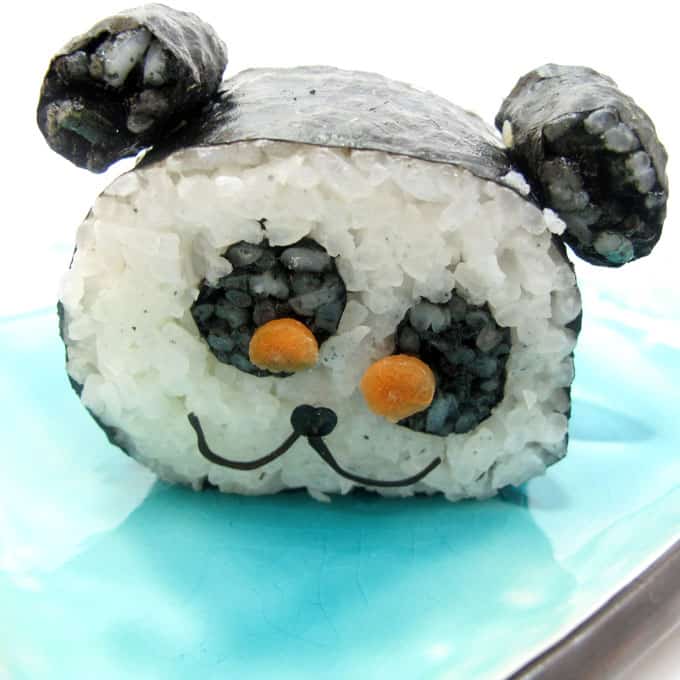 PIN FOR LATER: