Disclosure: *This post may include affiliate links. As an affiliate, I earn from qualifying purchases.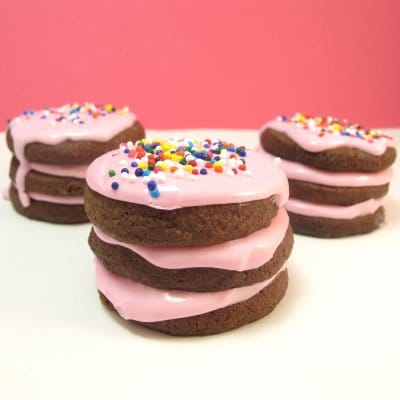 chocolate cookie "cakes"
It's hard to ship a cake, so for my sister's birthday, I (of course) made cookies instead. By simply stacking tiny chocolate circle cookies with frosting, and adding a tad of sprinkle garnish, you can easily create these chocolate cookie"cakes." I used my royal icing recipe, because I needed the frosting to dry enough to ship, but you can also use buttercream if you prefer. You can use any recipe for chocolate rolled sugar cookies, but I've provided the recipe for my chocolate cookies from my book at the end of this post. They hold their shape well and taste yummy. If you wrap in cello bags with ribbon, let dry overnight first.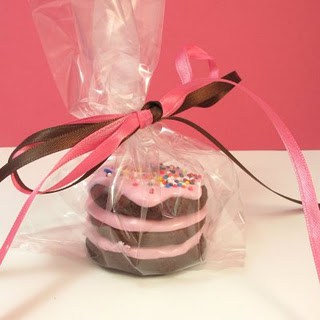 how to make mini chocolate cookie "cakes"
you will need:
chocolate cookie dough (see the end for my recipe)
royal icing
1 1/2 inch circle cookie cutter
1 disposable frosting bag, coupler, and rubber band
Size "5" decorating tip
pink frosting color (I use Americolor soft gel pastes, Electric Pink)
small spoon or squeeze bottle
small spatula or knife
sprinkles or jimmies
optional: cellophane favor bags and ribbon
All of the above should be found at craft stores, including frosting color, but for Americolor products, you may have to try specialty stores or the internet.
step one: bake your cookies
Roll out chilled dough on a lightly floured surface (the flour will show, but should blend into the cookie, or you can roll between two pieces of wax paper in lieu of using flour), cut out circles and place on a parchment paper-lined baking tray, and bake according to the recipe. I planned on 3 circles per cake. Let cool.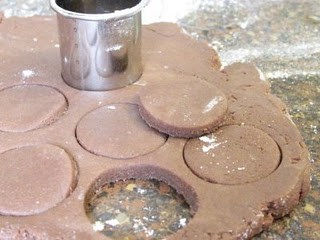 step two: stack your cookies
Assemble a frosting bag with size "5" tip. Mix about 1 cup of frosting light pink and fill bag with a little more than half of the frosting. Tie closed tightly with a rubber band. Outline a cookie with the frosting, and pipe frosting back and forth to fill circle. Repeat with a second cookie. Stack one cookie on top of the other. Stack an undecorated third cookie on top.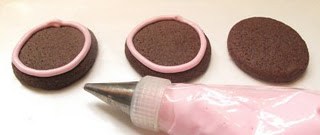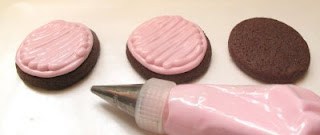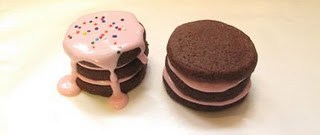 step three: flood the top cookie and sprinkle
Usually for flooding you pipe a circle, let set, and fill in with runny icing. To make these look like "cakes," I omitted the hardened circle. Thin remaining icing with water, a few drops at a time, until the consistency of a thick glue. The frosting shouldn't be quite as runny as when you flood, it should be slightly thicker. With a small spoon or squeeze bottle, pour thinned frosting on center of top cookie and let gravity do its job. You can nudge slow frosting with the back of the spoon. In lieu of thinning the frosting, you can also just cover the top with piped frosting from your bag, as long as the icing isn't too too thick. Sprinkle with sprinkles, if desired. Let set.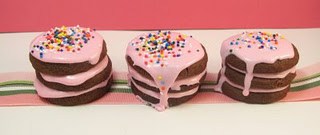 recipe: cut-out chocolate sugar cookies
1 cup (2 sticks) slightly softened unsalted butter
1 cup granulated sugar
1 egg
1 tsp. vanilla extract
2 cups flour
1/2 cup cocoa powder
1/2 tsp. salt
1/2 tsp. baking soda
Blend butter and sugar on medium speed with an electric hand mixer or with the paddle in a standing mixer. Add egg and vanilla and blend. Mix dry ingredients and gradually mix in. Wrap dough and chill for at least one hour. Roll out on a floured surface, cut shapes, and bake on a parchment paper-lined baking tray in a preheated 375 degree oven for 12 to 14 minutes. Yields about 60 small circles.