Christmas candy cookies
Mini Christmas candy cookies are handy for packaging in little jars for a homemade holiday gift idea. You can find these cute li'l bite-size
Christmas cookie set here
, and I love cute li'l bite-size versions of things. So I pulled the cute li'l gingerbread man and the cute li'l candy cane cutters and made some candy, cookie style. Mini Christmas candy cookies.
Package them in little cellophane bags with ribbon.
Or how about mason jars?
what you'll need:*
dough
icing
mini cutters
(gingerbread man, candy cane, 1 1/4 inch circle and a 1 1/4 inch oval)
Americolor soft gel pastes
(Red, Bright White, Chocolate Brown, Sky Blue, Leaf Green, Electric Green and Electric Pink)
white sanding sugar or fine sprinkles
disposable decorating bags
couplers
decorating tips
(sizes "2," "3" and "4")
rubber bands
packaging
(bags, boxes, mason jars…)

*Find the cut out cookie dough and icing recipes HERE. Find sprinkles, cutters, bags, couplers and tips in the craft store. Find Americolor soft gel pastes online or in specialty stores. For tips on cookie decorating supplies, click HERE.
what I did:
(Note, for gum drops before baking, cut a 1 1/4 inch oval, then cut off the bottom third of the cookie.)

2. Make frosting and assemble frosting bags
with tips and couplers and filled with red, white, brown, light blue, green, lime green, and light pink frosting. Tie the bags closed with rubber bands.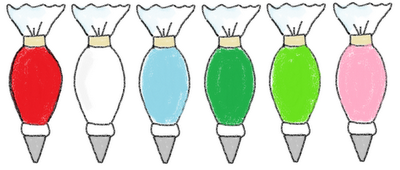 3. Decorate your cookies.
For the gingerbread men, pipe an outline on the cookie with size "3" tip, pipe back and forth to fill the cookie, let it set about 15 minutes, then pipe details on top with a size "2" tip. For the candy canes, pipe the cane in white with a size "4" tip, let set about 15 minutes, then pipe stripes with a size "2" tip. For the peppermints, outline the circles with white and let set about 15 minutes. Thin some white frosting a bit, fill an empty decorating bag, snip 1/8 inch from the tip and loosely pipe on the circle. Let frosting flood to edges and encourage as needed with a toothpick. Let set well and pipe red stripes with a "2" tip. For the gum drops, use any desired color frosting, pipe an outline with a size "4" tip, then pipe back and forth to fill the gum drop. Immediately coat with sprinkles.

4. Package your cookies.
Let cookies dry overnight and wrap as favors in cellophane bags with ribbon or package in mason jars or treat boxes.